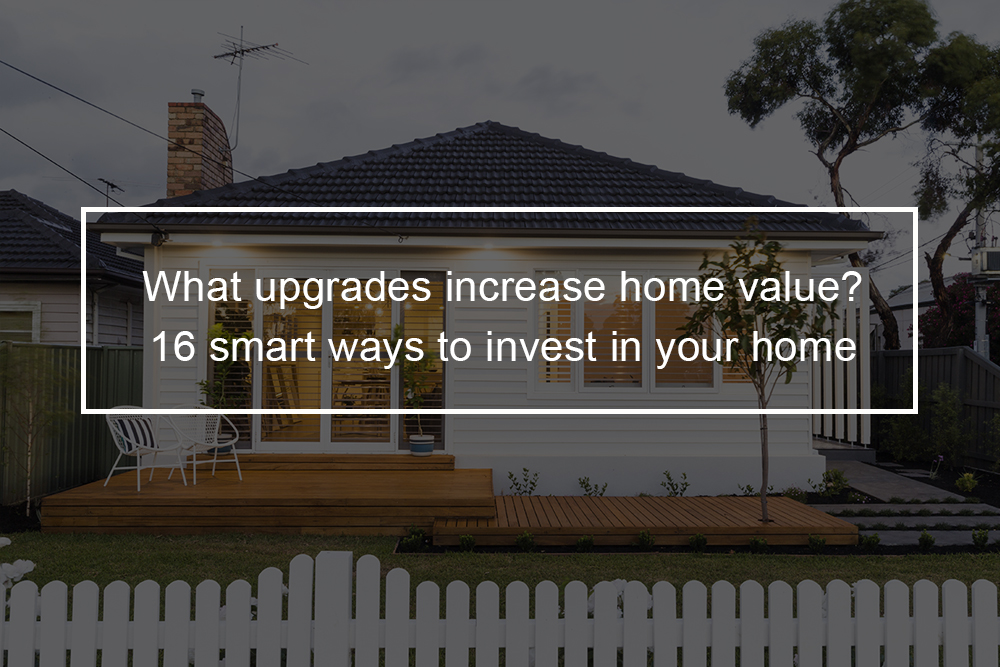 Professional home stagers know how to invest in their homes and how to play up their houses' strengths, hide their flaws, and appeal to everyone.
---
Tips for investing in your home
Front yard makeover
Whether it is a beautiful paver walkway or just adding some color to your planters, keeping your front yard fresh is not only cheap but also adds beautiful curb appeal. In the case of home investment, a book is always judged by its cover. 
Consider front yard makeover for the following reasons:
It makes your home stand out

It tells your neighbors that you are proud of the neighborhood and home

It is simple. You can look online in spring when people are splitting their perennials; you would spend a lot since people are always giving stuff away. Also, invest in an edger. It can dramatically transform a yard. 
Furnace/HVAC Replacement
This is often not on the top of anyone's mind when it comes to investing in your home; however, between the rebates and the energy savings, replacing a forced-air unit can start to pump not only comfort but also money into your living space.
Brighten up your space
No one likes a dark, dank living space. Some people might like that kind of thing, but not anyone that likes keeping up their home's value. Throw in some recessed/can lighting in the kitchen and bathrooms to brighten the place up. Simple touches such as dimmer switches make a dramatic change to any room.
A swimming pool
With most of our favorite summer activities still closed and not set to open any time soon, there has never been a better period to invest in a pool if you do not already have one. While an in-ground pool is a significant investment, even a simple above ground pool can transform with the backyard. With business slower in most industries today, you can find many great deals online, making it inexpensive to get a pool for your home. 
Transform your garden
If you are lucky enough to have a garden, you may think of ways to transform it for summer. One of the first steps you will take is to get some help with weed control. Look out Phoenix weed and pest Control Company for incredible teams that can assist you in ensuring that your garden is free from Arizona weeds. After your slate is clean, you will want to think about what purpose you would like your garden to serve. Do you just need something beautiful that you can enjoy viewing, or are you looking for plants that also provide vegetables or fruits for you to eat? Typically, it is becoming very common today for people to grow their own vegetables and fruit, so this may be an avenue you wish to explore over the coming months. 
Outdoor area
After you have worked on your garden, then you are possibly going to need to invest some money in the area to enjoy it in. One option that you have for the outdoor area decks. Decks open up your home to the outside perfectly, and they are a great space for evening dinners. However, based on your budget, it may be as simple as finding a second-hand table and chair set on the marketplace to rest and enjoy a hot cup of tea. 
Update plumbing
If you have old, rusty pipes and you fear that you might have absorbed enough metal in your drinking water to create a small ship, you may want to contemplate replacing the plumbing. The best news is today, re-piping is easy. Usually, it is done with PEX (generally plastic tubing) that is very reliable and can be pervaded your walls like an extension cord. This indicates less mess and fewer holes. It also indicates less money spent on labor and materials. Heavy metal should only be used to complement the music and not the water in your home. 
Remove the popcorn or paneling
Two things in your home that scream I am old and I need help in a bad way are wood paneling and popcorn. Do not fool yourself with wood paneling; that look is never coming back. Particularly if you have the old MDF wood panels with the high-gloss finish, remove it and put up some drywall. If you really like a wood look, you can use reclaimed wood installed horizontally. It looks impressive, and besides, it is not an expensive or huge project and will immediately throw some value into your home.
Sometimes it is more sensible to give the paneling excellent paint versus the cost of drywall either way, bright and fresh wins out. For the popcorn ceilings, just drywall right over them. 
Boost the bathroom
You do not have to go crazy with this. Simply install new fixtures, add crown molding, re-grout the shower, and brighten the room with some paint. Something as simple as light fixtures and a new mirror can make the dingiest of bathrooms look fabulous and fresh. You can also go in with new textures with wallpaper. A little texture can really improve the appearance of the bathroom. However, wallpaper can be trendy and a pain-in-the backside in bathrooms because of all the moisture. So if you go that route, have the Super Glue handy to reattach the seams. Just a little remodeling in a bathroom can be a really smart way to spend your money. 
Remember the kitchen is king
Not unless your home is falling around you, the smartest place to put your hard-earned money is in the kitchen. Now, we can go ahead and talk about putting a nice under-mount sink, down tile, and all that. We have all heard so many times to put stainless appliances in the kitchen, so let's talk about workspace and layout. Basically, it is called the triangle- the space where your cook area, dishwasher, and sink meet to form an effortless flow when working. 
How far is the cooktop from your sink? Is your dishwasher close to the sink, or are you tripping over stools and butcher-block tables to get from one point of the triangle to the other? As long as you have the means to invest some money into your kitchen, ensure you concentrate on a nice flowing workplace. 
Add a home office
Today, working remotely from home has become more popular, and thus the home office can be a great investment. A home office is approximated to increase your value by up to forty-three percent at a renovation cost of about $25000. Make sure you fit the office with a built-in desk, cabinets, ample electricity outlets, proper lighting, and high internet access. Ensure the technology installed is up to date to enjoy a good home value increase. 
Finished basement
A finished basement will extend your home's free space that can be transformed into a rec or workout room. Besides, apart from boosting the house's value, it can be used as a mini apartment that you can rent out the basement as long as you have an insurance policy and the right permits. A renovated basement can increase the home value by up to seventy-percent after costing about $60,000. 
Upgrade the attic
Finishing the attic, such as the basement, can increase your home value by up to sixty-percent and cost about $50,000. The additional room can be converted to a sports room for indoor games or a bedroom. Besides, the attic can lessen your utility bills and heating needs by properly insulating it for the winter. The room can also be renovated to cool your house during hot seasons by controlling the air supply in your home. 
Insulate window
Insulating windows lower your cooling or heating needs and thus increasing the home value by seventy-percent. New insulated windows lower the utility bills accumulated when cooling your home in summer or heating it in winter. Opt for Energy Star rated windows that are approximated to decrease utility cost by almost $500 per year. Besides, the energy-efficient windows receive a ten-percent tax credit and other additional credits based on the state of residence and utility company. 
Invest in a pro
Invite an interior designer or realtor over to check out your home. Most realtors will do this as a courtesy; however, you will possibly have to pay a consultation fee to a designer. Check with various designers in your city, a standard hourly fee is usually less than $100, and in an hour, they can provide you numerous ideas required for improvements. Even small, suggested improvements, like furniture placement or paint colors, can go a long way toward improving your home's look and feel. 
Plant shade tree
If you are not planning to sell your home today, plan for the future with a landscaping improvement that will mature over time. Plant shade trees- not only will mature trees make your home more desirable but also a fully grown, well-placed tree, can cut your cooling costs by forty percent. Besides, mature landscaping is good for the environment, offering a necessary habitat for wildlife while providing valuable curb appeal to your home.