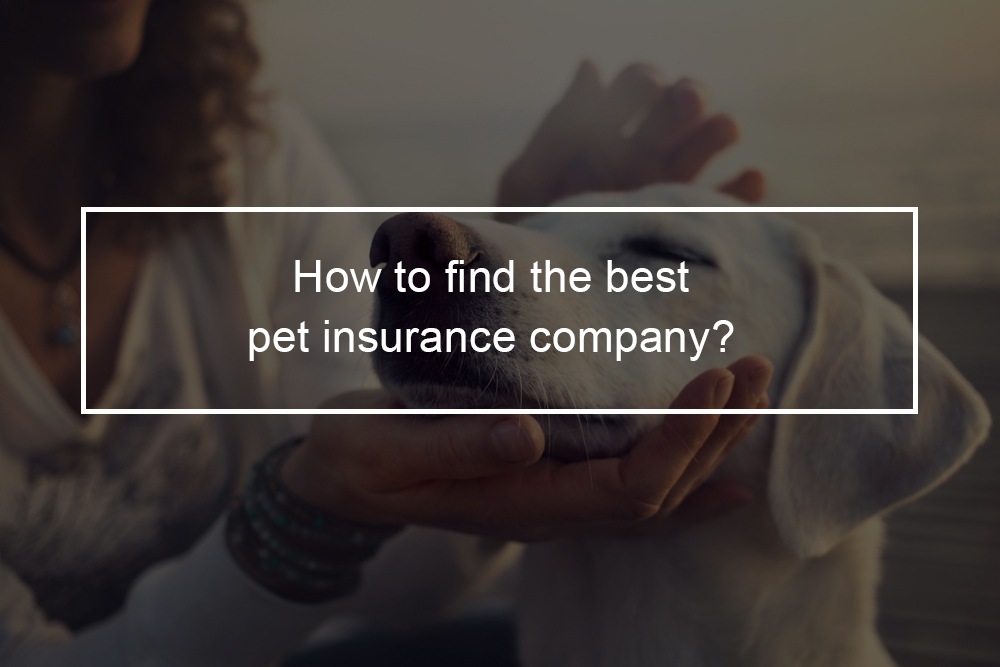 Almost two-thirds of households in the US have pets, and our friends mean a lot to us. According to research, more than half of dog and cat owners are prepared to pay up to $2500 for treatment if their pet has a life-threatening condition. It is hard to imagine losing a pet since you can't afford to pay the vet bills. That is why it is worth taking out pet insurance for peace of mind.
---
How to choose pet insurance?
With so many pet insurance options on the market today, you have more choices for your pets, which are potentially better and more affordable.
When selecting your pet policy, identify multiple policies that have the flexibility, coverage, and other benefits suited to your pet's wants and needs, and then request quotes from all of them. Compare the policies and find one with the lowest premium that meets your needs.
Before you sign, read through the insurance policy closely to ensure you will not be barred from the reimbursement for specific health conditions your pet might have. Here is what to consider when looking for a pet insurance company.
Coverage
Choose only from policies that offer extensive coverage, and find a provider that covers specific illnesses common in your pet's breed. A good, comprehensive insurance plan should meet the requirements below:
Find a policy that extensively covers illnesses and accidents. This should include injuries such as fractured leg and disease, such as bronchitis.

Find a plan that will cover chronic conditions such as hypothyroidism and diabetes, congenital disabilities, and genetic disorders.

Since the real value of pet insurance depends on its capacity to make costly treatments for life-threatening conditions affordable, find a plan that covers cancer treatment.

Only consider policies that cover emergency bills. Animal hospitals tend to be more costly than a regular veterinary office.

The best pet insurance policies will also cover blood work and lab tests: imaging services, MRIs, CT scans, X-rays, prescription medications, and surgery. It should also cover rehabilitation like after a broken leg.
Purchase an insurance policy when your pet is young, from three months old. If you have an elderly cat or dog who has already developed a severe condition, you might want to decline pet insurance. Unfortunately, the older the pet, the less sense it makes to buy pet insurance since costs will be too high, and you will possibly not see a positive return.
After your pet is eight years old, you will have a much smaller selection of policies accessible to choose from and often only ones with accident-cover only.
Insuring pets with pre-existing conditions
No pet insurance company currently provides support for pre-existing conditions. That is why it is essential to insure your pet as early as possible. Note that if you already have a pet insured with one plan and have developed several issues, just stick with it. A new policy will possibly see those as pre-existing conditions, making it hard to switch.
What coverage can you skip with a pet insurance policy?
One section of coverage that may not be worth it is wellness coverage. It typically includes regular check-ups, vaccines, and dental cleaning. Most policies enable you to elect for wellness coverage for an extra monthly fee. 
The average cost of pet insurance
On average, you can contemplate paying anywhere from $35 to #55 monthly per pet (Dogs cost more than cats). Price is determined using several factors, including age, breed, annual limit, deductible, and reimbursement percentage. There are also deductibles- either yearly or per incident, which means you cover that cost every time you file a claim. Similar to health insurance for humans, the higher your monthly premium, the lesser your deductible.
Deductibles
As mentioned above, the best pet insurance policies have flexible deductible options, typically anywhere from $0 and $1,000. Some pet insurance policies have fixed deductibles. While that is not necessarily a red flag, it is great to select the option that suits your needs best. To save on monthly premiums, select the highest deductible you are comfortable paying. 
Benefits
Similar to deductibles, the best pet insurance companies will allow you to choose the reimbursement option that fits your needs. Reimbursement is the amount insurance will pay once you have met your deductible. You are still financially accountable for the remaining percentage, known as coinsurance.
The lesser the reimbursement, the lower the monthly premium. Good pet insurance companies offer options for seventy-percent, eighty-percent, ninety-percent, and even one-hundred-percent reimbursement. Only consider pet insurance companies that reimburse 70% at a minimum.
Consumer reviews
Consumer reviews of insurance companies are beneficial. Pet Insurance Review's website rates companies out of ten depending on customer ratings, while Consumer Affairs and similar sites allow you to browse most of the policies.
Insurance plans for birds, lizards and more
You also have to consider the animal you are hoping to insure. While most pet insurance companies offer cats and dogs coverage, only nationwide includes policies for animals such as rodents, lizards, and birds. While Nationwide is not the best insurer across the other criteria, it stands out in the range of animals covered.
---
Top 3 pet insurance companies in the US
Here are the best pet insurance companies in the market
Trupanion
Pros of Trupanion
Trupanion has a one-time pre-condition deductible. If your dog suffers from diabetes at a young age, after you have paid off your deductibles, you will only pay coinsurance for that condition's rest.

Trupanion offers flexible deductibles ($500 to $1000) for one reimbursement option, ninety-percent.

It has wide coverage, which includes the basics such as surgeries, hereditary conditions, medications, illnesses, and accidents. It also covers large breeds.

Has quick payouts. Claims are paid faster (eighty-percent within seven days), and with direct pay, you can have your participating vet apply for reimbursement.

Trupanion's pet insurance annual premium increases are small compared to competitors.

Good consumer reviews. Trupanion holds a 9.5 out of ten on pet insurance review.
Cons of Trupanion
 Trupanion is not the most expensive pet insurance option; however, it is in the higher tier. Nonetheless, you can save a lot of cash with its per-condition deductible.

The per-condition deductible is designed for younger pets. Older pets can not benefit much from a lifetime deductible.

Trupanion is not technologically advanced. As of publishing, it lacks a mobile app.

Long waiting period: It has a thirty-day waiting period before coverage for illnesses starts (it is just five days for injuries)
HealthyPaws
Pros of healthyPaws
Has a great customer satisfaction and holds an even higher score than Trupanion on Pet Insurance Review.

HealthyPaws benefits and deductibles are flexible; you can select from (70, 80, 0r 90%) for reimbursements after you have hit your deductible. Besides, claims are paid out lightning fast.

It has extensive coverage. All the basics are covered, and the plan also incorporates alternative treatment methods such as acupuncture, hydrotherapy, and chiropractic services.

HealthyPaws insurance has a short waiting period for injury and illness coverage to start: typically 15 days.
Cons of HealthyPaws
Similar to Trupanion, Healthy Paws can be on the pricey side. Monthly premiums for dogs begin at more than $30, and premiums for cats are almost $20.

Medication for hip dysplasia can only be covered if you cover your pet while six or under.

HealthyPaws as a 12-month waiting period for hip dysplasia coverage on large breeds
Figo
Pros of Figo
It is associated with Google's Tech Hub Network, thus advanced in technology such as vaccine pet reminders, claims process through online and mobile app, and easy records.

Figo has unlimited benefits. You can select unlimited benefits; however, for a cheaper 

Figo's deductibles and reimbursement are flexible. You can select from $50 to $500 of your annual deductible and choose 70, 80, 90, or even 100 percent for claims reimbursement.

Besides typical coverage, Figo covers exam fees associated with accidents and illnesses. There are no exclusions for hip dysplasia.

Has the shortest waiting period- just five days for accidents and fourteen days for illnesses for the policy to kick in.

Figo will waive your copay and deductible if you have to rush your pet in for emergency treatment for a life-threatening condition.
Cons for Figo
Figo premiums tend to be high

The company is now so more time is needed to determine its reliability.

The company has only earned a 7.9 score on Pet Insurance Review.
---
Alternatives to pet insurance
Self-Insurance
If pet insurance feels like a financial burden, consider opening a savings account for pet emergencies. This will help you put away the equivalent of a monthly premium.
When an emergency does occur, you will have that money to depend on; however, you will be earning interest on it.
Charities and other help for pets
There is no NHS for pets. Groups like the ones below offer free pet hospitals. However, they are overstretched and overfunded and are typically for people on benefits or income support.
The Scottish Society for the Prevention of Cruelty to Animals 

The Royal Society for the Prevention of Cruelty to Animals 

The Ulster Society for the Prevention of Cruelty to Animals 

The People's Dispensary for Sick Animals (PDSA)

The Blue Cross