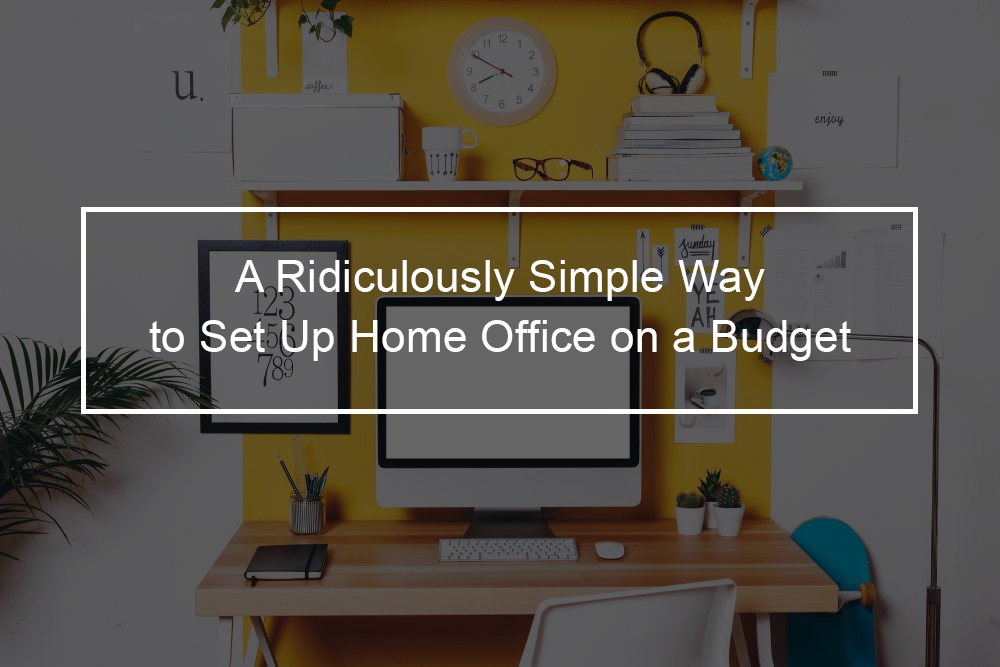 For many organizations, offices are a thing of the past. Colleagues communicate through instant messages, and bosses use tools such as Base Camp and Skype to delegate tasks. Physical work spaces have become less essential and, as a result, more people are working from home. Working remotely can be a wonderful experience; you can wake up later, stay in pajamas, avoid morning commutes, and get tax write-offs on rent. 
It can also be challenging. There are more distractions, like television, household chores, and family members. Supervisors are not around to keep an eye on you, and you might feel less inclined to work at your maximum capacity.  A home office is the best of both worlds. It is the room in your house reserved for all things business.
---
16 Tips for creating an efficient home office on a budget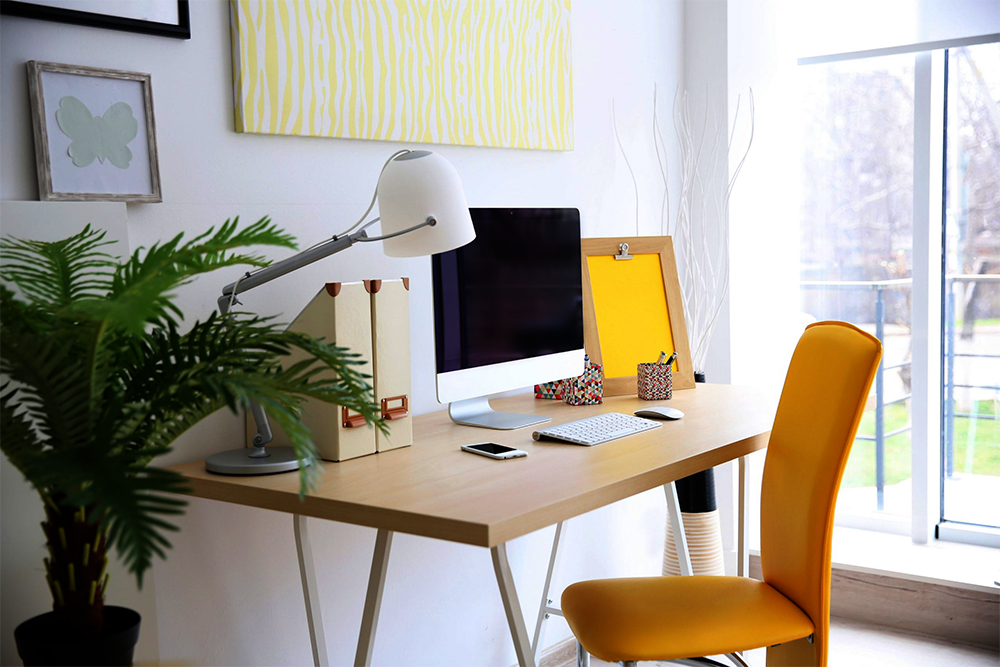 Select a theme
It is essential to decorate your office in a way that will aid productivity and creativity. Not only must your space be decorated in a way that inspires you to push yourself but also mirrors your style. You can attain this by selecting a theme and going with it. A great way to choose a theme is by choosing a statement piece like a mini-mod sofa or a chesterfield sofa to base your design around. 
Define your work office space
For the most exceptional efficiency in work, find a space that can be dedicated to a house office area. You can use whatever space you have for a stylish and small home office, whether it is a large stair landing, a spare room, a small closet, or even an unused corner of the living room. 
Create a floor plan
It might be tempting just to move pieces of furniture- even though it is just a desk and a chair- around till space works. If you spend time measuring your space, creating a floor plan (small as it might be), measuring your furniture, and thinking it through, the final result is much more likely to be the best use of the space. 
Determine what you can do yourself
Before you begin gathering quotes from professionals, identify what projects you can manage yourself. For instance, inviting professional painters to paint your home office is a costly expense, but it is not too hard to paint a small space yourself- and it will save you some good cash. 
Future proof
The average office environment changes, so it is significant to plan ahead and select a design you know you will grow into. Working in an outdated workspace with an obsolete design can quickly kill your morale and limit your overall potential. Future flooring should always be your priority; floral carpets were replaced by limited wood as the designs progressed and laminate wood by commercial vinyl flooring. 
Use what you have
Think about whether you move accessories or furniture from one part of the house to your new home office. If you do not have to purchase some pieces, you will save a lot of money. Do you have a comfortable chair in the guest room? Are there pictures tucked away in a closet that would be decorative and inspiring on your workspace walls? Just look around to see what you can use in your new home office.  If you cannot find anything in your own home, ask your neighbors and friends if they have unwanted furniture they would like to donate to your office. 
Go mobile
Having a landline in addition to your mobile can be expensive and unnecessary. If you are not comfortable using your mobile phone for receiving work calls, buy a separate device for these calls. Why not give your phone calls a little more personal and speak to your clients or employers via skype. 
Opt for energy-efficient products
Shop with energy efficiency in mind to save money over the life of the product and save money on the purchase price. A smaller laptop utilizes less power and costs less than a heavy-duty desktop computer, for example. 
Get your employer to chip in
If you are an employee working from home, you can ask what your company can contribute in terms of supplies and equipment. Often, you do not need to pay for your own equipment, since your employers can give you laptops or other equipment to use. If your organization has not said anything about equipment, it does not hurt to inquire what your boss wants you to do. 
Negotiate your internet service or phone
Sometimes you can get a deal on your telephone or internet connection, particularly if you switch providers or you are bundling two services into one. Even though you have been with your current provider for a while, call and ask about any current deals or offers they have accessible to you.
Create a list of what you need
You can spend time on Pinterest scrolling through beautiful, well-staged photographs of people's home office. However, your home office needs can differ from what you see presented on digital media. Do you really need a designer couch in your office space? Possibly not unless you are a therapist who is going to see clients at home. And do you need fresh flowers brought to your home daily? Most likely not unless you are an Instagram influencer. Some essential items people need for their office include (but not limited to)
A work surface: You will need somewhere to do your work, like a desk or table. How large your work surface should depend in large part on how complicated your setup needs to be. 
A chair: Even though you decide to purchase a standing desk, it is nice to have a home-office chair to sit on from time to time. Your home office chair does not have to be fancy, but it should be comfortable and the appropriate height for your workspace. 
Computer equipment: You need a desktop computer or laptop for most remote jobs. How sophisticated your computer setup needs to depend on your job. 
Specialized equipment: Some jobs require more specialized equipment, like lighting for photographers, beakers and microscopes for scientists, and kitchen gear for cookbook authors or personal chefs.
A secure place for files and documents: Even though you mostly digitize your documents, you can have a few essential work-related documents. Those documents require a place to live, and ideally, that place is not on the corner of your desk under your coffee mug. It is a wise move to invest in a locking file cabinet for sensitive documents and files. If you get a fireproof one, it is better.
Office supplies: It is simple to go overboard when it comes to office supplies, particularly when framing your home office for the first time. Be realistic when choosing what you need for supplies. 
Phone and internet: You will need a reliable high-speed internet connection and maybe a dedicated phone line for your home office. 
Desk accessories: Little things matter when you are trying to stay organized and get a job done. Two desk accessories that you will have to have are desk trays to keep your paperwork sorted and some containers for your pencils or pens. Office supply stores and department stores provide all kinds of desk trays.
Buy new decor at bargain prices
Home decorating centers, lighting showrooms, furniture outlets, home centers, and discount stores offer a fantastic assortment of items at a discounted price. You may be surprised to find a beautiful desk at a great price next to factory-second towels.
Mind the light
Peace and quiet are vital, but so is having enough light in your home office. If you can, choose an area that gets natural light, like a corner by a window.
Take it one step at a time
Even though it can be tempting to purchase everything you need for your office straight away. It is essential to take your time setting up your office; you do not need everything at once. Create a list of everything you need and prioritize them in terms of importance.
Consider the quality of the furniture
Look for online reviews to see what consumers have to say about a product. Red flags include unresolved complaints of equipment or furniture, equipment that broke quickly or were not described when they arrived.
Convert a closet into a home office
If space is limited, set up a work surface or a desk in a tiny closet. If all you require to work at home is a laptop and reliable internet, even the tiniest of closets can offer enough space. When the workday is over, simply shut your laptop and shut the closet door. After you have settled into your new workspace, ensure you find time for a few breaks during the day. Your work-life balance is just as essential as staying focused while working from home.