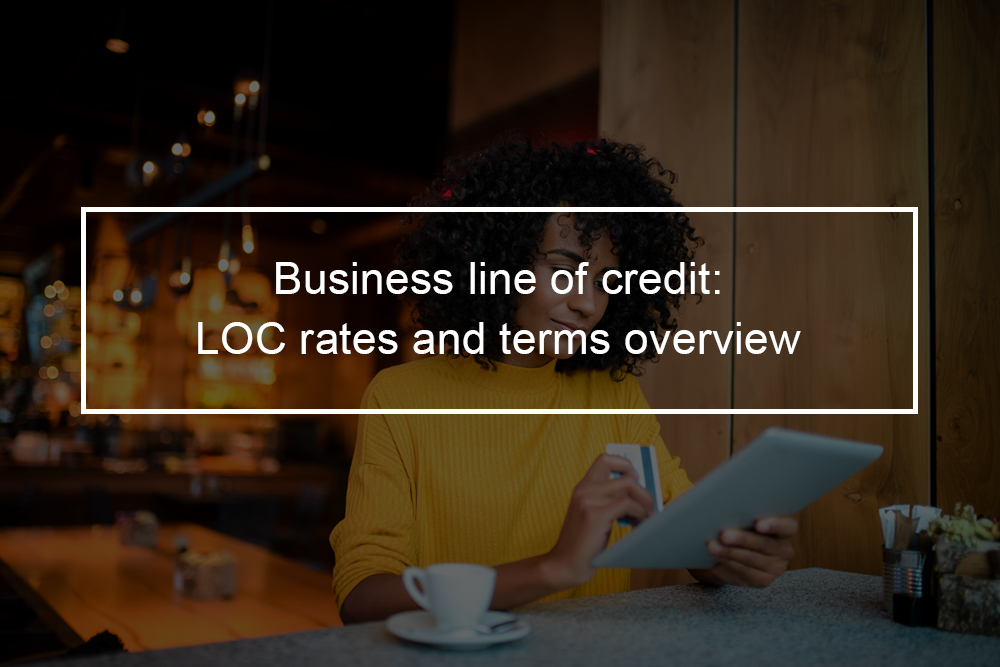 A business line of credit is a convenient tool for managing cash flow. You can purchase inventory and pay expenses before revenues come in, and you can reduce costs by using only what you require from an available pool of money. However, predicting your borrowing cost is tough. Interest rates for business lines of credit can range from five percent to more than 20-percent. Advertised rates are always low; however, your business' characteristics – and the types of the lender you use-determine how much you will really pay.
---
The business line of credit rates/terms
Generally, a business line of credit is simpler to acquire and use since it shares many similarities with the credit cards most people already have in their wallets. Typically, if you know how to use a credit card, you know how to use a business line of credit. Based on your case, you can qualify for up to $500,000. The interest rates begin in the neighborhood of 8-percent, and your repayment terms will have a maturity of one to two years.
Considering the flexibility of a business line of credit, you can utilize it as a stimulus strategy for your business. Provided sales are consistent, and you have the capital you require, there is no need to use the line of credit. Nonetheless, if you were to find yourself in a bind, it is reassuring to know that you already have a safety net available.
Entrepreneurs often encounter challenges managing their cash flow due to seasonal credit demands and time gaps between capital needs. This is particularly true of business startups during their early development stages when they have not diversified enough to accumulate a constant positive cash flow. After the inventory has been bought, it is vital to riding out the cycle until accounts receivable have been collected.
Every time a billing cycle comes around, you can select to make a partial payment or take care of the whole balance. As long as you do not pay in full, the remaining balance will carry over to the next cycle. Note that interest will accumulate on this amount, which is an incentive to pay your bill as promptly as possible. Obtaining a business line of credit is not hard, provided your business has been in existence for six months and makes at least $50,000 per year. Lending institutions tend to be more lenient with this kind of funding, so even though your credit is as low as 560, you can be candidates.
Most business lines of credit are secured, indicating the lender asks you to identify a personal asset that can be utilized as collateral if you were to default. Common examples include vehicles, homes, real estate, and bank accounts. In some cases, the lender might view you as a low-risk borrower and enable you to move along with an unsecured line of credit that will not jeopardize your personal assets.
---
What determines the rates and terms of a business line of credit?
Several factors affect the rates you pay on business lines of credit. Mostly, it comes down to how the lender evaluates the amount of risk involved with your loan.
Loan's features: Lower-risk loans have lower rates. Risk levels are based on things such as the amount of your loan and any collateral you pledge to secure the loan. Since lenders can take the collateral and sell it, pledging collateral lowers risk.

Your credit history: Lenders need to see a consistent history of repaying and borrowing loans. For most new businesses and small business owners, lending institutions use an owner's personal credit scores and need a personal guarantee. Over time, your business can potentially develop business-specific credit.

Characteristics of your business: New businesses are risky to lend money; however, or have been in business for several years or if you have substantial revenue, you are a less risky borrower.

Interest rates in the broader economy: Normally, interest rates are set as a spread above-market interest rates. For instance, your rate might be three-percent above the Prime Rate or London Interbank Offered Rate. As market rates change, your rates are likely to change.
Typically, different lenders offer different rates- even though all of the characteristics above are the same, so it is smart to get quotes from different lenders.
---
SBA Loan Rates
Loans backed by the United States Business Administration (SBA) are a great option if you are particularly sensitive to interest costs. Those loans are provided by private firms such as online lenders, credit unions, and banks, but the United Staes government guarantees a section of the loan. Thus, lenders take less risk when they approve of these loans.
Interest rates on Small Busines Administration lines of credit vary from one lender to another and depend on the criteria outlined above. Nonetheless, the SBA sets maximum limits on the spread that lenders can charge. For instance, for SBARxpress loans, lending institutions can charge4.5 percent to 6.5 percent over LIBOR. Compare that to credit card rates of 20-percent or more, and the extra legwork of applying for an SBA loan becomes more attractive.
---
Sample credit repayment interest rates and terms from selected lenders
Are you probing how much some of the most popular lending institutions charge? You will see a few offerings below; however, these might not be the perfect fit for your needs. To ascertain you get the best deal possible, shop among various lenders, the inclusion of credit unions and small banks in your town. Note that the lowest advertised rates are only available for borrowers with the best finances, and that definition can vary from one lender to another.
As you assess lenders, look for those who prefer borrowers that favor businesses with your profile: companies with similar credit scores, length of time in business. Moreover, pay attention to additional fees, which add to your borrowing cost. Some lending institutions charge you for every withdrawal. Others charge a monthly maintenance fee, and some have no extra fees.
Lendio works with many partners, including traditional financial institutions and online lenders. As you can expect with a wide variety of sources, rates range anywhere between 8-percent and 24-percent APR, based on creditworthiness and other elements.
Bank of America: This is a standard big bank providing business lines of credit, including interest rates as low as 4.5-percent. With collateral, the rate might be as low as 3.75-percent for prime borrowers.

Kabbage: This is a technology-based lender that offers short-term lines of credit. Pricing is set in terms of a monthly fee rate from 1.25 percent to 10-percent. To establish an annualized rate ( in the event you will borrow year-round), you will need to look at total fees throughout the year.

Fundera: This is an online service that connects small businesses to various lenders. Rates for business lines of credit range from seven-percent to 25 percent, with rates near the lower end if you have good credit.

Kabbage: This is a technology-based lender that offers short-time lines of credit. To approximate an annualized rate (if you will borrow-year round), you will need to look at local fees throughout the year.
Generally, there is no centralized database of rates (it would not be possible, with the unique characteristics of each business and different lender offerings), so you need to contact lenders to get numbers that are relevant to your situation.
---
Consider this before applying for a business line of credit
APR (Annual Percentage Rate) is one of the most vital numbers to consider when comparing financing options. This repayment interest rate will be charged and all other associated costs. It shows how much it costs you per month to use the money from the approved credit line. Also, it is worth considering that the interest rates are usually variable, which indicates they can change over time, based on the terms of the business loan agreement and the general market environment.
Additionally, personal lines of credit are often unsecured, whereas HELOC and business lines of credit are secured. Secured loans usually come with a lower interest rate; however, they require collateral. It is essential to do research and check the terms and rates with multiple lending institutions to get the best deal possible. Business lines of credit can differ based on repayment interest rates, security, draw fees, the amount borrowed, and duration.
You will need to compare potential lenders across a range of information. Will your business loan have a variable or fixed interest rate? What are the fees charged? What are the repayment schedules? What is the amount of money the lender is inclined to extend?
Finally, it is vital to bear in mind that business lines of credit are most beneficial when used for fund short-term, undefined expenses that you will be able to repay reasonably faster. Obtaining a business line of credit can be a good decision when you are recovering from financial constraints when you need to invest in a new market opportunity that will get your existing business off the ground or start a new business. On the contrary, if you need to fund a specific purchase, you might want to consider taking a loan instead of a business line of credit, since loans will often have lower rates.