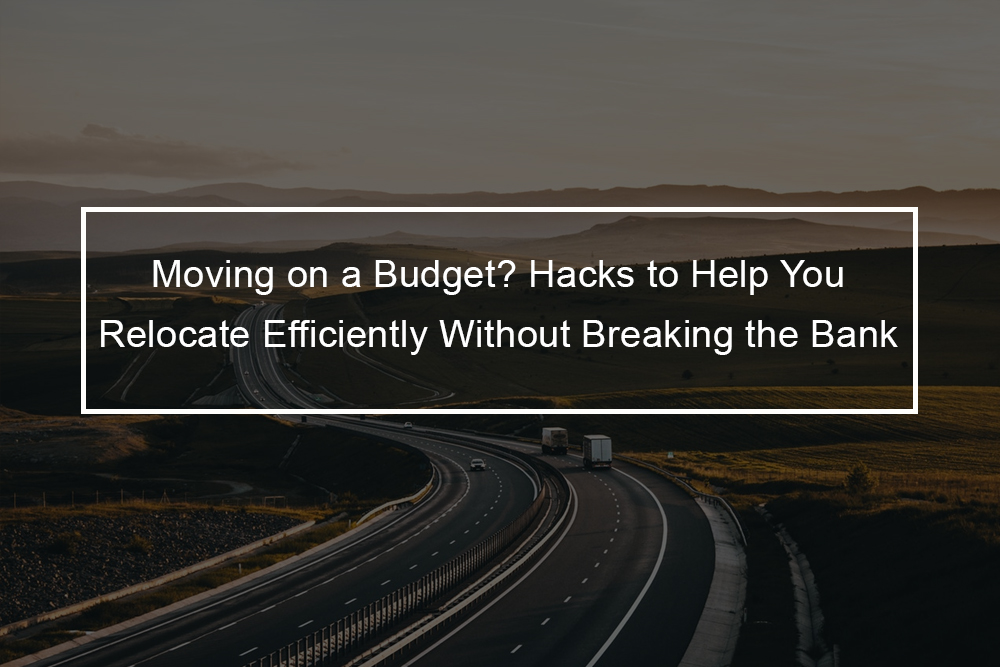 If you intend to move in the future, planning and budgeting can be its own journey. And while moving- particularly over a long distance- can be costly, it can pay to plan.  If you are looking for the cheapest way to move across the country or out of state, there are various ways to save.
---
Tips to assist you to lower your costs and make your cross-country adventure not break the bank
Make a moving budget
Did you know that the standard interstate move can cost you thousands of dollars? Do not let the final bill get you by surprise- consider your needs, then do some research and create the budget. 
If you plan to use a moving company, shop around to compare rates. And if you want to rent a moving truck, check what options are available, and make sure you factor in the cost of gasoline. 
Based on how far you will be traveling, you might need to incorporate things like hotel and food costs. Possibilities are you will not have the exact numbers. However, if you overestimate your budget, you will give yourself a buffer to help you deal with unexpected costs that may pop up. 
Van hire vs. removals
First, decide when it is best to use a removals company or to hire a van yourself for the move. Generally, it can be much cheaper to hire a van yourself. However, keep in mind that this indicates that it is up to you to pack and unpack everything, so this is possibly more suitable for those people who have fewer possessions and less furniture, and you have people to help. 
Declutter
Why would you pay to move something you do not want to keep? Moving is an ideal opportunity to re-evaluate and declutter your possessions. Getting rid of unwanted items can help you lighten your moving load (and the costs that go together). As you go through everything and get objects you no longer need, consider the following options:
Sell what you do not need
You can even make some money and make your move easier by selling items that you do not need any longer. Relocating is a great opportunity to get rid of clothing, furniture, and anything else which you do not need, and it can be simple to make some money by selling these items by listing them online. 
Donate it
If you do not want it and can not sell it, why not give it away? As an extra bonus, you might even be able to deduct the value of certain donated items on your tax return.
Toss it
If you are unable to sell or donate your unwanted items, consider the items that you can recycle and ensure you are disposing of electronics in the right way. 
Free boxes and other supplies
Packing supplies and moving boxes might not seem like a considerable expense; however, the costs can add up. So why buy the items when you can get them for free? If you need packaging supplies, sometimes all you have to do is ask.
Visit or call grocery stores and other retail businesses to see if they will give you some of their old boxes. Most businesses simply throw them out and will be more than happy to allow you to haul them away instead.
If you want a cheaper alternative to packing paper, try magazines, old newspapers, and catalogs. But you need to be careful what you wrap in them, as the ink could leave stains on some items. Old towels and sheets can also be used as extra padding. However, when dealing with precious and fragile items, you might want to consult with a professional mover or shipping company.
Finding cheap packaging solutions can give your moving budget some breathing room- and you will also cut down on waste. It is an option that is simple on the environment as it is on your wallet.
Load carefully
It can be chaotic on moving day; however, you must be organized, and this will include loading up the van sensibly. Cardboard boxes are stackable and more space-efficient than suitcases or bin bags and are simple to carry on. Remember, based on your distance you are moving, the number of trips you make can accelerate your petrol usage and cost, so reducing the number of trips you take through effective stacking can help you be cost-effective.
Think about your moving date
The timing of your move might depend on the school or work schedules. However, if you have the option, consider planning your move around particular times of the year. For instance, gas prices are sometimes higher in the summer, and dangerous road and weather concerns could be enough reasons to avoid a winter move. On the other hand, some mover may charge more during weekends and during other peak times.
Negotiate a relocation package
If you are moving because of a job, check if your new company will cover your moving costs. You might need to do some research first, and plan to negotiate a relocation package when you finalize benefits and salary. 
If you know people who work for the organization, you can start by asking if the company sometimes offers relocation assistance. After a conversation or two, you might be able to learn what kind of help you should be asking for. And if you have already accepted your role, you can always ask HR if the company has an established relocation policy. 
See who else can help
There is also the probability that you have people around you who would be inclined to assist you in packing and moving- either at a small or free cost. 
Family and friends are the most logical options. However, you can branch out and request others, too. Are there teenagers in your neighborhood who are interested in earning a little cash? You may find that paying them is cheaper than hiring a moving company. Just be warned that if you choose this route, the cost of replacing damaged or lost items will possibly fall to you. 
Do not forget personal travel costs
A full-service moving company takes care of your possessions, but what about you? Think of how you and your family get to your new place.
Personal travel costs are another expense you will need to consider. If you are driving, factor in the cost of gas. If it is a multiday trip, do not forget expenses such as food and hotels. And if you are traveling with pets and family who require special accommodations, include that as a line item to your moving budget as well.
Transport some key items with you
If you are concerned about handing over essential possessions to moving or shipping companies, keep you prized, irreplaceable, or expensive items by your side while traveling. If you drive your car, create a list of items you need to keep with you and plan accordingly while you pack. If you are flying, smaller items might be able to fit in your checked luggage or even in a carry-on. Just be aware of any baggage fees.
Plan your most efficient route
Generally, there are many paths you can take to get from one point to another. If you are driving, plan your route online before you leave. Some online maps will give you an idea of what your selected route looks like down to the minute- including road closures or construction you might encounter. You can also check gas prices online in areas you will be passing through.
When it comes to air travelers, the United States Department of Transportations Consumer Guide to Air Travel offers various tips to help you save money on fares and other air-travel expenses. 
DIY Decorating
When you move into a new house, you will want to start decorating straight away to put your identity in the new house and make it somewhere you feel comfortable. Most people will use professionals for this; however, you will often find that you can do this yourself, and it will be much too inexpensive to do so. You can get easy to follow videos and guides online, and investing in tools such as easy to use drills, will be beneficial down the line for any maintenance tasks that crop up. Together with this, some tasks are simple enough to complete as an amateur. Whilst electrical work and plumbing work might need a professional, painting your new place, and giving a splash of color can be exciting. 
Bring your own food
You can avoid costs when moving, but the food is not one of them. We all have to eat. With that said, the cost of skipping from restaurant to restaurant will begin to add up, particularly if you are traveling with more than one person. So, why not pack some moving-day meals.
Bring food with you, and save time and money by avoiding roadside diners. Een simple snacks that can assist tide you over till you get to your destination.
If you are going to relocate, you must take your time and weigh your moving options to save money if possible. The more you can do yourself indicates you will spend less. Get quotes from multiple moving companies and options such as the moving freight trailer and container. 
Despite where you are going or how you choose to get there, moving is always an adventure. Do not let unexpected costs overshadow the excitement. Simply plan ahead and identify out your finances before you start. And maybe most importantly, do not forget to have fun.