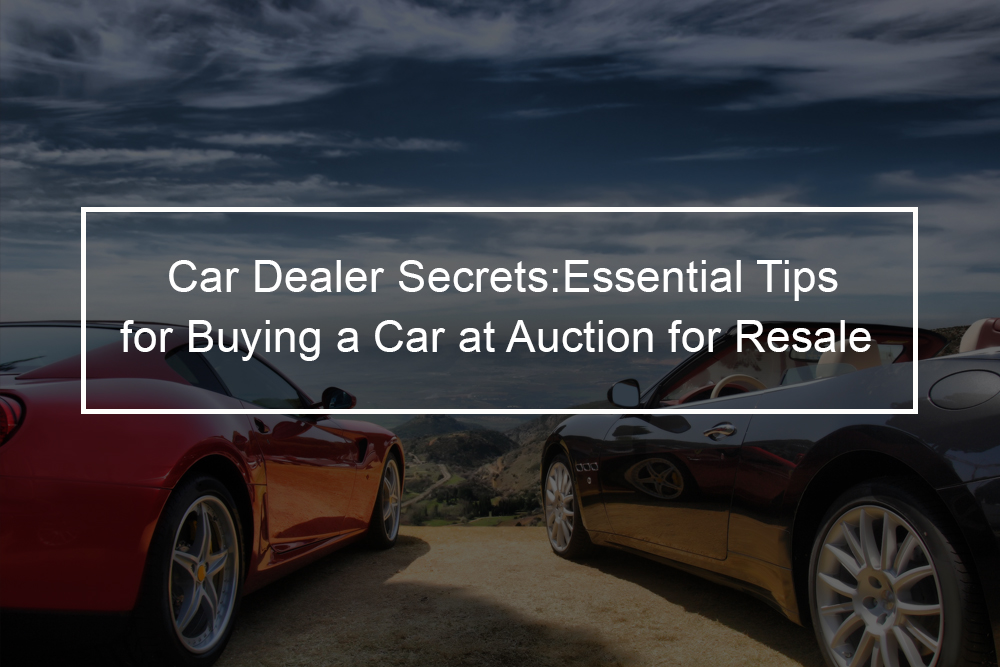 All over the United States, you can find car dealer auctions open to the public. That indicates buying cars at auction prices is an option for just about anybody, even though you do not have a dealer's license. If you are interested in purchasing cars at auction and reselling at a big profit, take a look at this guide.
---
Understanding the different types of auctions
If you are new to purchasing at auctions to resell, you can learn more about the car auctions to be a more informed buyer. Generally, there are two main types of auctions accessible to choose from.
Car auctions for dealers only
Generally, car dealer auctions are open only to those people with a dealer license issued by the state. You can obtain your own dealer license if you wish; however, the procedure can be long and challenging. Each state has its specifications for car dealer licensing, often with a set number of cars, you must purchase and sell annually to qualify.
Purchasing, modifying, and reselling cars bought at car dealer auctions can reap you big profit. However, if you only plan on purchasing vehicles for yourself, it is possibly best to purchase from auctions open to the public.
Car auctions open to the public
Popular Mechanics reports two major categories of car auctions open to the public, public car auctions, and government car auctions.
Police or government car auctions: These include county and city vehicles such as utility trucks, police cruisers, buses, and more. These auctions also sell impound vehicles that have been confiscated because of traffic crime and violations. Beware you are likely to face expert competition from taxi companies, used car dealers, exporters, and others who understand mechanics well and know the value of auctioned vehicles.

Public car auctions: These might include repossessed vehicles from wholesale lots of cars, banks, bottom-of-the-barrel trade-ins, flood junkers, and sometimes high-end sports cars and SUVs. The reliability and quality of the stock vary from auction to auction, so be prepared to do some research. Since the auctions have become more famous since the economic downturn, competition for the best deals is tough. In fact, you might end up paying more than market price if you do not take care not to overbid.
---
How to buy a car at auction and resell at a big profit?
Here are tips for auctioning to help you prevent pitfalls.
Do your research
Typically at auctions, you are allowed to inspect the cars on a superficial level before you bid on them. Check out the condition of the vehicle to look for corrosion and rust. Go ahead and check the disc brakes, and lift the hood to check if the oil has been changed currently. You can open the car doors to inspect the interior as well. If you are not extensively knowledgeable about this process, first watch others as they inspect the car. They might notice things that you did not find through your inspection. Once you have taken these steps, look at the VN number and look it up online. Make sure that the VN details match the car that you are looking at. You can also use a car auction prices guide to determine the maximum value you should bid for the vehicle. It is simple to get caught up in the emotion of bidding at an auction. When purchasing cars at auction, you might wind up bidding more than the car is worth if you are not diligent and careful.
Know your risks
When you buy a car at auction and resale at a big profit, you are presuming considerable risk. Whereas you can learn so much about the condition of a vehicle through an initial visual inspection, you cannot drive it. Moreover, you cannot have a mechanic inspect the car professionally. In some situations, cars sold at auction have had their VINs changed or have had odometers adjusted. Thus, you cannot honestly know what you are bidding on. Besides, you do not have a warranty. These vehicles are sold as-is. With this in mind, consider the maximum amount you might want to bid on a specific model to regulate your risks.
Bid with caution
Car auctions tend to be a different experience than anything else you might have been engaged in. For instance, some people will make false bids to drive unwitting bidders to pay more than they would otherwise pay for the car. Thus it is essential to avoid making emotional bids and always be cautious of people who seem overly interested in a particular vehicle. Moreover, be willing to walk away from a car if the price becomes unreasonable. Ideally, you will have many vehicles that you are equally interested in.
Know your used car market
A good car auctioneer never buys without a clear endgame. The sooner you get your current auction car off your hands, the sooner you can start the next auction, or use the profits to pad your personal savings.
In most places, most auctioned cars are efficient sedans, low-mileage, and compact SUVs from mass-market makers, like Honda, Toyota, Chevrolet, and Ford. Since they are known quantities, these cars have no shortage of prospective buyers.
If you stay in an affluent area, it might be worthwhile to seek out undervalued luxury vehicles and rarer versions of mass-market models. Because they are harder to find, buyers are usually willing to pay a premium for them. Nonetheless, you need to ensure your market has enough buyers who can afford- or care enough to pay extra for such cars.
Similarly, your area's climate and geography might create niche opportunities, not available to everybody else. In a snowy, mountainous region, you will have lots of four-wheel-drive cars to select from- and many buyers will be willing to pay good money for them. When it comes to mild climates, you will possibly clean up with convertibles.
Be wary of curveball vehicles with unusual features that only seem appealing. For example, many buyers do not want or need ostentatious aftermarket spoilers or exhaust systems. Even elements that once added appeal, like manual transmissions, are now albatrosses in certain sections of the car market.
Ensure you are familiar with your potential buyers' needs and wants before you invest in a vehicle that will be tough to sell. Getting less than what you bidded is tough, and being saddled with a vehicle you cannot sell is much worse. 
Set your buying budget
As with any purchase, you will need to set a budget for your flip. Seasoned flippers advised starting with at least $1,500- enough for a serviceable auction vehicle with moderate to high mileage and a few years of service under its gelt, ready to fetch maybe $ 500 to $800 after expenses. Note that higher budgets mean higher profits, within reason. It is not wise to use more than $5,000 to auction since as the sphere of all-cash buyers gets smaller, the more you move up the price scale.
Get cash
Before you begin buying, you possibly need to scrounge up money to match your budget. Note 'possibly' since many public auctions accept major credit cards. Still not unless you are running a balance on a low APR credit card, you will need to cash soon enough to pay your bill.
If it is your first time to auction, consider setting aside some extra cash- maybe half your buying budget. This will come in handy on your second time since you will have learned the ropes on a burner car, and you will be ready to spend more for a healthier profit margin.
Know how to buy
Provided you do not know how to play, do not get in the sandbox. Before you hit the auction lot, review their procedures and rules thoroughly. These can be pretty detailed- you can find rulebooks that include a slew of bureaucratic niceties and conditions, including the when and how of pre-auction car inspections. If you are not familiar with the process, you will be steamrolled by more experienced auction-goers or, worse, unwittingly disqualified from the auction.
The lot will take care of transferring and registering your car. Even though it is not technically part of the buying process, cleaning the vehicle is a non-negotiable step for anybody who is looking to maximize their profit. Since they are sold as-is, auction vehicles need special attention. You will need to:
Go through a car wash

Buff out minor paint chips and scratches

Clean window interiors with glass cleaner

Dust interior surfaces, inclusive of instrumentation and moldings, with a damp cloth

Clean visible upholstery stains, within reason

Vacuum every inch of the interior

Remove, bang out, and vacuum the floor mats

Remove any trash from the interior
If the vehicle is really trashed or you do not have the time to do a thorough job, consider an auto detailing service. You will need a budget of $150-300 for this; however, it is worth the hassle on higher-value vehicles.
Purchasing a car at an auction can make you get a great sales price on a cheap vehicle. Ultimately you can resell the car at a big profit. Consider visiting a few auctions to observe how they operate before you buy your first car at auction.