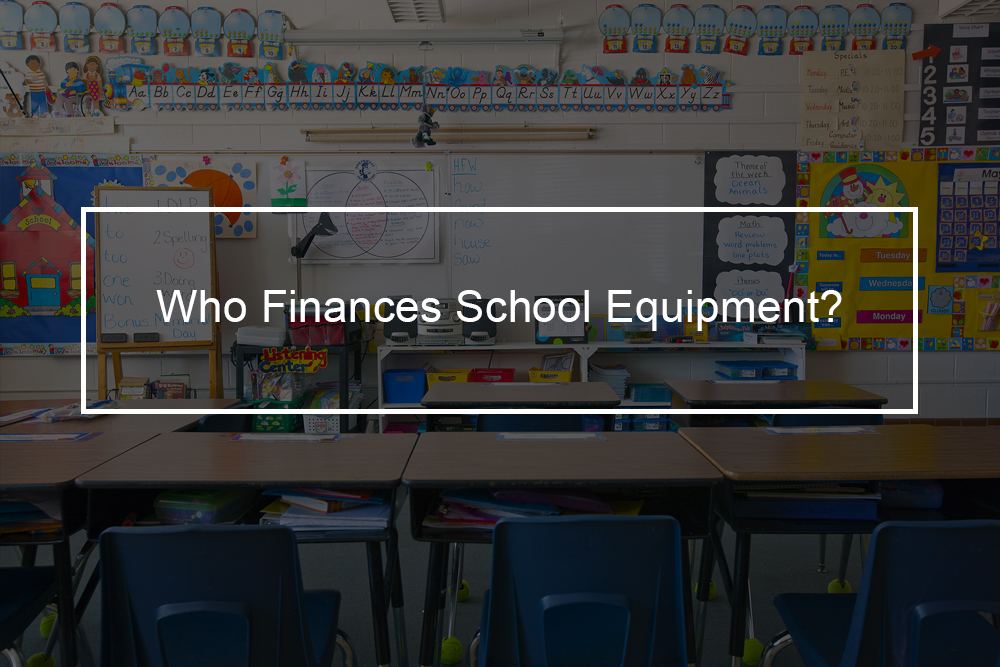 Struggling to get the equipment you require for your school on ever-smaller budgets? You are not alone. The money allocated to schools is anticipated to cover everything they might need, from a new minibus to classrooms full of new computers and IT equipment. Because of the high cost of purchasing this equipment outright, schools find it challenging to afford up-to-date equipment and supplies.
However, school equipment finance offers an alternative option to schools looking to invest in new equipment. Leasing allows schools and education centers to pay an agreed regular cost in return for the use of a range of different, much needed up-to-date school equipment. This type of funding for the education sector allows schools to adopt a range of new equipment while optimizing budgets and spreading the cost across a longer period.
---

4 Considerations before financing new school equipment
Before you agree to the terms of any school finance deal, it is important to consider a few factors to make sure you get the best deal on your chosen equipment and adhere to essential regulations. Here are four factors that every head should consider before committing to an equipment financing contract:
Affordability and budget 
The first thing to consider when leasing or financing equipment for schools is the budget and any other fees that might be incurred as part of your agreement. When you plan a budget for your finance deal, there is more to look at than the monthly cost presented to you. Ensure you understand the upfront cost of the education finance offer and the interest rate you will have to pay with your school finance agreement. School finance can help keep your cash flow stable by splitting your payments into easy-to-manage installments.
Nonetheless, when minor details are missed, and your forecasting is subsequently inaccurate, unexpected payments might crop up and interfere with your carefully laid out budgets. When you have agreed to the terms of a finance contract, ensure you check the terms of the agreement in detail, helping you to adhere to your budget and make sure you agree to a known cost.
Purchase or lease
When seeking an education finance deal for school equipment, it is important to decide if it would be more beneficial to lease (pay installments in return for the use of school equipment) or buy the school equipment outright.
Usually, leasing school equipment incurs lower costs, and even though you do not get to keep the equipment at the end of a leasing contract, this can be positive. When taking out a school financing deal on technological equipment, leasing can be the best possible option since the equipment will need replacing in a few years when it's obsolete. Thus, there is no need to spend additional purchasing it.
Be aware of any additional costs
The presented documentation should have a breakdown of all potential costs that come with the equipment financing. It should also comprise details as to whether they may change or not during the agreement. For example, when leasing AV equipment, find out what items exactly are covered and which ones will require any extra fees.
Choosing the right school equipment financing company
When looking at your school's finance equipment, you must ensure you choose the right education finance company for your requirements. An experienced school equipment finance provider will be transparent and open with all costs and contract terms, assisting you in agreeing on the right contract for your school needs. Obtaining a trustworthy finance provider is not difficult, and when you do, you will be able to access your school's new assets with total complete cost transparency and understanding of terms. If you plan to finance or lease school equipment over a long time, or regularly upgrade equipment at the end of an education leasing contract, you and your leaseholder company must have a stable relationship – so ensure you choose a school funding provider that you can trust.
---
Which companies finance school equipment?
Now that you know what to take into consideration before you agree upon a school finance or lease contract, you can safely go about finding the ideal contract for your school. Here are the best equipment financing companies for school equipment.
Top Financial Resources
At Top Financial Resources, we arrange school leasing solutions for a wide range of equipment and school improvements, from minibusses to temporary classrooms to ICT equipment to catering equipment. Whatever your school financing requires, Top Financial Resources gives you the most cost-effective, compliant, and transparent school leasing methods available.
Some of the benefits of funding your school equipment with Top Financial Resources include:
Cost-effective: leave your capital fund untouched with affordable monthly payments from your revenue fund

Compliant: Our financing comply with the school funding regulations 

Transparent: Easily see what the financing costs are at every stage of the school equipment financing lifecycle

Sustainable: Our system support green initiatives and meet government directives on sustainability
If you need new school equipment for your establishment and would like to spread the cost, please ask how we can help through 1-(800)-260-5126.
CBI equipment finance, Inc.
CBI Equipment Finance, Inc., is a member of the Equipment Leasing and Finance Association and provides a wide range of attractively priced equipment financing solutions.
Their products include:
Traditional Loans: Up to 100 percent loan-to-value (LTV) on new and used equipment.

Finance Lease: Your company has the ability to claim interest deductions and depreciation.

Municipal Lease: Designed for public entities, including schools, counties, cities, and other taxing districts.
Under the municipal lease, CBI equipment finance, Inc, helps schools finance a wide range of equipment and support school estates' maintenance and renewal. IT equipment is very common, with technology taking greater prominence within the school curriculum. However, CBI equipment finance, Inc can also help in other areas like grounds maintenance equipment, fencing and security systems, school minibuses, mobile classrooms, sports, and kitchen equipment. 
Leasing from Virtucom
A limited budget does not need to prevent you from modernizing your school's equipment and programs. Virtucom leasing solutions make your monthly expenses predictable so that you can concentrate on other sections of need. With minimal upfront costs and rare down payments, Vitucom can help keep your budget intact—concentrating on specific timelines and billing dates. Virtucom's process is efficient and simple: learn about your school, design and approve a personalized plan, and provide 100-percent financing for your entire bundled solution—never specific to a manufacturer or device. Virtucom has streamlined your acquisition process with straightforward, easy-to-read documentation.
First American 
Updating aging facilities allows schools to reduce the amount of money needed for long-term repairs, but budget constraints can challenge prioritizing projects. First, American's funding solutions can assist you in accelerating addressing critical maintenance projects with simple, fixed-rate financing. Whether your school has facilities projects or wants to take control of its technology and equipment management—First American can help. 
School equipment financing terms & rates
Equipment financing terms and rates will vary based on the lender, the equipment's value, and business operation time. Nonetheless, you can typically expect a rate between 6 and 30-percent. You could find repayment terms as short as six months or as long as 84 months, though 36- to 60-month terms are most common.
---

What are the shortcomings of equipment financing?
There are many benefits to equipment financing; however, one of the downsides is the loan term in relation to the equipment's longevity. In some situations, mainly when borrowers enter into longer repayment terms, the equipment might break and depreciate over the loan's life, leaving your school paying for repairs or replacements while still making payments on the initial equipment. For that reason, it is vital to assess the life expectancy of the equipment since it relates to the term of the loan. In some cases, a shorter loan term and higher monthly payments may help avoid this issue.
---
How to apply for equipment financing?
Typically, every equipment financing company has its own unique application process; however, loan applications can generally be completed online and have minimal paperwork requirements. When applying for school equipment financing, you will usually need to provide the following:
School name

Basic school contact information

Bank statements and a voided business check

The estimated cost of equipment
---
Bottom Line: Is equipment financing right for schools?
Business equipment financing can assist you in purchasing the equipment that is vital to your day-to-day operations—even though you do not have the cash on hand. Typically, education equipment financing is a very popular payment solution, with budgets being now so tight for schools. With equipment financing, you pay for the equipment as you use it and do not have to find all the money upfront. Schools find equipment financing an easier way to budget for large items of capital equipment. As such, schools should consider equipment financing in addition to other short-term lending options, like loans, as they review their options. Nonetheless, keep in mind that equipment financing is not always right, and some schools may find that leasing their equipment may make more sense.