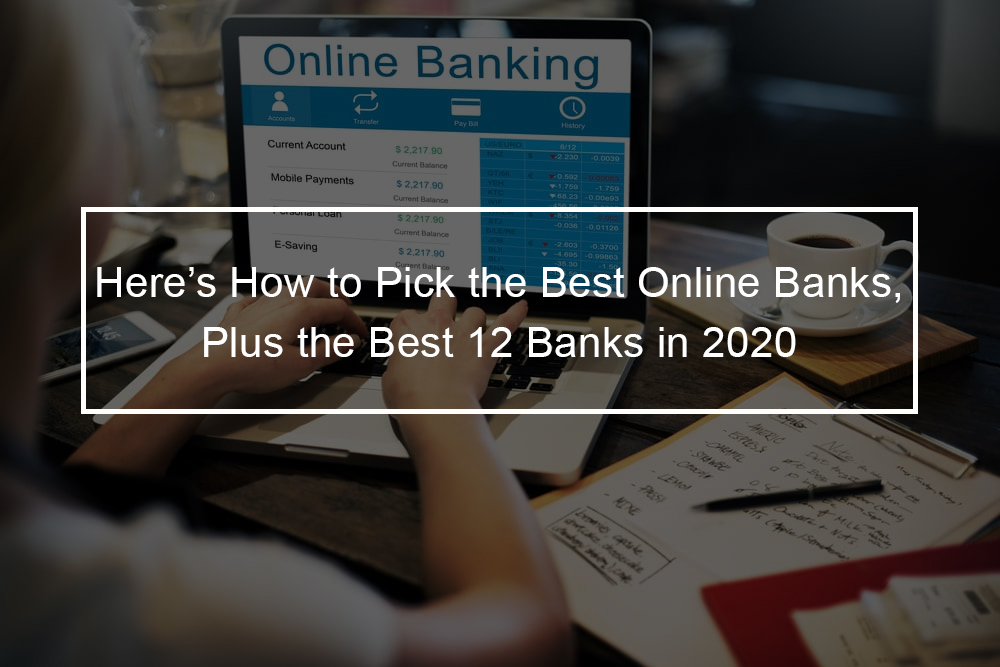 In a world in which cash feels less and less necessary, online banks have many benefits. Because they do not have to maintain the same brick-and-mortar presence of traditional banks, the online variety can provide better rates on loans and accounts and lower fees. Following a recent digital banking survey today, most banking customers are banking online, on their phones, or a combination of both. Typically, people's comfort level with online banks is growing. That is because online banks are really evolving and providing more convenience to customers.
---
How to Choose an Online Bank?
When it comes to selecting an online bank, there are several things to consider:
Skip the fees: Select a bank account that will charge you no monthly fees. This may vary with your behavior- maintaining a minimum balance, for example, or connecting the account to another account; however, you can often avoid charges with the right bank.

Go through the fine print: There are various fees banks charge other than monthly charges, so ensure you understand what those are. For instance, you might be charged a fee if you complete more than six transactions a month in your savings account. Even with online banks, you will have to read the fine print.

Make sure you are insured. Ensure that the bank is FDIC protected, which indicates your money is insured up to $250,000. If you are using a mainstream online bank, you are probably fine; however, if you are putting your funds with a quirky little startup, it is worth checking the insurance status.

Earn some interest. Online banks have a tendency to pay higher rates, so make some comparison looking for the best rate. The best online savings accounts presently are paying 1.7 percent to 1.8 percent compared to a national standard savings account rate of less than 0.1 percent.

Check out apps and websites: The app and website are frequently how you are primarily interacting with your bank. You want to ensure it is easy to use and that you are comfortable with it. Read news and review of the mobile app for more insight.
---
Best online banks
Below are a few of the best online banking options available today
Ally Bank
Ally is the leading online bank of 2020, providing both online checking and saving accounts. APYs are high (2.2 percent savings APY is particularly attractive); you can apply for significant loans, and ATM access is never an issue with Ally.
However, if you travel outside the country often, do not use your Ally Bank debit card- it carries a one percent foreign transaction fee. When traveling abroad, travel credit cards are a better alternative.
Synchrony
Synchrony has a 2.2 percent APY for the savings account, which also incorporates a convenience card for ATM access. Besides, Synchrony does not have fees (even for withdrawals past the maximum six per month) is also a highlight.
But a down side of Synchrony is that it does not incorporate a checking account and does, not a mobile application.
Capital One 360
The best part about Capital One 360 is that it does not have the most attractive APYs on either its online savings or checking account; however, the online makes up for it with the industry's highest-rated application, easy bank account integration and no monthly fees.
However, 1.00 percent APY is not the strongest on this list, and it is not assured. You have to meet specific criteria to earn interest at the maximum rate.
NKBC
The National Bank of Kansas City (NBKC) offers to check and to save accounts, together with home and car loans. Its APYs are okay; however, its lack of charges and wide network of ATMs are even more attractive.
On the downside, NKBC savings APY (1.77 percent) is not as competitive as some of the other online savings accounts listed in this post. Besides, it costs $5 to open the account. That is not substantial; however, most accounts on our list are free to open.
Chime
Chime is suitable for first-time savers. Its spending account has unlimited ATM reimbursements and has no monthly fees. Moreover, it can be set up to automatically transfer ten-percent of any direct deposit into the linked savings account and or automatically round up to the nearest dollar on all purchases, putting the extra change into the savings account. Also, you may have access to your paycheck up to two days early with a direct deposit.
One shortcoming, the APY for the Chime bank account is just 0.01 percent. It is not a good idea to store all your money; however, an excellent way to ensure you are saving when you spend.
Simple banking
What you will like about Simple bank is the APY for the simple checking account; it is incredibly noteworthy at 2.02 percent.
However, you might want to consider that Simple requires the checking account to have a linked Protected Goals account, which operates like a savings account. Also, the minimum balance is $2,000 to earn the high-interest rate, and you can not take out loans with this bank.
Charles Schwab
Charles Schwab is ideal for those people who like to travel. It has no transaction fees and offers unlimited ATM fee reimbursement globally. However, the main pitfall of Charles Schwab, is that APYs are low at 0.4 percent for the savings account and 0.50 percent for the checking account.
Barclays
Barclays has a competitive APY at 1.90 percent on its online savings account. Besides, its mobile app is highly rated. Sadly, you cannot open a checking account with Barclays, sophisticating access to funds.
Discover Bank
We like Discover Bank since it features both savings and checking accounts. Discover's checking account is a rewards account, meaning you earn cashback for the debit card rather than interest on the money in the bank account. The savings account has a 2.1 percent APY.
On the downfall, you cannot get an auto loan via Discover Bank. Also, the account charges overdraft.
Axos Bank (Previously known as Bank of Internet)
What you might love most about Axos Bank is the Axos Rewards checking account. It has a high potential of 1.25 percent APY, presuming you meet strict criteria ( monthly deposit of $1,000 or more and fifteen total debit card swipes a month). It also provides unlimited ATM fee reimbursement, a savings account, and auto and mortgage loans.
On the downside, foreign transaction fees add up to two-percent; the mobile app has poor reviews, and besides, the bank charges $10 for debit card replacement.
Alliant credit union
With Alliant ATM access is almost always assured when you bank with them (it has more than 80,000 ATMs in its network). Alliant credit union also operates one of the highest-rated applications for both checking and savings accounts and has physical locations in the Chicago region.
Typically, it can be hard to join Credit Unions, and it is not different from Alliant. The APY is 2.1 percent, which is higher than that of brick-and-mortar banks similar to PNC; however, it is lower than most other online savings accounts incorporated here.
CIT Bank
CIT offers the best interest rate for any savings account on this list (1.8 percent), but similar to the checking account at AXos, you have to meet some criteria to earn it- either a minimum balance of $25,000 or a monthly minimum deposit of $100. Also, CIT has mortgage loans, and its mobile app has good reviews on Google Play and App Store.
However, apart from the tough requirements to earn the high APY, the CIT savings builder account suffers from a lack of ATM access and minimum balance criteria ($100). There is no checking account.
---
Cons of online banks
Online banking is not perfect; however, customers have generally found the high-yield returns, mobile experiences, and no fees more than worry about online shortcomings.
Some of the most common shortcomings of online banks
Lack of face-face support: If you are more old school about your funds and like going to a branch and telling you owes to a bank teller, an online bank might not be for you. Online banks provide great customer service over the phone and online; however, you can only get face-to-face help for your bank accounts at a brick-and-mortar traditional bank.

Challenges with transferring funds: Checking accounts online makes it easy to access your money with debit cards that work at numerous ATMs. However, online savings accounts can be more challenging to access in emergencies than savings accounts at brick-and-mortar banks; yet, this challenge has to be decreased thanks to new solutions from online savings accounts.

Limited options for cash deposits: Depositing money is the biggest challenge of online banks since they lack physical locations. Even though some online banks have partnerships with brick-and-mortar banks for in-network ATMs frequently cannot accept cash deposits through ATMs. Nonetheless, if you still want to reap the benefits of an online account, open an account with a brick-and-mortar bank solely to deposit cash and transfer the money electronically to your online account.