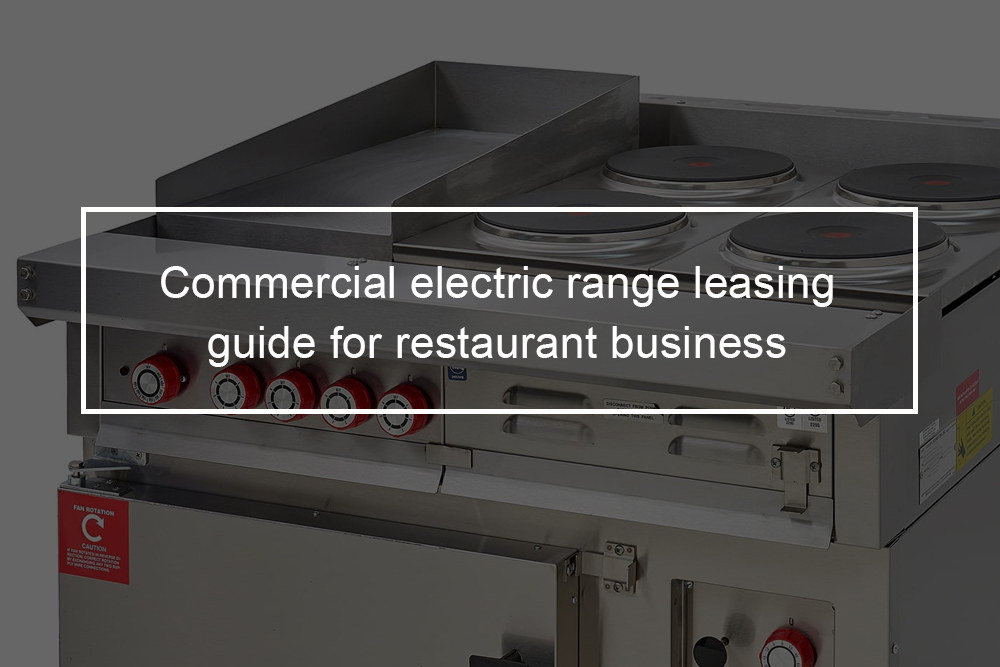 When it comes to investing in a new or pre-used Lang R30C-PTF commercial electric range, there are plenty of options available in terms of how to pay. Since the recession, there has been an explosion of new lenders entering the SME finance industry and some incredible innovation with leasing solutions. Restaurant equipment leasing has been around for many years and for a good reason; however, not everyone is aware of the process of leasing. In this post, we explore some of the most commonly asked questions about leasing a commercial electric range so you can understand whether it is the right option for you to acquire Lang R30C-PTF.
---
Lang R30C-PTF commercial electric range overview
R30C-PTF is an electric range from Lang. It features (1) 30″ W, x ¾ thick Snap Action Griddle convection base with (nine) rack positions and (five) racks. This unit also comes with 150-45°F programmable LCD controls, two-speed fan with pulse capability, 4″ casters, 430 stainless steel exterior and interior, 2-speed fan with pulse capability and 2″ vented stainless steel stub back. Lang R30C-PTF is cULUs, NSF certified.
Construction features of the Lang R30C-PTF commercial electric range
1″ high range–top backstop 

2″ insulation on six sides of the cooking compartment

2-3/4″ wide full-width front grease trough

4″ swivel casters standard

The cooking compartment is 430 Series stainless steel

Five chrome-plated oven racks provided

Grease drain in a trough with full width and depth spillage drawers

Griddle configurations incorporate a one-piece splash guard, sides, and back 

Heavy-duty compartment door, with large double-pane tempered glass window

Nine position oven rack slide supports

One-piece heavy-duty 430 Series stainless steel exterior, with attractive No. 4 finish

Powerful blower centered on the side of the compartment
Performance features of the Lang R30C-PTF commercial electric range
150 F to 450 F oven operating temperature range

Compact 30″ wide range includes half-size convection oven with five 13 X 18″ pan capacity

Door interlock switch cuts power to fan

Full front grease trough, pillage drawers speed cleanup, and grease drain

Separate, independent controls enable simultaneous multi-function cooking 

Solid-state oven temperature control accurate to 4 F

Two-speed fan with fan pulse capability
---
What is Lang R30C-PTF lease?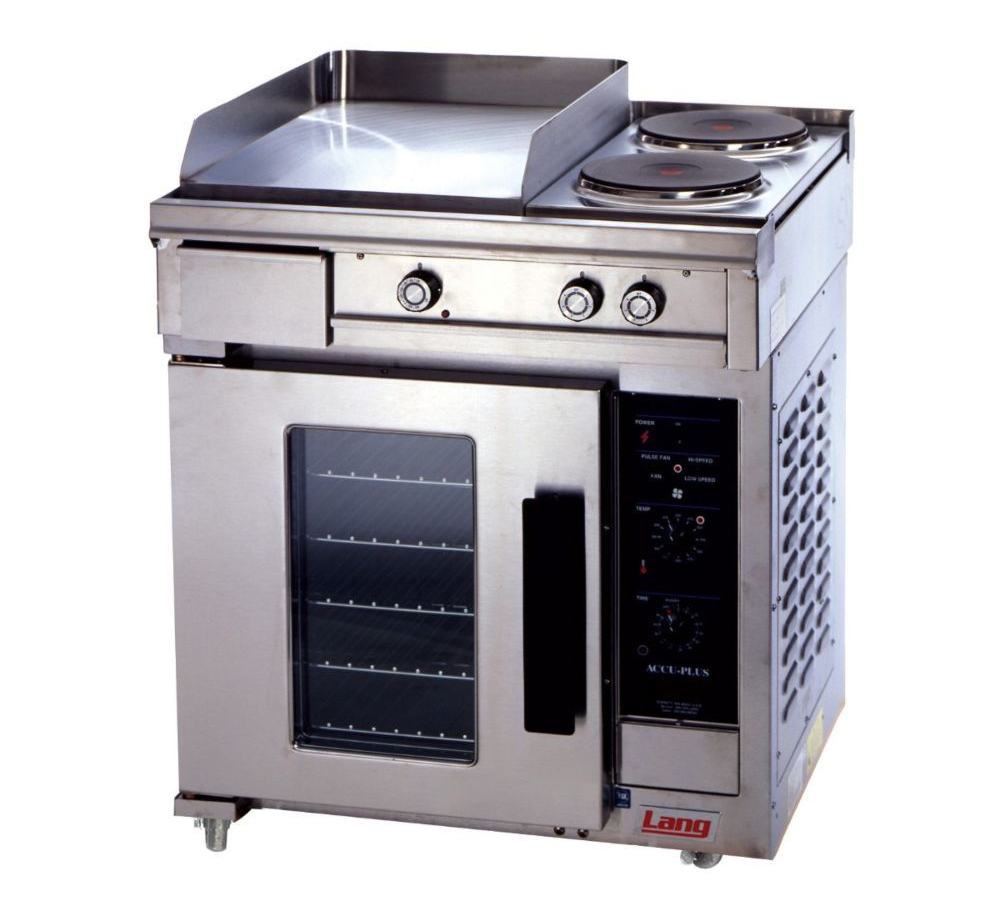 Generally, a lease is, in essence, an extended rental contract under which the owner of the Lang R30C-PTF allows the user to operate or otherwise makes use of equipment in exchange for periodic lease payments. In the leasing industry, the owner is the lessor; the user is the lessee. Equipment Leasing Association of America approximates that 80-percent of all businesses lease at least some of their commercial equipment.
Categorizations of commercial electric range leasing
The two main types of leases are long-term or capital lease or operating lease. Short-term, cancelable terms characterize an operating lease; the lessor bears the risk of the equipment becoming outdated and enjoys benefits like depreciation, including accelerated depreciation, if applicable. Typically, these leases are preferable when your restaurant needs a commercial electric range for a short period. Under the usual terms of the operating lease agreement, a lease can usually cancel the lease, presuming prior notice, without a major penalty.
A long-term lease, capital, non-cancelable lease, is also known as a financial lease or full payout. These leases are sources of financing for the lessee business's equipment for a longer period. Most financial leases are "net" leases, indicating that the lessee is accountable for maintaining and insuring the equipment and paying all property taxes, if applicable. Restaurants usually use financial leases for costly capital equipment. If you are leasing multiple Lang R30C-PTF commercial electric ranges, the financial lease would be an ideal solution.
In addition to these two basic equipment leasing models, a considerable variety of other lease arrangements are often used. These leases, each of which mixes different financial and tax benefits, are actually hybrids of operating and financial leases that depict the lessor restaurant's individual needs.
Commercial electric range leasing terms and rates
Small restaurant business owners need to know that lease rates can vary considerably from one restaurant equipment leasing company to another. Equipment leasing companies may also charge different rates for the same piece of equipment based on the company's various characteristics that are seeking the commercial electric range lease. Elements that can affect the lease rate include the length of the lease term, the nature of the equipment you want to lease, the lease's credit history, and if the lessor or lessee is the primary beneficiary of tax benefits that are associated with the transaction.
Lang R30C-PTF leasing checklist
The elements of a lease contract worth pondering in advance by the restaurant owner are on the following checklist. Every item should be viewed in light of the business's ultimate goal.
Lease Duration: If you intend to use Lang R30C-PTF for a shorter period, a shorter lease duration, even at a higher cost, may be desirable. When the machinery is standard, the lowest price might be available for the longest duration.

Finance terms (penalties for late payments, date of the month that payment is due, etc.).

Payment due to the lessor: This is one of several financial aspects the restaurant must consider in light of its projected cash flow.

Purchase options, residual values: If the lease s just another method of acquiring equipment, the lease's terminal point becomes significant.

Ta responsibility: As discussed above, capital and operating leases have different tax implications.

The commercial electric range's market value: The restaurant needs to evaluate insurance costs (mainly in capital leases).

Lessee renewal options.

Cancellation or updating provisions: mainly important when technology changes are swift.

Miscellaneous options (warranties, security deposit)

Penalties for early cancellation without good cause.
What if I have enough cash in the business to pay for the Lang R30C-PTF commercial electric range?
This one of the more common questions and is a valid one. Some business owners believe that leasing or even finance is generally only for restaurants who might be struggling or just do not have the cash reserves to self-fund. This could not be further from the truth. Any companies use leasing.
It is also very common in the foodservice industry, especially when it comes to the commercial kitchen equipment. A better question might be, "why use your own money when you can use somebody else's? It is a cliche; nonetheless, money really is king and never more so than today. Luckily many SMEs have ceased trading because of poor cash flow management and, in some cases, have been a profit-making at the time they had to shut up the company for good. Above all else, money is vital to help you grow and progress, and without it, you are endearing your restaurant.
---
Finding Restaurant Equipment Leasing Company
Top Financial Resources specializes in the financing and leasing of commercial equipment. We aim to make restaurant equipment leasing and financing is available to all restaurants regardless of size, credit score, and other business characteristics. If you are interested in commercial electric range leasing, here are some of the reasons why you should consider Top Financial Resources:
Speed: Leasing equipment can allow you to respond quickly to new opportunities with minimal restrictions and documentation. Unlike banks, Top Financial Resources approves applications within hours and not days or weeks.
Upgraded commercial equipment: By leasing your restaurant range with us, you will be able to afford the latest technology to maintain your competitive edge. We can structure your Lang R30C-PTF terms to allow upgrades and trade-up options to help your restaurant grow.
Easier financing than banks and loans: With a leasing company like ours, you can avoid requirements like compensating balances, cash-flow projection, large down payments, and making the finance process faster and easier. Banks are also harder to work with; they provide fewer options; they are less flexible and are not fast-paced in the financing process. Moreover, banks have escalator clauses, blanket liens, restrictive contracts, and call anytime conditions that make the process much more hassle than as easy as possible.
Flexible financing: Top Financial Resources offers flexible payment programs like seasonal payment and step-up lease. Our ninety days deferred payment enables you to get your equipment up and running in ninety days before making your first payment.
Finance services: Equipment support and other services are some of the most significant keys to new machinery acquisitions. Such soft costs are some of the most overlooked expenses that business owners are unaware of during their decision-making process. With Top Financial Resources, everything involved in the equipment purchase, from delivering the equipment to scheduling, training staff on how to use the equipment, is covered with our 100-percent leasing.
Enhanced cash forecasting: When restaurants lease with us, they know their payment amounts and their term length. This enables them to accurately forecast the appliance's cash requirements without stress, mainly because there are no floating fees with leasing.
If you want to get a free instant quote, call us at 1-(800)-260-5126. You can also write to us via email at [email protected]. To apply for a lease, fill our online application, and one of our representatives will contact you within 24 hours with approval feedback.
What other commercial electric range can be leased?
Almost any commercial electric range can be leased. Broadly speaking, as long as the equipment is in good cognition, it can be financed this way. Here are other restaurant electric ranges in the Lang R30C series you can consider:
Lang R30C-APFM Lang® Marine Restaurant Range

Lang R30C-APEM Lang® Marine Restaurant Range

Lang R30C-APDM Lang® Marine Restaurant Range

Lang R30C-APCM Lang® Marine Restaurant Range

Lang R30C-APBM Lang® Marine Restaurant Range

Lang R30C-APAM Lang® Marine Restaurant Range

Lang R30C-APD Restaurant Range

Lang R30C-APA Restaurant Range

Lang R30C-APF Restaurant Range

Lang R30C-APE Restaurant Range