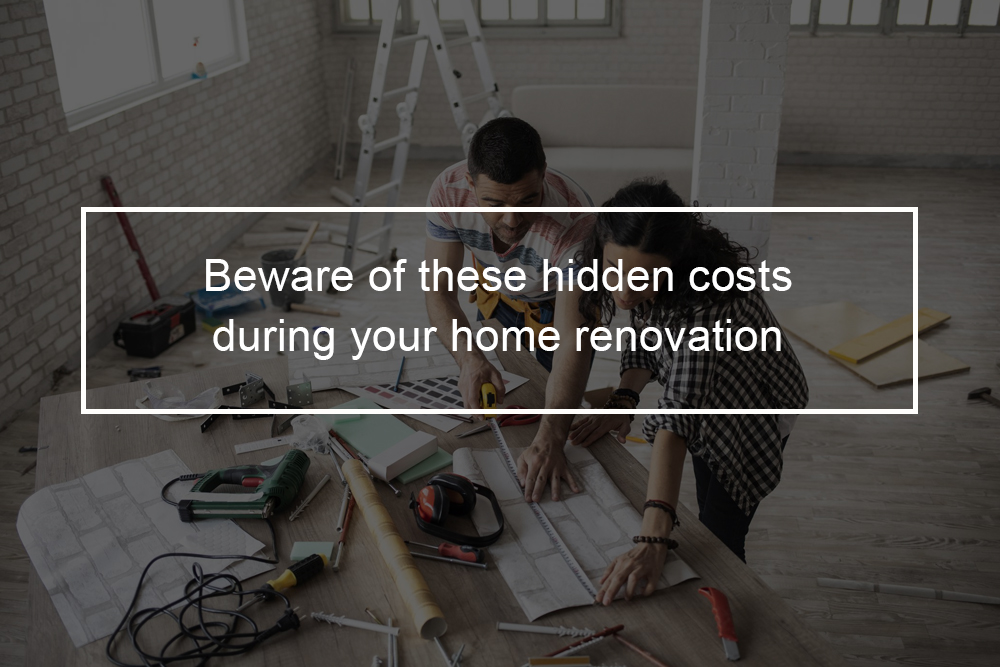 A home renovation can be an inconvenient, messy, and frustrating task to embark on. The last thing you need is a higher price tag than what your contractor had quoted. So, how do you keep your pocket and sanity intact while renovating your home? Communicating regularly with your remodeler and being realistic is the number one thing you can do to avoid these hidden costs.
---
19 hidden renovating costs and how to embrace them on the path to your dream living space
Damage caused by rot and pests
While some types of damage are apparent, others will not reveal themselves until after you have opened up the walls or pulled up the flooring. Pests, such as termites and rot or water damage caused by leaking roofs or pipes, can do a serious number on your property and add money to renovating costs. 
Bringing your home up to code
If you have bought an older home, despite how well-built it might be, there is a chance you will come across a few details that are not up to code (shoddy plumbing, wiring, asbestos, etc.). It is an added expense; however, you will have no choice but to shell out. Eventually, it will make your home safer and prevent greater problems down the line. Go into the remodeling, knowing this kind of thing might pop up, and you might need to reprioritize your list of to-dos. Note which remodelings are non-negotiables and those you are willing to save later down the line if necessary.
Listed buildings
When you bought your house, you should have been informed if it was a listed building. If it is, high chances are you will struggle to carry out any planned work without fighting. It is a criminal offense to simply go ahead with any work without the authorization to do so. The reasonable thing to do if you don't know whether or not your property is a listed building is to check.
Check your electric
Sometimes, the electric work you plan to carry out will mean moving your fuse box and electric meter. Nonetheless, you must ensure you do not move it yourself. This is because it is illegal. Usually, if it is a move of less than fifteen centimeters, this can be carried out by your energy supplier with no charges. However, for larger-scale moves of over three meters, your local distribution company will have to ensure they move your mains supply before the electricity meter is put elsewhere. If this is something you need, ensure you book the relevant appointments to avoid long delays.
Loft conversion regulations
Usually, to create more living space, people look at converting their lofts. Nonetheless, ensure you get the correct building regulations approval. This is necessary to ensure there is sufficient structural strength to the floor, while also ensuring that the structure's stability and existing roof is not jeopardized. 
In most homes, the timber joints that form the loft space's floor will not be sturdy enough to support significant weight. This could result in issues if you plan to turn your loft space into a spare bedroom, for instance, and without official planning, meeting set regulations, you can run into a host of problems. Maybe, surprisingly, any work that you do could indeed hinder your future sale if you do not get the appropriate paperwork and permission. In some scenarios, you will need to revert the property back to its former state if you have not gone through the right channels when carrying out the work. 
Disposing of debris
After you have ripped everything out, you have got to trash your construction debris. However, this activity is easier said than done because municipalities regulate the kinds of waste acceptable for curbside disposal. Based on where you stay, you will incur costs if you need to hire a vehicle, rent a dumpster or a trash bin, or even recruit a company to remove the debris for you. 
Fixing water issues
Keeping your home dry does not come cheap. Expect to uncover some water issues when remodeling. It involves water-sealing the basement, fixing leaky gutters, adding sump pumps, or grading your property to keep water away from your home's foundation. Also, if you plan to add a bathroom to your home, get ready to dig into your pocket to have plumbing rerouted.
Obtaining permits
When it is time for a renovation project, homeowners can not just whip out their power tools and start constructing. If the job engages anything beyond surface changes, you will possibly have to secure some permits first. Based on the extent of the renovations, the cost of permits can range from a few hundred to thousands of dollars. 
Adding extensions
Extensions are ever famous in the world of renovations. Nonetheless, not everyone understands the effect it might have on your property. For instance, have you considered the effect an extension can have on your existing boiler? Adding extra space will mean there is an added demand on your hot water system, and, in some cases, your boiler will not be able to cope. Ensure you factor this into your plan. 
You must also get building regulation approval, even if you do not need planning permission due to using permitted development rights.  
Hiring professionals
Some remodeling projects are simply too big for a homeowner to manage with a sledgehammer and several household tools. If you are planning to demolish walls around appliances or removing flooring and cabinets, or if you are not sure about the location of your plumbing and wiring, you will possibly need to call in a professional. Generally, hiring a contractor can cost hundreds or thousands of dollars, based on the scope of the job. 
Figuring out property lines
If you are planning to erect a landscape, fence, or wall feature near your property's edge, first ensure that the land you think is yours doesn't belong to someone else. For various reasons, property lines can get blurred over time, so if you have not completed a land survey recently, you will need to order one to make sure you do not build on your neighbor's lot. This service generally runs a couple of hundred dollars.  
Food
If you are renovating your kitchen, making your own meals during the renovation period may be out of the question, mainly if you cannot plug your appliances elsewhere. If your remodeler or contractor is not able to create a temporary kitchen for you for the remodel period, you will need to increase your budget to cover the cost of ordering food or going out to eat. If you have access to a hot plate toaster oven, mini-fridge, or crockpot, you might be able to save on eating out by making more simple meals. 
Supplies, tools, and rental fees
If you have decided to manage the remodel yourself, we give you many props. While this can certainly save you money, you should consider the cost of tools (the contents of your trusty toolbox are not going to reduce), dumpster, supplies, truck, and gas rentals before saying no to the idea of hiring a contractor. Whereas you will pay for labor and your contractor's know-how, you will not need to dish out more cash to haul things around or for supplies you might not need later. If you are going at it alone, budget an additional $1,500 to cover these costs. 
Moving
If you can not stay in your home during the renovation or need to store your belongings to a room for your contractor and crew, you will need to consider costs for storing and moving. Account to spend a few nights in a hotel if the unforeseen makes your house uninhabitable. For instance, your remodeler or contractor could find asbestos or accidentally hits an electrical line. Also, find storage facilities to house your things till your renovation is complete. 
Higher utility bills
Should you expect to get higher utility bills during construction? These increases are negligible. With general contractors plugging in nail guns and compressors, your bill can add up to $10 in a month. For large equipment running 24/7, maybe for an emergency water mitigation caused by a plumbing line break, you might run $20 to $40 more a month.
Improper building practices
Your home may look fine from the outside; however, when a contractor digs into walls, the truth is revealed about just how well it was built and how much more money you will pay. 
Your time is money
During a renovation, you will need to take time off work to meet with a contractor or make selections at showrooms. Can your work tackle the decisions that need to be made? If you are an entrepreneur, factor in lost productivity or making up work that is temporarily derailed by the remodel. 
Hiring child and pet care
Pets and kids do not mix well with renovation. From the dusty conditions to strangers traipsing through the house and loud noises, you might find it essential to keep your children and pets away from the action. Ensure your budget for pet sitters, babysitters, or out-of-the-house activities to keep everyone safe and entertained while the house is a construction zone.
Clean up
After your work is complete, an industrial-strength deep-clean will be in order, particularly if you upgrade the home to sell. Following Homeadvisor, you should expect to pay approximately $180 for a maid service, and around $195 to have your carpets professionally cleaned.