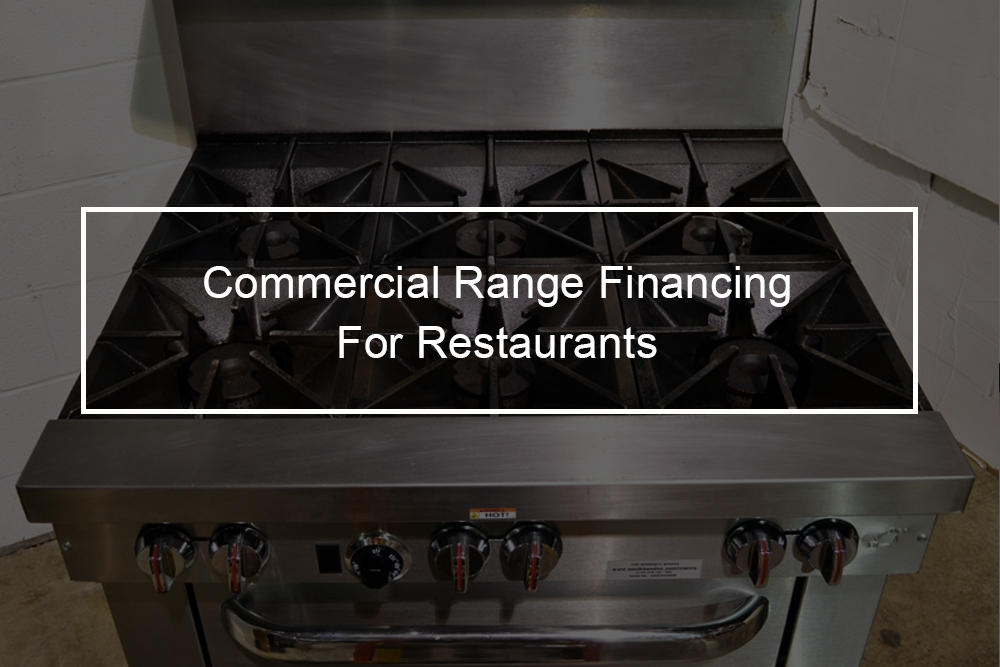 Do you own a small restaurant, and you need a Southbend P36N-XX commercial range? Whether you are a startup or an established restaurant, you know just how costly this kind of equipment can be. Commercial range financing or leasing might be what you need to buy the equipment that will help you grow your restaurant. Even if you do not have the cash to pay for it upfront (few businesses do), there are numerous restaurant equipment financing solutions at your disposal that can help you conserve working capital and still get the machinery you need to run your business.
---
Southbend P36N-XX Overview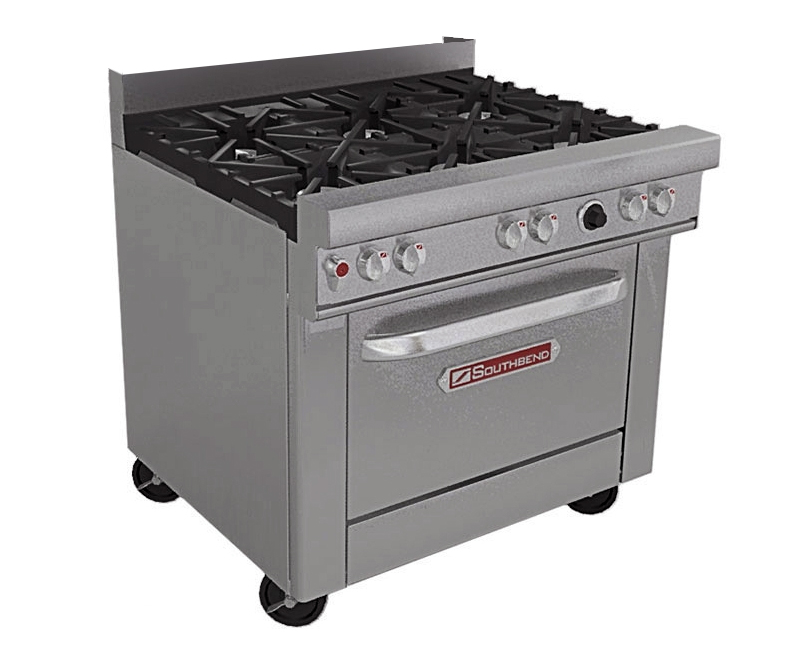 The Southbend P36N-XX platinum series 36" gas heavy-duty sectional range delivers the heat and is ideal for any fast packed kitchen. This restaurant range is designed with four signature Pyromax 45, 000 BTU (NAT/LP) patented clog-free burners with removable welded steel top grates. Incorporated as standard on this stainless steel unit is a 9-¼ front rail, a 5" high stainless steel flue riser, and a removable drip tray.
This unit comes with a 1" rear connection with a male NPT connector and a 1-1/ 4 front gas manifold. This Southbend P36N-XX is built to be utilized as a standalone unit; it is to be mounted on top of either a refrigerated/freezer or countertop base (the equipment is not freestanding).
Southbend P36N-XX Features
(Four) 45,000 BTU (NAT/LP) Pyromax clog-free burners

36″ wide

5″ high stainless steel flue riser

Modular mount design

Powered by Liquid Propane/Natural Gas

Removable drip tray

Removable welded steel top grates

Stainless Steel construction

Total of 180,000 BTU (NAT/LP)
Southbend P36N-XX Overall Dimensions
Width: 36″

Height: 13-1/2″

Depth: 37-1/2″
---
What Is The Difference Between Commercial Range Leasing And Commercial Range Financing?
If you need a commercial range for your restaurant, you have the option to lease or buy it. When you buy a commercial range, you own it after you pay off your loan. However, with restaurant equipment leasing, you rent the equipment for a specific period and return it eventually. If you are not certain of whether you should lease or buy, consider each option's benefits and drawbacks.
For instance, if you opt for commercial range financing, you have the freedom to make changes. When you buy Southbend P36N-XX, you can modify it as you see fit. You will own it and can customize it to meet your unique needs and preferences. Moreover, you own the asset. The commercial range you buy will be an asset on your balance sheet. Once you are done with it, you can sell it and recoup some of the original investment.
While commercial range is not without its drawbacks. You will be liable for maintenance. If you purchase a commercial range, you are responsible for all maintenance costs. Based on the issues you encounter, those can get quite costly.
If you opt to lease the equipment, you enjoy lower upfront costs. Generally speaking, restaurant equipment operating lease comes with lower upfront costs than equipment purchase. Typically just make affordable monthly payments to a restaurant equipment leasing company, and you can use the machinery until your lease duration is over. The restaurant equipment leasing company will take care of maintenance and other costs.
Typically, it is not uncommon for a business owner to purchase equipment and later find out they do not want or need it anymore. If you would like to try out Southbend P36N-XX, leasing a commercial range is a great option since you can get rid of it after your team comes to an end.
Commercial Range Financing Tax Benefits
If you lease or buy new equipment, you might be able to ease your tax burden with the IRS' Section 179 deduction. Thanks to section 179, you can subtract 100-percent of the purchase price of the machinery you lease or buy from your taxable income. The maximum deductible amount is $1 million, whereas the allowable amount spent is capped at 2.5 million. To be eligible for the Section 179 deduction, you should have a taxable profit. Note that the deduction can only be made up to the amount of your taxable income. 
---
Commercial Gas Range Financing: How To Qualify?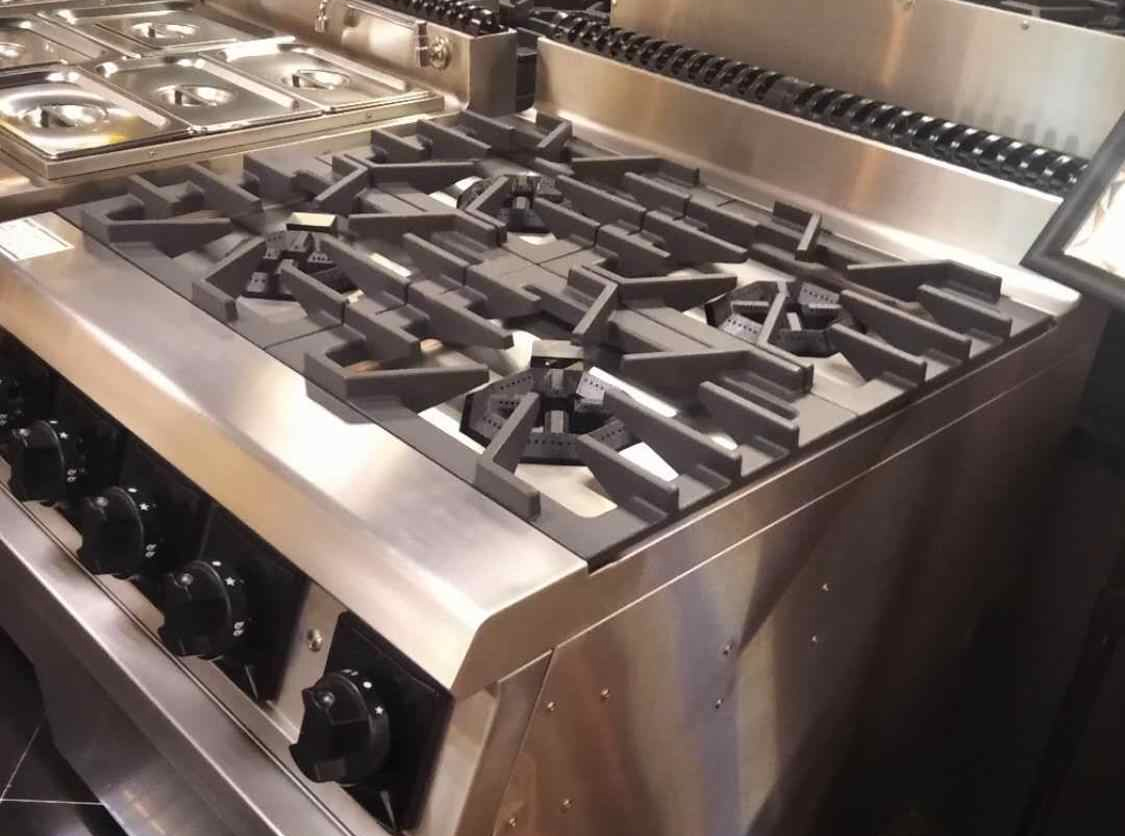 While the lender you choose will dictate the qualifications you should meet to get approved for commercial range financing, most lenders have the following qualifications:
No unresolved tax liens

No bankruptcies in the last 7 years

Minimum credit rating of 600

Personal guarantees from all owners

Active status with the secretary of state or a business license
How To Apply For Commercial Range Financing
Whereas each lender might have a slightly different application process, you can expect to need a few things before you begin:
Details on the Southbend P36N-XX (generally a quote from the vendor)

Financial and bank statements

Government-issued ID or driver's license
Most lease or finance applications take just minutes, and a lending specialist might reach out if the lender requires extra information.
Does Southbend P36N-XX Financing Require Collateral?
Yes, commercial range loans typically require collateral. However, the good news is that you have the collateral built-in: the equipment you are buying. Restaurant equipment financing companies want to reduce their risk, and in the event that you can not pay off the loan, they will take the equipment you financed to cover the balance owed.
Is It Possible To Qualify For Southbend P36N-XX Loans With Bad Credit?
The majority of the lenders require that you have a good or excellent credit score to take out a restaurant equipment term loan. If you have a bad credit score, however, do not worry. Luckily, there are some lenders who are more lenient and lend money to restaurant business owners with all types of credit reports. Just bear in mind that provided you opt for a Southbend P36N-XX loan with bad credit, you might face higher rates and less favorable terms. Not unless you are in dire need of the equipment, you might want to improve your business and personal credit score before you apply for financing. By doing so, you can save hundreds of dollars over the life of your loan.
How Long Can You Finance Commercial Range?
Every lender has their own terms, so the amount of time you can finance Southbend P36N-XX will depend on the lender you choose. Most of the lenders offer terms of up to five years.
How Much Of A Down Payment Do I Have To Make For Restaurant Equipment Financing?
Whereas you might be able to qualify for a commercial range loan without a down payment, the results will surely be better if you can afford one. In fact, it is recommended that you save up at least 10-percent of the equipment's final cost as a down payment and at least 20-percent if you really want the best chances of approval for a favorable loan with good conditions. Providing a large down payment will not just help you lower your total debt payments; it will show your lender that you are a serious customer and hopefully assist you in building a good relationship with the lender so you can get good financing deals on restaurant equipment for years to come.
Where To Get Commercial Range Financing?
Let Top Financial Resources help your restaurant with lease financing for your Southbend P36N-XX needs. Here you can get an instant commercial range lease or finance quote, compare monthly payment plans, and apply for an equipment loan or lease all in less than two minutes. Best of all, it is free.
Top Financial Resources is an independent lender and offers competitive rates across a large spectrum of financial needs. Even if your restaurant is too young to qualify, do not worry; we will review alternative financing sources. So, get an instant commercial range financing quote and get started today. There is no effect on your credit, and you will be able to choose the best payment plan, complete your application, and get the financing you need in record time. We customize financing solutions to suit your business and make your next equipment addition to your restaurant or foodservice operation as stress-free as possible. To get started, apply through our website or call us at 1-(800)-260-5126.
To qualify for commercial range financing, a Top Financial Resources must be qualified in business or franchise and have a FICO credit score of at least 550.
Commercial Range Financing: Which Equipment Qualifies For Financing?
Commercial range financing is aimed at businesses in the foodservice industry and helps them purchase or lease a restaurant range, whether electric or gas unit, that they need to keep business flowing smoothly.
Apart from Southbend P36N-XX, you can also finance:
Southbend P36N-HHH Commercial Range

Southbend P36N-GRAD Commercial Range

Southbend P36N-FF Commercial Range

Southbend P36N-BBB Commercial Range

Southbend P36N-GGG Commercial Range

Southbend P36N-CCC Commercial Range

Southbend P36N-BBG Commercial Range

Southbend P36N-BBB-SU Commercial Range

Southbend P36N-TTT Commercial Range

Southbend P36N-BHH Commercial Range

Southbend P36N-BGG Commercial Range

Southbend P36N-BBC Commercial Range

Southbend P36N-BBH Commercial Range

Southbend P36N-BCC Commercial Range
Note that these units can also be financed using different methods such as a business line of credit, invoice factoring, and working capital.
Top Financial Resources Verdict: Southbend P36N-XX Financing
When it comes to maintaining a steady cash flow, purchasing something like a Southbend P36N-XX can take a chunk out of your business bank account. But a commercial range loan can balance out your finances and let you keep operating your business smoothly. If you are in the market to purchase a commercial range, we can help you get the best financing.