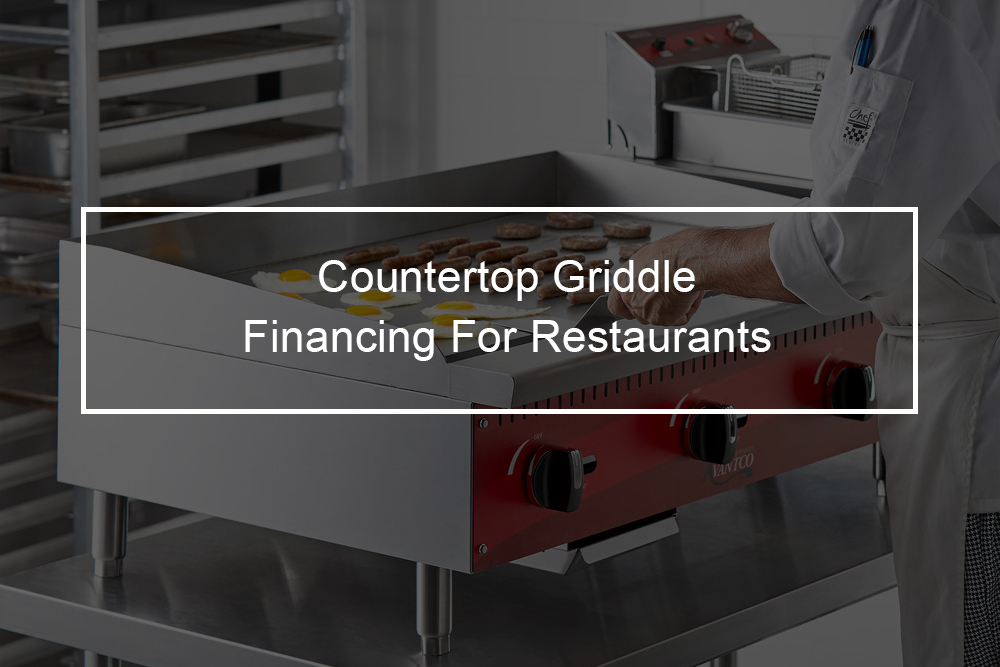 When you need a new Star 636MF countertop griddle to continue running your restaurant, you have two options- purchase it outright, or consider restaurant equipment financing. Restaurant equipment financing takes the difficulty out of buying new countertop griddle by easing cash flow issues. Instead of paying upfront, you can get new restaurant equipment right away and pay it down over time. Here is what to expect with Star 636MF gas griddle financing.
---
Star 636MF countertop griddle overview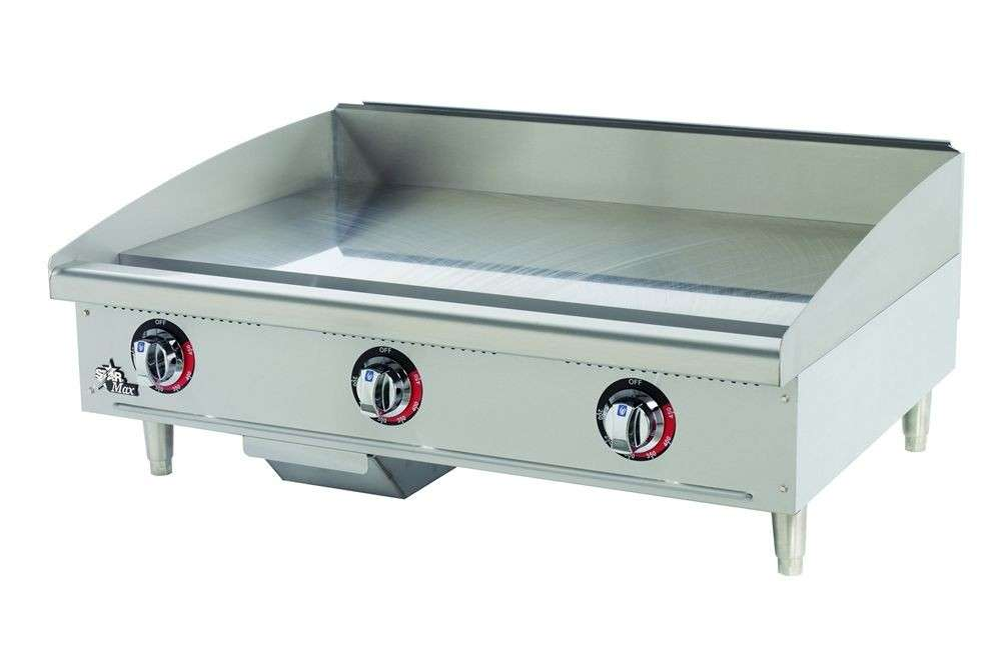 636MF is a heavy-duty countertop griddle designed by Star. It features a 36″ W X 21″ cooking surface, 1″ thick polished steel griddle plate, heavy-duty knobs, and manual controls every 12″. Star 636MF comes with a wrap-around stainless steel splash guard, grease trough, and stainless steel drawer welded steel frame with stainless steel front, 4″ legs. This Star model is cULUs, UL EPH classified.
Standard features of the Star 636MF countertop griddle
 28,300 BTU aluminized U-shaped steel burner each 12″ of cooking surface provide even heat distribution

All items shipped for Natural Gas Service with reversible regulator and LP conversion kit 

Accessible in 15″, 24″, 36″ and 48″ widths

Cool-to-the-touch stainless steel bull nose front offers knob protection and a comfortable work zone

Heavy-duty chrome plated cast zinc knobs

Heavy-duty 4″ adjustable legs 

Heavy-duty all-welded body construction with bull nose, stainless steel front, and 4-1/2″ high tapered splash guard

Highly polished 1″ thick polished steel or chrome-plated

Has large 4-1/2 quart stainless steel grease drawer

A modulating thermostat is inserted into the griddle plate 3/16″ from the cooking surface, adjusts from 150°F to 450°F, offering a fast response to surface temperature change

Spatula wide 3-1/4″ front grease trough and grease chute for easy cleaning
---
How countertop griddle financing works?
Before getting into specifics about the countertop griddle financing program you might qualify for, it is important to go through the basics. In simple words, this financing option will let you buy Star 636MF for your restaurant (which you will then own) and pay back the lender over time.
By doing so, you can get the new countertop griddle right away. Whether you need to replace an old appliance or purchase a new one to grow your restaurant, this can be a game-changer. Restaurant equipment financing loans (though they are actually regarded as financing, not loans) do not usually require security. In most cases, the equipment itself will act as collateral. If you default or can not make payments, the lender will reserve the right to take the countertop gas griddle.
Nonetheless, you might have to guarantee the appliance as well, personally. This indicates that you would still be held personally accountable for payments in the event your restaurant defaults. Through most financing programs, you can finance up to 100-percent of the griddle's cost, with no upfront fees.Unlike restaurant equipment leasing- in which you pay the owner rent- financing restaurant equipment allows you to own it. Once you have finished making payments, the Star countertop griddle will become yours.
You can make excessive use of used restaurant equipment financing programs, in which you finance equipment from resellers. Countertop griddle financing comes with outstanding tax benefits for small restaurant owners, too. You can write off the appliance's full cost in the first year; however, if you have other deductions, you are not out of luck. For up to twenty years, you can carry over deductions.
Who can use countertop griddle financing?
Countertop griddle financing is not limited by business size. In fact, small, new, and established restaurants can take advantage of these programs. For as long your business has been in operation for at least six months, and you need a commercial countertop gas griddle, you can apply for restaurant equipment financing.
---
Star 636MF Financing: Terms, rates, fees, and more
Now that you understand how countertop griddle financing works, what can you expect when financing Star 636MF? The terms, rates, and amounts depend entirely on your restaurant, history, and the equipment you are looking for finance, whether used or new. Generally, restaurant equipment financing works differently than other small business loans and financing options, so the expectations are not exactly the same. However, if new equipment will help your restaurant grow, restaurant equipment financing is possibly the ideal option.
Typically, you can finance the entire cost of the countertop griddle instead of a fraction. Most trustworthy equipment financing and leasing companies also do not charge any upfront fees. Interest rates will depend on your restaurant's financials, including credit rating, annual sales, and previous debt payment history. The stronger your business's financial profile, the better offers you can get.
In the same vein, loan terms will also be determined depending on your business history. Whereas different options might be available to every restaurant, you can qualify for terms as long as five years or a year short.  Some restaurant equipment financing and leasing companies limit your purchasing options. But, most trustworthy restaurant equipment financing companies should let you buy equipment from any vendor. You can use an equipment financing calculator to better understand your payback rates, terms, and amounts.
---
What are the requirements for restaurant equipment financing?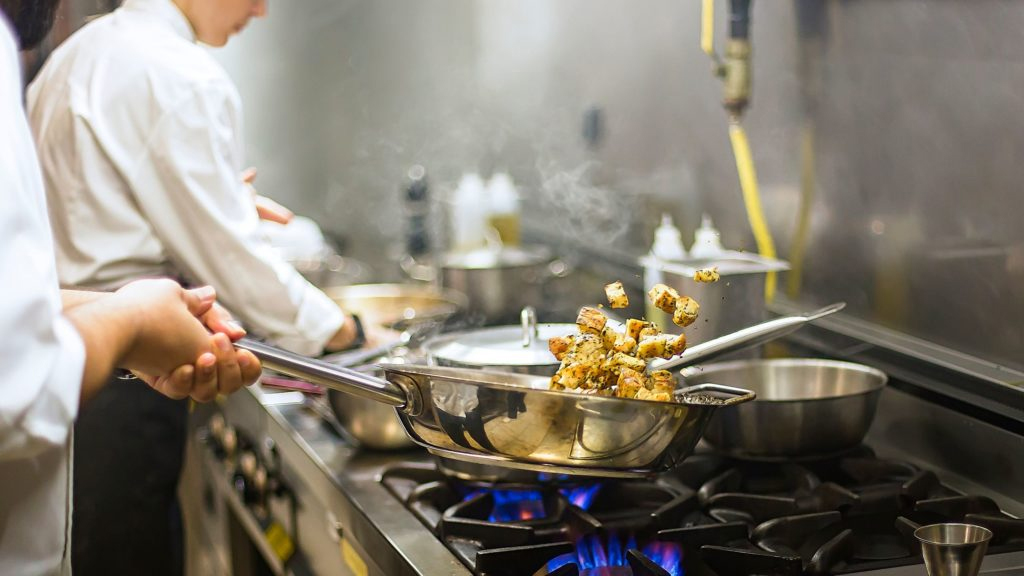 Qualifying for restaurant equipment financing is not a clear cut procedure. The requirements will vary based on your restaurant and goals; however, there are a few boxes you should check off. First, let us dive into credit score rating. You can typically qualify for a countertop griddle financing program with any credit profile as a restaurant owner. But having said that, a higher credit score (more than 650) will always give you better options. No matter what your credit rating is, most commercial equipment financing companies will have options available.
Note that your small business's annual revenue can also play a part in determining if you qualify for financing. Financing programs for inexpensive equipment might not have sales minimums, whereas programs for financing more costly equipment, like purchasing multiple Star 636MF might. Typically, having over 120k in annual sales puts you on the fast-track to acquire the best approvals, even though options are undoubtedly accessible to newer restaurants with lower sales.
The same goes for how long your business has been operating. When it comes to restaurant equipment financing, there aren't any strict qualifications for the time in business. However, more established restaurants tend to qualify for other requirements. Before you get your options, most lenders will ask for financial statements to find more information about your restaurant. At Top Financial Resources, you will only have to submit bank statements and possibly your most recent tax return. Other lenders and restaurant equipment leasing and financing companies might ask for more information.
Who should I choose to finance my Star 636MF gas griddle?
You can finance your commercial countertop gas griddle through online lenders, independents, captives, or banks. Within each of these lenders, there are also various options. Some are simply general lenders, whereas others have extensive experience with restaurant equipment financing. When figuring out the best option for a restaurant equipment loan, most businesses concentrate first on the interest rate. Many restaurant owners do not realize that interest rate is just one small section of the financing puzzle. Your financing company's experience and your relationship with them usually play a much more significant role over the lifetime of your equipment loan than the interest rate or monthly payment.
Apart from choosing a lender type, there are many loan structures available for restaurant equipment financing. Whereas some lenders only offer leases or loans to acquire the new item, others such as Top Financial Resources can also offer used restaurant equipment financing, refinancing, working capital loans, debt consolidation plans, and business loans that cover a business's short-term operational needs. The restaurant equipment financing you should choose depends on your financial situation, business goals, and equipment needs. These might change over time, and it is essential to select a flexible lender that can grow with you as your restaurant evolves.
Learn your financing options in minutes, get financed in hours by Top Financial Resources
If your restaurant needs new or used Star 636MF, there is no sense in waiting to get the ball rolling. Top Financial Resources can help you explore your countertop griddle equipment financing options in minutes. After completing a quick, one-minute financing application, you will be contacted by a business financing advisor who will work to understand your restaurant needs and guide you through your options.
Sometimes the financing advisor might visit your restaurant to collect information for review. This might include your restaurant narrative (operations, customers, ownership, history, future business plans). This information helps Top Financial Resources understand the borrower's business more fully, mainly if there have been challenges in the past. We might also require your most current interim financial statements (prepared by an accountant or a bank statement). These will provide a current snapshot of your financial situation, cash flow, and revenues. If you need restaurant equipment financing, our process is quick, fast, and easy. Get started today by applying now.