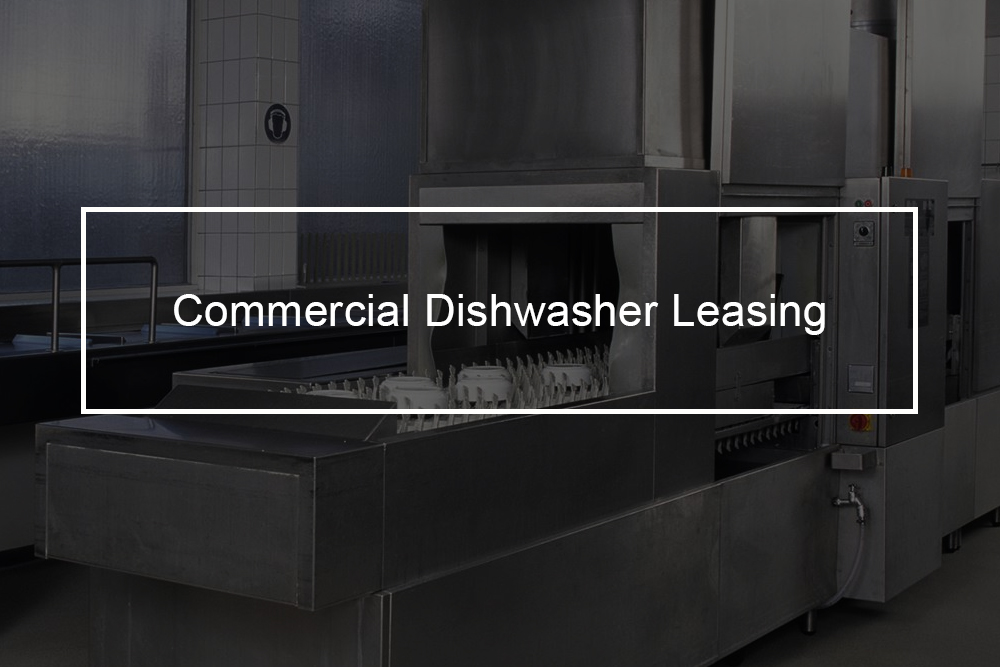 No bustling food service operation will get far without a commercial dishwasher like the Jackson WWS CONSERVER XL-E-FL. These machines ensure that your glassware and dishes are always clean and sanitary for your visitors. Of course, this not only lowers your liability but also keeps your customers happy and keeps negative reviews at bay. We provide financing and leasing for all commercial dishwasher equipment you need here. Top Financial Resources is happy to provide the lowest prices, free shipping, and easy financing on the commercial dishwashers for your restaurant. We are equipped to help you find the right style. We are also pleased to help you finance your commercial dishwasher if needed.
---
Type of commercial dishwashers
There are various type of commercial dishwashers, with various features to consider. The three main categories in our selection are undercounter dishwashers, door-type dishwashers, and conveyor type dishwashers.  Let us look at one of the best dishwashers in the market, Jackson WWS CONSERVER XL-E-FL Conserver® Dishwasher, and how we can help you lease it.
Jackson CONSERVER XL-E-FL Conserver® Dishwasher overview

Jackson WWS CONSERVER XL-E-FL commercial dishwasher benefits and features
 17 7/8″ vertical inside clearance

Air gap instead of vacuum breaker

Auto start

Built-in waste accumulator with removable scrap screen

Convenient top-mounted controls

Delimer switch for simple removal of hard water deposits

Door switch

Durable stainless steel construction

Electronic timer

Dump and fill design gives you fresh water every cycle.

Front-loading door-type is great for applications with limited space.

Interchangeable lower and upper stainless steel wash/rinse arms.

Internal sump design

Low chemical indicator lights

Self-draining stainless steel pumps eliminates soil and detergent carryover between wash and rinses cycles.

Single point electrical connection

Stainless steel adjustable bullet feet

Uses 1.02 gallons of water per rack

Wash thermometer
Jackson WWS CONSERVER XL-E-FL commercial dishwasher dimensions:
Depth: 30.3 Inches

Height: 68.5 Inches

Width: 25.25 Inches
---
Benefits of leasing a restaurant commercial dishwasher
Leasing saves you money
Leasing large commercial equipment such as CONSERVER XL-E-FL Conserver® Dishwasher will help you save your cash for other areas of business. Rather than paying a hefty amount for a dishwasher, you can use that money to pay your first payroll and also for your restaurant business marketing budget.
No repair or maintenance cost
If the dishwasher breaks or stops working, you do not need to pay for the repairs or maintenance cost. The leasing company will be accountable for all the maintenance work.
Easy to upgrade
Whereas the lease term on your commercial restaurant equipment is over, you can get a new or upgraded version of the dishwasher if you choose to renew the lease agreement. Besides, you can buy the equipment at the end of the lease term as well.
Access to equipment with less capital
With a restaurant equipment leasing program, you can get the equipment you need and get a new business up and running, even when you do not have sufficient cash to run your restaurant. You definitely can afford to pay a monthly payment; however, not a large sum at the end of the term. Besides, you will not need to have a good credit score when leasing your dishwasher, which can definitely be a plus to many business owners.
Tax benefits
There are tax benefits available, based on the way you structure your lease. Discuss with your accountant about how to write off leasing costs.
---

Equipment Leasing Rates
After you qualify, you will be given a fixed monthly payment you pay to eventually own the equipment at the end of the lease at $1, or a ten-percent PUT or the equipment Fair Market Value. Restaurant equipment financing rates are ultimately based on the risk involved in taking on your business. Rates begin at 4.75 percent and go from there, depending on how the credit manager sees the risk of your business equipment leasing application.
You will generally be presented with terms up to sixty months and can ask for terms up to 72 months based on the dishwasher's credit risk and age. If you have excellent credit, you can negotiate a no prepayment penalty after twelve or eighteen months but generally, in the equipment leasing industry, you pay what you sign up for. So make sure you decide early on if a lower total out of pocket cost or a lower payment is more significant to you. Then choose a term that best suits your restaurant needs.
Bear in mind if you structure this on an equipment finance agreement, $1 buyout lease or a ten percent PUT lease, you can use section 179 to accelerate the first year of ownership's depreciation to lower your actual cost ownership. Besides, if you would rather have tax benefits for the length of your equipment lease than structure your agreement with a fair market value buyout or term residual buyout to write off the sum of your equipment leasing payments entirely every year, you keep your lease off your taxable income. Then, in the end, just get rid of the old asset and give your restaurant a fresh new look. Your loyal customers will definitely appreciate this.
New restaurants involve a higher risk because of the uncertainty of reputation, customer feedback, food safety, and cleanliness. This can lead to a higher interest rate and higher monthly payments on your restaurant equipment leasing contract. Contrary to this, new and older restaurants get lower rates because of proven food quality and cleanliness, reliable track record, and lower risk of failure. However, Top Financial Resources developed the best startup equipment leasing program in the restaurant equipment leasing industry that will give your new restaurant reasonable rates, with $0 down on terms up and terms up to sixty months.
The overall cost of restaurant equipment finance and lease is lower for franchises as compared to startups. Business reliability is established with reputation and time. Good reliability means lower equipment leasing rates.
If you need any extra help qualifying, you can always apply for a no-obligation equipment finance program. Top Financial Resources developed a line of programs for restaurant business owners of any kind. With their help and guidance, you will be able to enroll in a restaurant equipment finance program without any difficulties that will fit your budget for continuous prosperity and growth. Financing brand new restaurant equipment is not as hard as it appears. What matters most here is your dedication, attitude, and your willingness to invest energy and time to enrich your restaurant. Learn from your mistakes and be open to exploring your options, and there is no doubt you will have a restaurant lease in no time.
---
Leasing Dishwasher from Top Financial Resources
Our equipment leasing process is fast and easy.
Applicants should provide:
Completed T

op Financial Resources

credit application through email or our website

Description of equipment to be leased and cost

Financial statement(s) for lease over $35,000

Terms of lease desired
After the information is received, Top Financial Resources will:
Confirm status with trade references

Verify bank account information

Access Paynet, credit bureaus, and other electronic rating agencies as appropriate

Review your application
We will give you feedback within 24 to 48 hours (weekends excluded) and:
Notify you of loan approval status or request additional information, if required

Prepare lease documents
The original lease documents will be sent to the client or dealer (whichever preferred):
The appropriate parties will execute the documents.

Documents are returned to us. 

Once the receipt of the lease is executed, we will then issue a purchase order to the vendor.

After receipt of the customer's certificate of acceptance and verbal confirmation of the equipment delivery, we will pay the vendor. The billing process starts immediately after the vendor is paid.
Apply now. It is fast, easy, and convenient.
Top Financial Resources is proud to have one of the highest credit approval ratios in the industry. It is simple to apply for equipment leasing. Simply use the online application or give us a call at 1-(800)-260-512. One of our leasing agents will get back to you, and then together, we will work on obtaining the right equipment leasing solution for your company.
---
Restaurant equipment leasing & financing frequently asked questions
This post has touched on many of the key points restaurants should consider when leasing equipment. Here are some of the FAQs about leasing restaurant equipment that we might not have covered.
What is an equipment financing agreement (EFA)?
EFA is a hybrid between an equipment lease and an equipment loan. Like an equipment lease, the asset transfers to the borrower at the end. EFA s typically dictate that all interest be paid in addition to the principal, unlike most loans where money can be saved with an early payoff.
Can I depreciate leased commercial restaurant equipment?
If a capital lease contract covers the equipment, then it can be depreciated following the IRS guidelines. If the lease contract is a fair market value lease agreement, then the equipment cannot be depreciated. Nonetheless, any lease payments might be deducted as an operating expense.