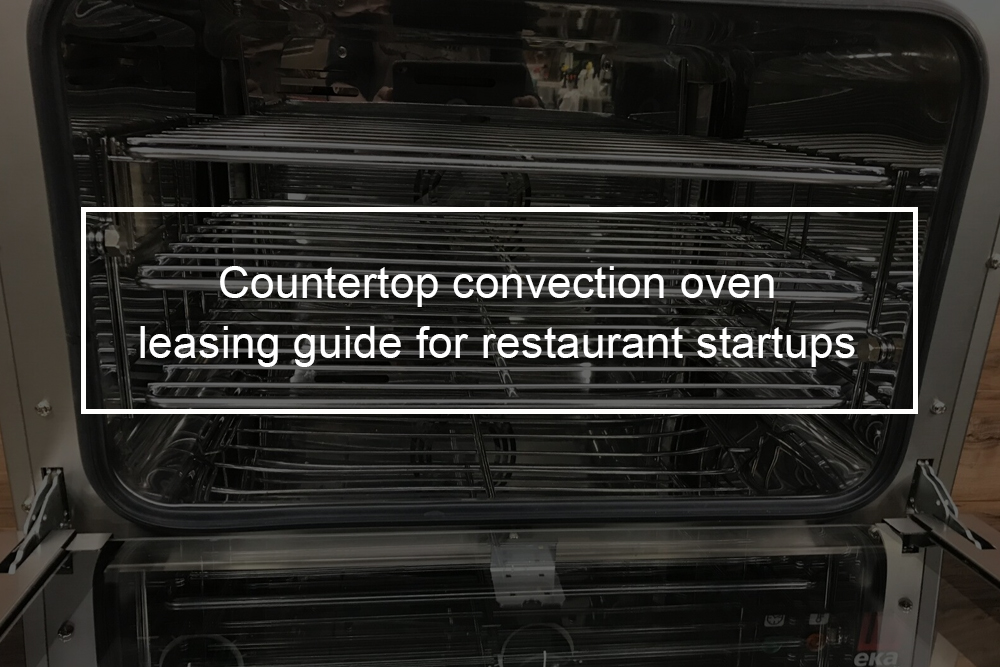 Whether you are looking for a new or used Technoeka EKFA 412 D AL UD countertop convection oven, Top Financial Resources is here to help by making the oven available for leasing. Take control of the high set up costs of opening and managing restaurants with our comprehensive leasing service, assisting you to spread the cost of essential catering supplies over a period of up to three years. Leasing your countertop convection oven leaves you with essential capital to invest in your company, from adverts to expert employees, helping your restaurant excel in the industry.
---
Tecnoeka EKFA 412 D AL UD Countertop Convection Oven Overview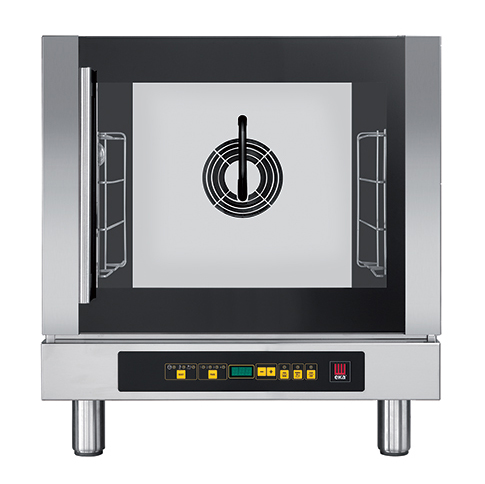 Technoeka EKFA 412 D AL UD is an evolution convection oven. This electric unit features half-size, (4) 13″ x 18″ half-size sheet pan capacity, digital controls with steam injection option, timed or infinite cooking modes, 99 multi-step program capacity, and 200°F to 500°F temperature range. This model also comes with (1) multi-directional fan, (4) wire racks, stainless steel construction, single right hinged door with dual pane glass window, and stainless steel construction. Technoeka EKFA 412 D AL UD is cETLus, ETL-Sanitation certified.
Tecnoeka EKFA 412 D AL UD Countertop Convection Oven Description
 (Four) 13″ x 18″ grids included

99 multi-step program capacity

Bi-directional fan

High-efficiency motor and fan

High-performance oven insulation

Internal glass designed to facilitate easy cleaning

Internal halogen light

Lateral supports for four trays at 2 29/32 "pitch

Maximum cooking capacity in a small space

Programmable digital control panel

Recessed door gasket

Side-hinged, dual-paned glass door

Stainless-steel cooking chamber

Steam injection

Temperature range 200° F to 500° F

Timed or infinite cooking mode
---
Countertop Convection Oven Lease Explained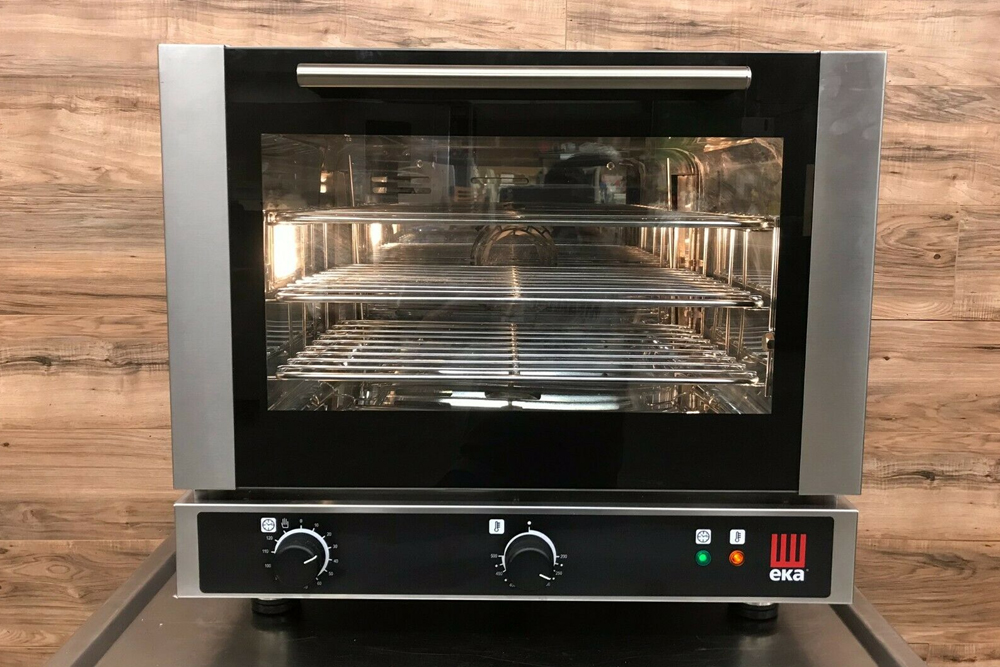 The term lease denotes the contractual contract between the lessor (owner) and the lessee (hirer) whereby the lessor grants the right to the lessee to utilize the countertop convection oven in exchange for the periodical rent payments. The restaurant equipment leasing company leases the asset to other restaurants either on the finance lease or operating lease.
The finance lease is known as the capital lease, is the long-term arrangement where the lessee is responsible for paying the lease rent till the expiry of the lease arrangement. Such an agreement is non-cancelable, and the duration of the lease contract usually corresponds to the useful life of the equipment concerned.

The operating lease is for a shorter duration and is usually cancelable at the option of the lessee with prior notice. The lease duration is typically shorter than the equipment's economic life and is also known as an open-end lease agreement.
Any non-banking finance company can acquire a license to commence equipment leasing subject to, they shall not trade it, and the lease period shall not be fixed for less than three years in the case of any finance lease contract.
Finding a restaurant leasing and financing company
We all find ourselves in new situations at the moment. The new "normal" has changed the view of both commercial equipment leasing and the foodservice and hospitality industry alike. We also live at the coal face just like you, and we do understand the new normal. Looking for the United States' lowest commercial countertop convection oven leasing? Why choose costly "in-house" supplier leasing deals? With the experience of restaurant equipment leasing, we are confident of offering you the most competitive commercial countertop convection oven leasing rates. With Top Financial Resources, financing programs revolve around YOU. With Top Financial Resources, you choose the countertop convection oven, you choose the supplier, and you will not be tied to having to go with the equipment suppliers leasing company. Typically, you are free to enjoy having the most competitive commercial equipment leasing rates on the web.
What countertop convection oven can I lease?
Well, in simple words, almost any countertop convection oven. Apart from EKFA 412 D AL UD you can also consider other commercial countertop convection ovens similar to it, including:
Tecnoeka EKFA 412 D UD Convection Oven

Tecnoeka EKFA 412 AL M Convection Oven

Tecnoeka EKFA 412 AL UD Convection Oven

Tecnoeka EKFA 412 UD Convection Oven

Tecnoeka EKFA 412 M Convection Oven

Tecnoeka EKFA 412 AL Convection Oven 

Tecnoeka EKFA 412 Convection Oven

Tecnoeka EKFA 412 S1 Convection Oven

Tecnoeka EKFA 412 S2 Convection Oven
Why should I use countertop convection oven leasing?
That is a question that most restaurant owners ask. Most restaurant equipment leasing companies will simply list commercial equipment leasing features, but many forget the real benefits of leasing equipment. Many will have phrases similar to tax-efficient or aids forward budgeting. If you are an FD of a firm, that will be okay, but most are normal companies looking for a Top Financial Resources explanation.
This is the Top Financial Resources version of the benefits of commercial countertop convection oven leasing. One of Technoeka EKFA 412 D AL UD leasing's critical benefits is that it will preserve your cash in your restaurant. Every business needs what we call a rainy day fund to cover the unexpected bills that suddenly crop up from nowhere. These funds help smooth out the bumps in a company's daily cash flow; if this is used to purchase an appliance, the bumps ahead will have to be smaller. These bumps just arise from the woodwork and are absolutely unexpected.
You know the sort of thing, an electric range suddenly needs replacing. We cannot stress hard enough that cash flow is essential to any restaurant, and a cash rainy day fund simply offers you the flexibility to cover these unpredicted days to day expenses that all companies have seen. Generally, banks' terms offer loan is a major obstacle for restaurants looking for finance from their banks. Remember, overdrafts can be withdrawn normally on twenty-eight days' notice. Can there be a great benefit of restaurant equipment leasing than avoiding the bank?
When you ask a bank if you can include transport or installation, you will probably hear the common phrase "the computer says no." With Top Financial Resources, we say Yes! If you are a new restaurant business looking for a lease, well, you can guess what the answer will be. The main thing is to keep your bank credit line free for your restaurant's normal day to day running. The challenges ahead might be larger than your rainy day fund. It just makes sense to always have a safety net at hand.
Top Financial Resources' fixed equipment leasing will run for the period of the lease; as long as you make the normal and agreed repayments per month, no twenty-eight days are hanging over your head. You can plan your business future with the confidence of a fixed monthly repayment and a fixed term, and interest rates that are still at historic lows.
With Top Financial Resources, you have the best of both worlds. You can choose the restaurant equipment supplier with the lowest prices. You choose Top Financial Resources and enjoy the lowest restaurant equipment leasing rates. With Top Financial Resources, you have total freedom of suppliers. You will save cash by using our commercial restaurant equipment leasing calculator. Have your cake and eat it!
Whatever countertop convection oven, whatever the taste, whether new or used, leasing will help you reach the next stage. If you are a restaurant startup, it will help you obtain the equipment you need to start without hassle. Or, as an established restaurant, help you seize other business opportunities for growth.
Over the past year, restaurant equipment leasing has seen huge growth and demand from the hospitality and catering industry as new coffee shops and restaurants open. With banks and credit unions struggling to come to terms with the foodservice and hospitality industry, they seem to lack understanding when it comes to lending money for essential equipment to restaurant startups. Choose from the Top Financial Resources leasing menu, but only pay for the best terms and rates. Let us start a conversation at 1-(800)-260-5126; you never know where it might lead.
Restaurant equipment leasing calculator
If you were wondering if there was a way for restaurants to check to see what they have already quoted by their supplier is fair and reasonable, please use our lease calculator. You can also use our restaurant equipment lease calculator to determine an estimated monthly payment on the commercial countertop convection oven you are interested in buying. Simply input your estimated commercial countertop convection oven cost and your estimated additional monthly revenue from your new equipment, and the calculator will show you your monthly payment. You might be aware that leasing or financing provides 100-percent financing, including sales tax and other costs like training and installation. Our restaurant equipment calculator automatically provides you with an estimated monthly payment. Your restaurant can also realize significant benefits like tax deductions, improved cash flow, protection against inflation because of fixed-rate financing, upgrade your countertop convection oven, and flexibility to expand.
Final thought: Tenoeka EKFA 412 D AL UD leasing for restaurant startups
To start a new restaurant requires planning and initiative. Leasing can help your restaurant take off. The availability of commercial equipment leasing and startup equipment finance for new companies is vital, and we have been providing just that for years. Leasing for a new business venture is very exciting but also a stressful time. Top Financial Resources remembers that out of small acorns, we grew our own firm. Top Financial Resources helps new restaurants open up every day of the week; that is real support, real funding.