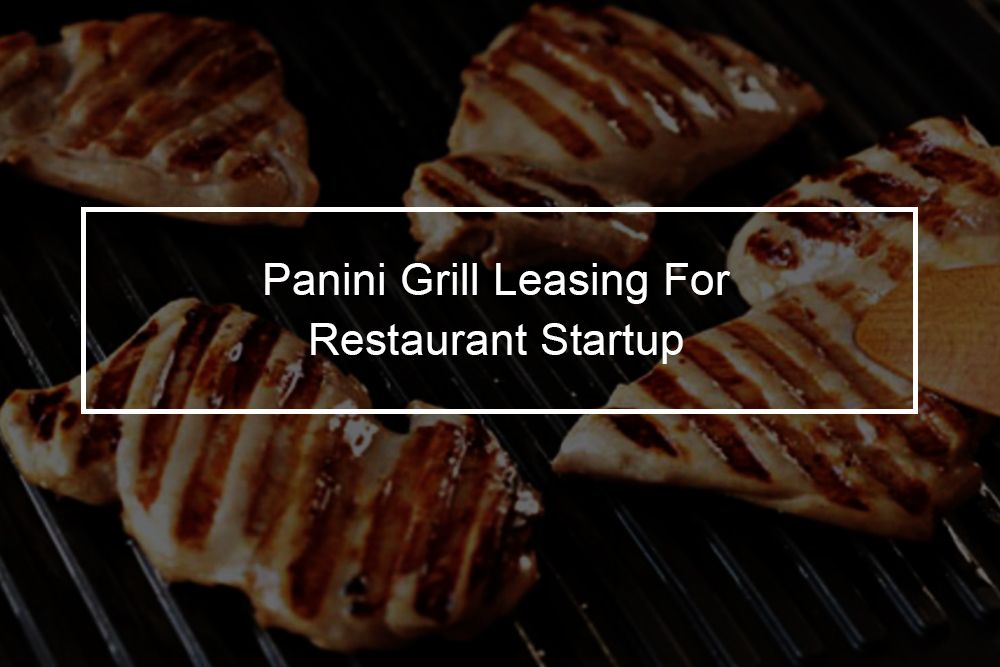 Buying the NEMCO 6900A-240-FF grill can put a serious pinch on your cash flow, but with restaurant equipment leasing, you can get the panini grill your restaurant needs without making a substantial dent in the bottom line.  Like many other kinds of financing, restaurant equipment leasing has enjoyed a long and rich tradition of providing the much-required financing that has encouraged economic prosperity. By leasing a panini restaurant grill, you will enjoy the benefits of obsolescence avoidance, off-balance-sheet financing, availability, and overall flexibility leasing offers as well as tax benefits.
---
NEMCO 6900A-240-FF Overview
If you are looking for a commercial panini grill that is easy to use while making it simple to obtain consistent results, the NEMCO 6900A-240-FF PaniniPro™ Grill is an easy choice. This panini model comes with flat upper and lower plates; both heater plates are made from aluminum for flexibility and durability. The plates provide 100 sq. in. of the cooking area.
The digital controls are relatively easy to use and get rid of the guesswork to produce the best results. To fully customize how sandwiches are heated or cooked, operators can experiment with the setting to get the desired results. After the ideal settings have been entered, they can be saved to the sandwich press and accessed easily by users for repeatability. Provided you have a battery of presses or many locations; the incorporated USB makes it easy to transfer recipes to keep everything consistent. Apart from the normal conduction heating that most sandwich presses offer, this press also has microwave heating to quickly and thoroughly cook sandwiches.
The stainless steel exterior makes it easy to clean this model with a wipe-down. The upper plate and cover are supported by a spring hinge to make it simple to open. Four 4″ stainless steel legs prop it up on the counter, making cleaning below it as simple as can be. This unit comes from the factory wired to utilize 240v power and comes complete with a NEMA-6-30P plug to connect it to a power source that can safely deliver 24.0 amps. To ensure this USA manufactured sandwich press is safe for commercial use, it features NSF and ETL listing.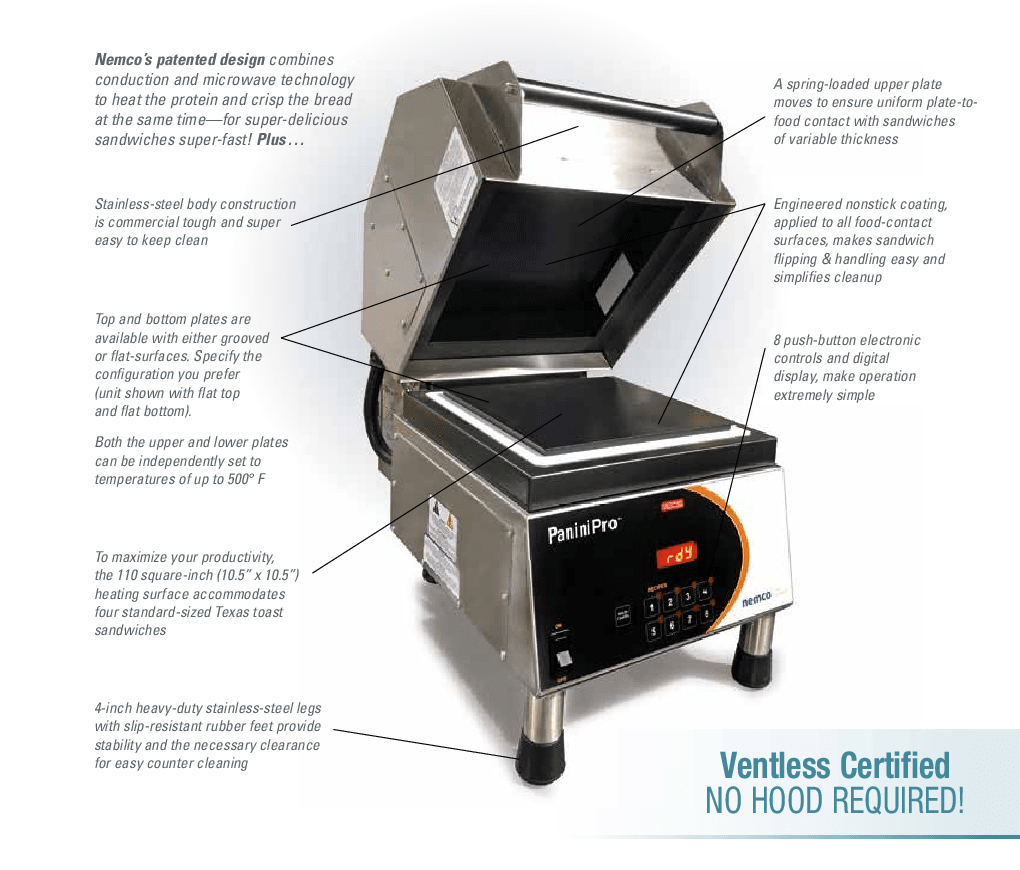 ---
What Is Panini Grill Leasing?
Generally, a lease is an agreement for the use of a piece of equipment over a particular period where the user of the appliance becomes the lessee and accepts to make periodic payments to the lessor of the appliance with the specific end of term options. The lessor is the leased panini grill owner and makes the initial cash investment for the purchase of the grill from an equipment vendor or equipment leasing company. The lessee is the panini grill user and gets the benefits of its use, just as if they owned it. Leasing allows a restaurant to finance the usage without having to finance the equipment purchase. In simple words, a panini grill lease is a legal contract whereby the lessee uses the lessor's real or commercial panini grill for a particular time and a particular rental charge.
Why Use Restaurant Equipment Leasing?
The most popular reason why leasing is so common is that it meets the needs of so many sizes of restaurants. For instance, a mature and profitable restaurant might lease NEMCO 6900A-240-FFto keep bank credit facilities employable. Many young restaurants lease to converse cash or because they are unable to qualify for conventional financing. Many restaurants that use an appliance for a short period utilize leasing to avoid committing to the equipment for loan and preserve the ability to upgrade. The financing needs of a restaurant are unique as the equipment itself, and leasing meet these opportunities in various ways. Restaurants usually consider leasing equipment for the following reasons:
Retain capital: Equipment leasing enables a lessee to obtain the appliance and technology today while spreading the repayment across time. This allows a restaurant to reserve cash for other day-to-day operating expenses, emergencies, or new opportunities.
 Off-balance sheet financing: When a business acquires a panini grill or any other equipment, it must capitalize on the unit on its balance sheet, showing it is an asset. If the restaurant financed the panini grill through a conventional loan, it must also report the corresponding liability on the balance sheet. If a restaurant leases its appliance, it might be classified as a rental payment on the income statement, thus no liability on the balance sheet.
Tax motivations: When a lease is designed, it may be tailored so that the lessee qualifies the acquisition as a tax lease under Internal Revenue Service Criteria. Under a properly structured tax lease, lease payments are typically deductible for Federal tax purposes since the lease is considered a rental expense and thus is fully deductible.
Speed: Lessors can provide a lessee with an equipment leasing program in hours compared to weeks and days under a conventional financing arrangement. This enables a restaurant to acquire commercial equipment promptly and use the equipment to generate revenue.
Convenience and flexibility: As a restaurant grows and its needs change, it might upgrade a lease at any point through an add-on or master lease program.
Leasing a panini grill offers many advantages over equipment financing. Acquiring the usage of an asset through a lease can involve less time and red-tape. Moreover, many of the headaches linked with ownership can be transferred to the lessor. For instance, the lessee can simply return the NEMCO 6900A-240-FF at the end of the lease term; thus, the lessor must bear the burden, obligation, and risk of disposing of the grill.
---
Who Can Qualify For NEMCO 6900A-240-FF Leasing?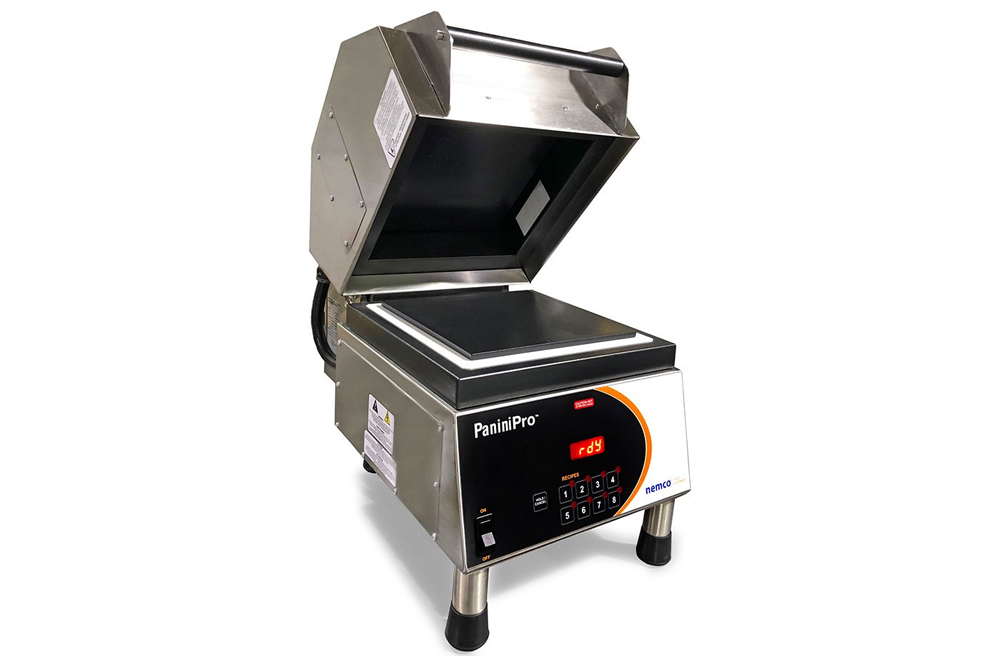 Restaurant equipment leasing is available to any business that requires commercial equipment. With the wide variety of restaurant equipment leasing companies, many have a unique appetite for equipment preferences and varied credits. For instance, Top Financial Resources has multiple restaurant equipment, leasing divisions. Some of our specialized divisions include:
Panini Grill Leasing

Refrigeration Equipment Leasing

Restaurant food holding and warming equipment leasing

Commercial Oven Leasing

Commercial Ice Machine Leasing

Dishwashing Leasing, and others
Whatever your business circumstance, you can be assured we will help you lease NEMCO 6900A-240-FF. Our engagement kicks off with an in-depth, in-person conversation. Together, we will explore what drives your restaurant and your business's immediate and long-term financial needs. For us, your application is a business conversation, not a banking conversation, and sets the tone for our long-term relationship. The more you share, the more beneficial we can be to you. Our work is not a single financing program; it is about showing up for you in ways you did not know a financing partner could or would.
 Restaurant equipment leasing is quite similar to conventional lending. The same way a borrower makes payments on a loan to a bank, a lessee makes payments to a lessor. Thus, a lessor is as concerned with the capability of the lessee to make payments. No matter how lessor determines qualification, they typically will look at six primary qualifications:
Equipment

Trade references

Banking relationship

Business credit reports

Personal credit of guarantors

Time in business
What Are The Rates Of Panini Grill Leasing?
Equipment leasing is as competitive as any other kind of financing. The stronger the lessee is financially, and the stronger is the restaurant revenue, the costs associated with a lease are as competitive as any bank financing arrangement. For those prospects that have challenged credit scores, the rate is determined by the lessor's perceived risk. The weaker the transaction, the more the lessee will pay in fees. In such a situation, the method in which the lease is structured can offset the potential rate. For example, a lessee might experience greater tax benefits from Top Financial Resources' operating lease program since they might be able to deduct the monthly rental charge. Thus, the interest rate linked to leasing equipment becomes a moot point.
How To Apply For NEMCO 6900A-240-FF Lease?
Securing NEMCO 6900A-240-FF Lease from Top Financial Resources is quick, easy, and secure. It takes just minutes to apply for restaurant equipment financing. Top Financial Resources uses highly secure systems to protect applicants' information. Once you apply, one of our friendly lease specialists will connect with you so we can learn more about you and your restaurant. Our high approval rates and fast feedback make it simple to get back at running your restaurant.
Note that it is vital for your application to be fully completed with all questions answered for fast approval feedback. Incomplete lease applications instantly raise red flags. The immediate question that must be asked is if the prospect fails to disclose essential information that might impact their eligibility for a lease. Certain areas of the lease application are vital for the proper completion of due diligence: The legal name of the restaurant, address, phone numbers, date established, equipment location, bank information, credit references, the legal structure of a business, among others  Ensure you execute the lease application properly so that we can easily package your request.