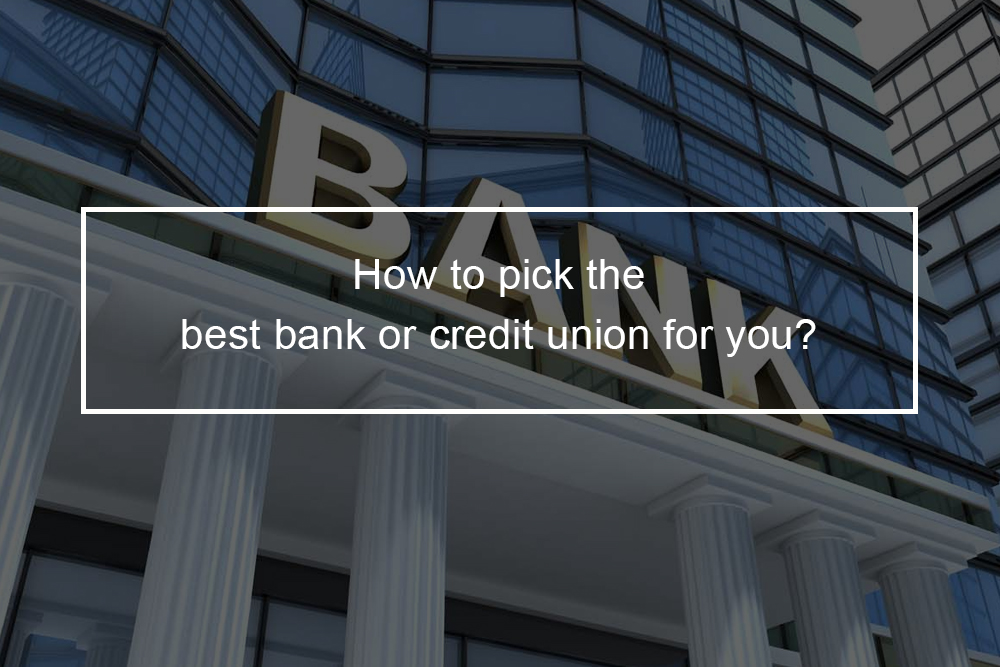 At some point in life, everyone chooses a credit union or bank to keep their money. Whether you feel the need to make a change or you are new to banking, there are several things to consider. There is no one right bank account for each person. Choosing the right bank begins with knowing your individual preferences and bank usage.
---
What are the 3 types of banks?
Different types of banks: Which one is right for your needs?
Typically there are three main types of financial institutions that manage personal banking. These include online banks, credit unions, and traditional banks.
A bank is frequently used as a blanket term for these three financial institutions; however, there are critical differences between credit unions and traditional banks. The advent of online banks has further sophisticated the term.
Traditional Banks
Traditional banks are the most popular, and typically the largest, of the three kinds of institutions. Think PNC, Citibank, Bank of America, Wells Fargo, and Chase.
Why you need traditional banks?
People often choose traditional banks since they provide a wide variety of financial products such as certificates of deposit, loans, money market accounts, credit cards, checking and saving accounts.

More locations: Generally, traditional banks have more brick and mortar locations and ATMs naturally and even internationally.

Traditional bank users often like their bank since they have easy access to in-person assistance when they need it; however, they also have the option of user-friendly websites and technology when they would instead figure things out on their own.
Disadvantages of traditional banks
Lower rates and more fees: Larger banks have more overhead with physical locations and full-time staff. This can indicate more (and sometimes hidden) charges and lower interest rates.

As a result of some banks' sheer size, the level of customer service may sometimes be poor.
Credit Unions
Even though credit unions might seem similar to banks in principle- you go in, you hand over your funds, and then you take some bank when you need it- the two kinds of companies are entirely different.
Credit unions are member-owned nonprofits, thus when the credit union does well, so do its members.
What are the advantages of credit unions?
Enjoy dividends: Credit unions share their success with their members in the form of dividends.

Credit unions can also offer interest and lower fees rates on loans. Besides, they can pay higher interest on savings and checking accounts than traditional banks. Nonetheless, they are still not as competitive as online banks.

You can vote out board members. Credit union members get voting privileges to determine who makes decisions about how the money is used. If the members do not like the way the board is running the credit union, they can vote them out.

Customer service: Because of the small nature of credit unions, there is better customer service.
What are the disadvantages of credit unions?
Poor technology: Most credit unions have room for web development.

Fewer locations: Getting a nearby location or ATM can be hard with a credit union, mainly if you do not participate in shared branches or an ATM network. If your credit union is regional, you will have no physical access when out of town.
Online banks
Online banks are the newest kind of financial institution to join the industry of banking. These banks are appealing to those who prepare to manage all clients' service issues online or phone.
If you opt for the physical ability to go in and get money assistance, you should go with a brick-and-mortar banking institution.
Advantages of online banks
High rates: The most significant benefit of online banks is that they have low overhead from fewer employees and no physical branches that can offer very competitive interest rates on checking and savings accounts.

No fees or relatively low: The best online accounts should be fee-free and have no monthly maintenance fees, no ATM fees, no foreign transaction fees, and no overdraft fees.
What are the disadvantages of online banks?
Depositing cash can be difficult if your online bank does not have an arrangement with a specific network of ATMs.

No in-person help: The idea of an online bank is that everything is carried out online. However, if you run into trouble and talk to someone in person, you are out of luck.
Which bank suits your needs?
Typically, the type of bank you choose reflects your needs. That is if you need a place to begin savings and checking accounts, mortgage or loan, or merely easy access to ATMs. Remember, you do not have to do all your banking in one institution. While some people appreciate the ease of controlling their money entirely with one bank or credit union, being flexible enables others to get the best rates or deals for their goals.
For instance, you can have your first standard checking and savings accounts with a credit union, your auto loan through the credit union, and your second purchase from traditional banks. Ensure you research thoroughly before you choose a bank since not all banks have the same offers; some have cashback rewards and lower interest rates while others have a higher credit limit.
---
8 Tips for choosing a bank
Understanding how to select a credit union or a bank that suits your needs is essential as you start or continue with your financial journey. Consider these smart tips when making a choice.
Ensure your money is secure
Most credit unions are warranted by the National Credit Union Administration (NCUA). Most banks are covered by the Federal Deposit Insurance Corporation (FDIC); however, do not just assume yours. Look for an institution that can promise NCUA or FDIC insurance. These insurance providers protect your money up to $250,000 should your credit union or bank should fail.
Read reviews and news
When it comes to security, you should thoroughly research the top contenders on your list to check if any have been subject to major breaches in recent years.
In this web age, looking at a bank or credit union that prioritizes security and customer privacy is vital. NCUA and FDIC might protect your physical money; however, the cost of having your personal data compromised or identity theft can be expensive.
Also, you can read online reviews to check what common complaints members lodge against their banks. However, as with all user-generated content online, take reports with a grain of salt.
Ask your friends and family members for feedback
When you are in doubt, source for opinions from people you trust. Turn to your co-workers, friends, family members, and even social media connections to get more personalized reviews about particular credit unions and banks.
Read the fine print
Do not sign any dotted lines without going through all of the terms and conditions. Ask questions about interest rates, monthly fees, and investments before handing over your money.
Do not forget the website
For most bank members, physical and online bank locations are equally essential. A study by J.D Power in 2018 on Retail Bank Customer Satisfaction proved that members are least contented with digital-only banking; however, those who bank solely at physical locations are not much happier. Those individuals who do a blend of brick-and-mortar and online banking are significantly more satisfied.
If you feel you can bank without a functional app and mobile site, perhaps a small town bank will work for you. Or, if you do not like to get face-to-face, online banking is probably the way to go.
Check out the mobile app
If mobile banking is your main concern, you need to check out apps of credit unions and banks you are considering, and then read their reviews in your app store of choice. Consider it secure and straightforward to make a mobile check deposit and see the account balances easily. You might want to check online bill pay and offer two-factor authentication for additional security. Lastly, do not forget to check if the app allows you to make payments on loans and credit cards.
Compare fees and rates
Let your money grow when banking by choosing a bank or credit union with high-interest rates on checking and savings accounts. These are often higher at online banks and credit unions.
Nonetheless, you should also consider typical interest rates for ATM and loan fees, overdraft, and monthly maintenance fees. You can sometimes get these charges waived; however, if you can find a bank that does not charge you for overdrafts and monthly maintenance, all the better.
Look for versatility
You should find a credit union and a bank that works for you. For example, you can get a credit union that lets you create sub-savings accounts of your primary savings account and name them how you see fit.
Here you will create sub-accounts for savings, vacation savings, taxes, emergency savings, and real estate savings. It is immensely useful to see those accounts separately and move money from every paycheck to those savings goals as budgeted monthly.