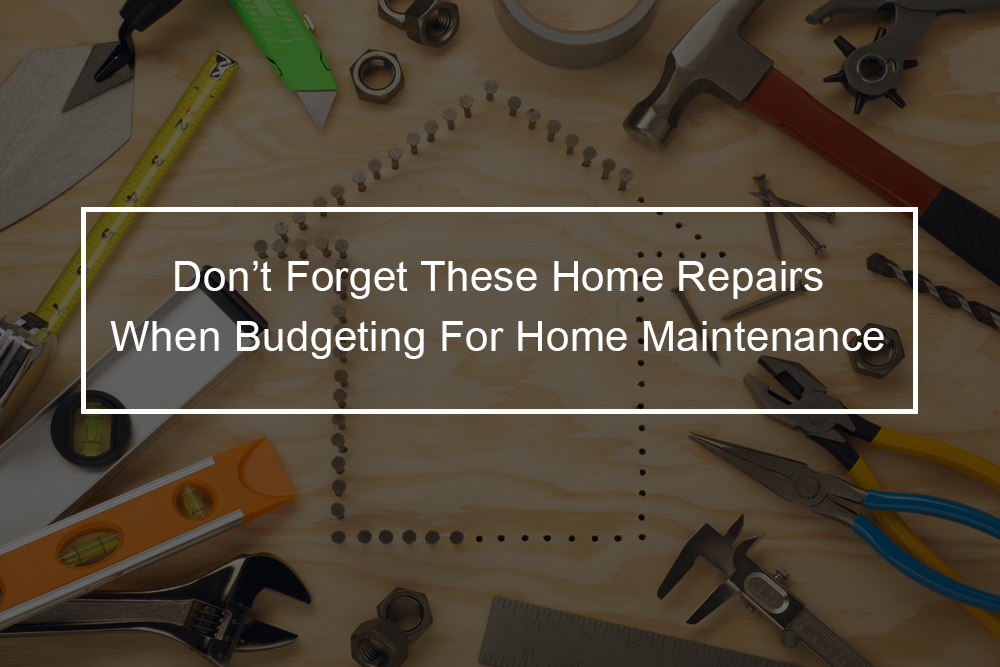 It is impossible to predict precisely what maintenance your home will need, how much it will cost, and when it will become necessary. Average homeowner costs can be useful; however, averages are only a starting point for your home's annual maintenance budget and do not take your unique circumstances into account. It would help if you calculated the personal factors that might increase or lower your maintenance costs on an annual cycle, inclusive of the location and age of your home, your general home condition, and the weather in your area. 
Following a report from Home Advisor, homeowners spend an average of $1,105 on annual maintenance. More than thirty-percent were forced to complete an emergency repair at some point during the year (with emergency repairs costing an average of $1,206).
As a homeowner, you cannot just call the landlord when your ceiling starts to leak. And postponing essential repairs or maintenance can cause deterioration and bigger, costlier problems down the road- not to comment on the lower property values over time. This is easily avoidable- but you have to plan. 
---
Costly home repairs you should budget for
Most experts suggest that you should have an emergency fund stocked with at least three to six months of expenses. When a disaster strikes, you can pull money from this account without disrupting your regular budget or spending plans. As you determine how much to stash away, here are the seven popular, costly home repairs and improvements that most homeowners will have to pay for whether they have budgeted for them. 
New Roof
Every home requires an outer layer to protect what is inside. Nonetheless, very few people plan to replace their roof until it is already leaking or showing more than average wear and tear. Even worse, an unchecked leak can lead to significant structural or interior damage over time, which can mean far more money. 
Thankfully, a little budgeting can go a long way. A standard 2,200 to 2,600 square foot roof replacement will cost even 'Do It Yourself' homeowners anywhere from $2,000 and $6,000 just for the materials. Meantime, hiring professionals to do the job will cost anywhere from $5,000 to $12,000- it will all be based on the size of your home. 
How long your house roof should last is also affected by several factors. Following the National Association of Home Builders, wood shake roofs generally last about thirty years, asphalt shingle/composition roofs last about twenty years, and fiber cement shingles last about twenty-five years. So if you have been in your home for ten years or longer and have not replaced the roof yet- there is a good chance you will have to do so in the next decade. It is time to start saving up. 
Hot water heater
If you have owned a house before, you possibly already know that hot water heaters stop working or burst with almost no advanced notice. The first sign of trouble often comes several minutes into a lukewarm shower- then all of a sudden, you realize that something is wrong. 
Luckily, water heaters are nowhere near as expensive as replacing a roof. At big stores, you can always get away from $300 to $900 for a water heater and $250 for installation. Tankless models are immeasurably more efficient; however, more costly as well. Whichsoever kind of water heater you use, having sufficient emergency money in the bank will make the purchase easier to accept. 
Replacement windows
Replacing drafty and old windows with newer, efficient ones is a popular and common home upgrade that can save you money on the cooling and heating bills. However, even the most efficient windows might still need to be replaced during your home's lifetime. The age and crack, their seals break, and they ultimately wear down and stop serving their purpose. Sadly, there is little you can do about it- apart from replacing it. 
Following Angie's List, new windows cost between $350 and $550, including installation. The total cost will vary on how many windows you have, what kind of replacement windows you choose, and if you need the window frames or sills replaced. Most homeowners replace old windows a few at a time, year by year, as their budget permits. 
Air conditioning and heating
Even though you do not need a new unit, you should expect to shell out some money for ongoing repairs and maintenance on your HVAC unit or heat pump. At the very least, you should frame up an annual cleaning and tune-up, if not a bi-annual appointment in the fall and spring. Sadly, these visits tend to be expensive. An average air conditioning unit repair can cost $320, while average furnace repair cost homeowners $270. 
Replacing your unit altogether will not be cheap, even though it can mean fewer repairs in the near future. A new AC unit will cost you around $5,210, while a new furnace will cost you $3,865. Despite what type of unit you have, you should expect it to last a few decades, even with regular maintenance and upkeep. 
Kitchen remodel
Styles continuously come and go- think back to green appliances and mustard yellow linoleum- which indicates a kitchen remodel could be unavoidable if you plan to stay in your home for the long run. Even though most homeowners opt for a soft remodel, with low-cost updates, refacing the cabinets, applying a new coat of paint, and replacing hardware, many others go to replace everything from the cabinets and flooring and cabinets to the countertops and appliances in the process. 
Popular mechanics lately pegged the cost of the average kitchen remodel around $18,500 and $ 54,000, which is terrifying if you think about it even though you opt for partial upgrade and repair over the full deal, it will not be cheap, which is why it is best to plan. 
Exterior siding or painting
Even though siding can last a lifetime, there are times when it needs to be replaced after 10, 20, or 30 years. Sadly, exterior siding is not cheap. 
Generally, there are four common siding choices presently on the market- clapboard, vinyl, aluminum, beveled, and clapboard. Even for the cheapest option, vinyl siding, the base cost for a 2,200 square foot home will cost anywhere from $6,000 to $8,500. Add in the prices of old siding disposal and clean-up and can easily rack up a five-figure bill. 
On the other hand, painting a home is typically cheaper but requires to be done more frequently. Note that hiring a painter for the same size home may run $5,000, someone with painting. Either way, you will be shelling out some dough- so begin saving now.
---
How much should you set aside each month for house repairs?
Mentioned earlier the cost of home maintenance and repairs, both minor and significant, will vary based on several factors, including:
Your home's age

The size of your home and surrounding property

The age of your home appliances and systems

Your fire risk

If your home is exposed to extreme weather conditions, including cold winter weather, floods, and storms

The cost of living in you is, which will affect the cost of materials and labor

Your home's age

The type of property you own- a large, forested property might require more maintenance than a suburban, small lawn
Most homeowners budget for repair and maintenance expenses based on their home's market value. If you use this plan, plot to set aside one to four percent of your home's value per year for home repairs and maintenance. You are possibly okay to stick to the lower end of the scale if your home is under twenty years old and has newer appliances. However, if your home is older, and has older appliances, you might want to set aside more money. The same holds true provided you have a large property, live in a high-cost living area, have a large property to manage or have extreme weather conditions in your area.
Because the size of your home is going to directly impact the cost of maintenance and repairs, with larger homes being more costly to take care of, you might want to use the square foot principle when evaluating how much to set aside for home maintenance and repair. Using this strategy, you will set aside one dollar for every square foot of your house annually. So, if you have a 1,200 square foot house, you should put aside $1,200 a year to maintain and repair it. 
---
Having a plan for additional funding
Despite how carefully you budget and save, your home repair costs could easily exceed what you have set aside, mainly if something goes wrong before you have much of a chance to save. That is why you need to know how you are going to access additional funds if you need them to replace or repair something around the house. 
For home appliances and systems repairs, most homeowners go with a home warranty. If you just bought your house, you possibly got one from the seller. Home warranty prices are reasonable enough that it is worth keeping this coverage since it can save you a lot of money if anything goes wrong with a covered appliance or system. Home warranties; defray most of the costs engaged in replacing and repairing covered home appliances and systems, so they are an excellent tool in your arsenal against normal wear and tear. You might even get discounts on HVAC filters, new appliances, lock rekeying, and routine repair like HVAC tune-ups. 
Home warranties cover home systems like HVAC, plumbing, electrical, and large appliances. Nonetheless, they will not often cover structural elements of your home, such as the windows or roof, and they might not cover every aspect of major home systems. For instance, plumbing blockages may be included; however, not burst pipes. It is good to check to see if things such as damage to your hardwood floors are covered. If there is a flood, they might be covered; however, general damage such as scratches and wear in the wood flooring might not be. For those things that home warranties will not cover, you should try a home equity loan or do not have much equity, an unsecured home improvement loan. You should try to avoid putting home repairs and maintenance on credit cards if you can help it.