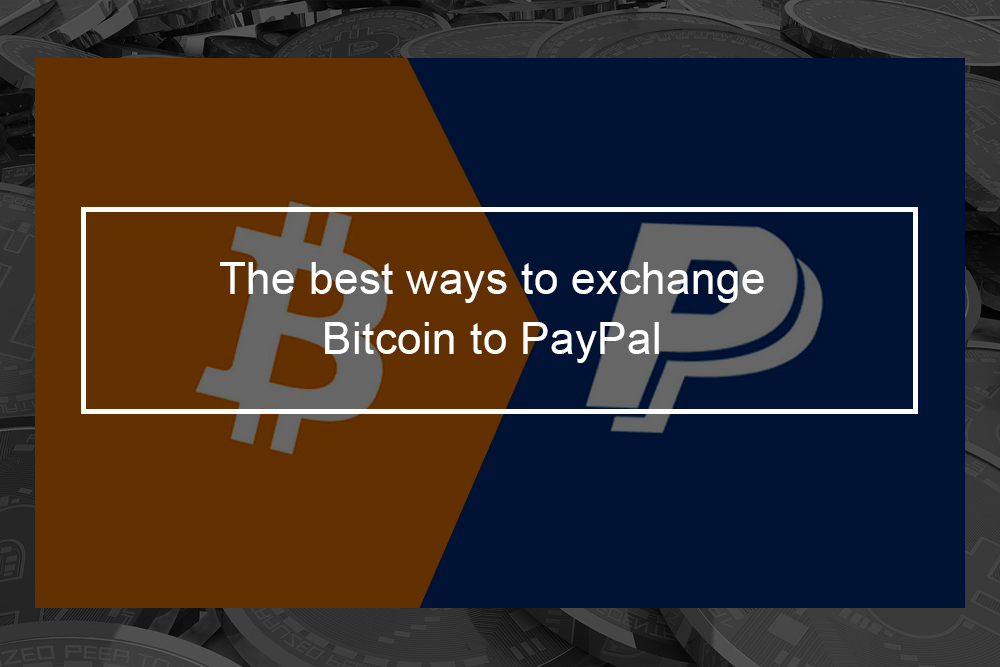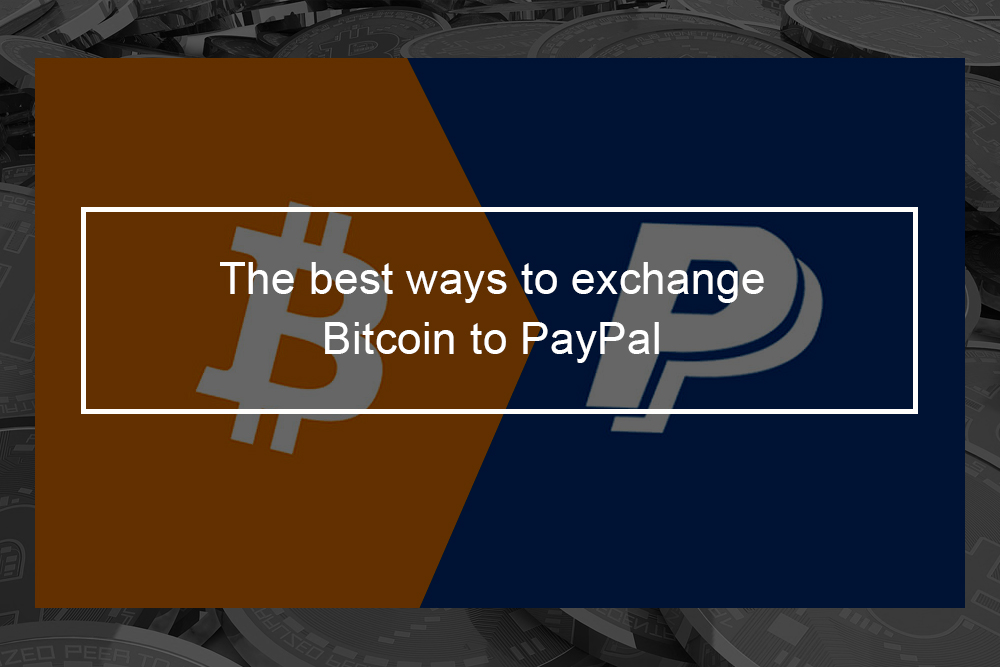 Are you thinking of selling your Bitcoins and getting funds through PayPal? In case your answer is yes, then here we will share some of the best and working ways to sell your Bitcoins for Paypal money. You can exchange your Bitcoin to USD and receive the money through PayPal. Below are some of the supported and tested platforms that you can use today:
Changevisor

eToro

xCoins

Paxful

Plus500

Coinbase

Localbitcoins
---
How do I exchange Bitcoin to PayPal?
Methods to exchange Bitcoin to Paypal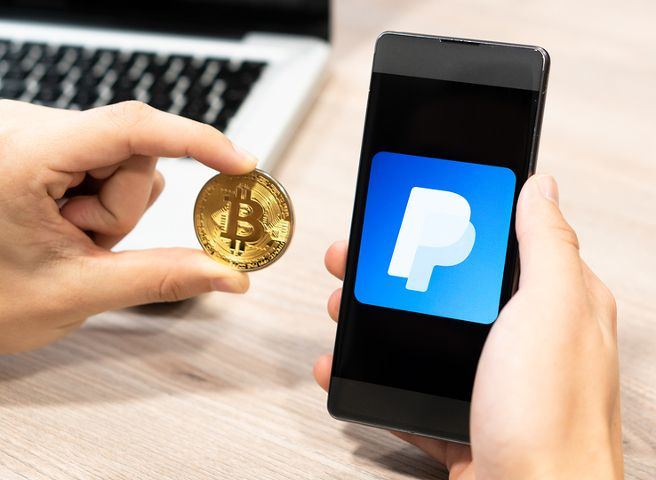 Here is how you can get started: 
Changevisor
At Changevisor.com, you can find various reliable exchangers that assure real-time Bitcoin value, round-the-clock customer support, fast money transfers, and competitive commission rate. In other words, in case your aim is to exchange Bitcoin to PayPal, the use of this platform may be the right idea. This specific service has been crafted for seamless and fast transactions. The most significant benefit of this service is that it offers its users a chance to see the current rates of various currencies. This information is tracked in real-time.
The primary purpose of Chagevisor is to observe the best currency exchange platforms and find the latest and most current exchange tariffs. The page reloads automatically every five seconds. Thus users of this service are always informed of the most up-to-date data. To back up the conversion rates seen on the site, there is a click feature that enables you to see an extensive list of exchanges that are operating with that rate. Besides, this platform guarantees no conversion wastage.
eToro
The main advantage of eToro is that it offers too low charges as compared to its competitors. Moreover, they accept several payment methods. However, unfortunately, this platform is not accessible globally, and you can only withdraw in flat currencies. The service enables you to buy Bitcoin with PayPal, but unfortunately, you can't send your cryptocurrency to other users. You can only exchange Bitcoin back to flat currency. In other words, this platform enables you to speculate on the price. 
In case your overriding purpose is to get profit from price swings, the use of this service may be the right solution. However, if your objective is to buy real Bitcoins, you need to opt for other platforms. Besides, when you use this platform, there is no need to use a Bitcoin wallet. Before you begin trading, you need to bear in mind that more than seventy percent of retail investors lose cash when trading. Therefore, you should only immerse yourself in this business in case you are already taking the risk of losing cash.
xCoins
The main benefit of this platform is its reliability. It had already hit the market many years ago, and still, it has millions of users from all over the world. However, it has too high fees. xCoins.io is a popular Bitcoin lending platform. In other words, they do not sell your Bitcoins; they loan them. In case you want to use this platform, you need to undergo an ID verification procedure. After that, you are required to deposit the USD and determine how much you wish to borrow. You should also add processing charges and interest rates. After you verify your identity, you should make a payment. The main aim of this service is to assist buyers and sellers in finding each other. That is why charges are rather high. Nonetheless, millions of users from pole prefer this platform since it has an excellent reputation.
Paxful
When you open this service, you will find several sellers here. Users report that this is a smaller version of a popular LocalBitcoins service. In this marketplace, you can buy Bitcoins with Amazon gifts, Skype credits, or any other platform. The main thing about this platform is that it is straightforward to use. You just need to follow these guidelines.
Create your account

Decide on the mode of payment, and the amount of money that you are going to spend

Check all the sellers and select your one. You can either do it yourself or enable this service to do it on your behalf.

Wait for the trade to be initiated

Go to the online chat and finish your deal with the seller.
Thereafter, Bitcoins will be successfully transferred to escrow. When you pay, the money will be transferred to the seller. Nonetheless, you should bear in mind that you need to finish the deal within thirty minutes.
Plus500
This is the most popular service that is used by Europeans. When analyzing the rating of similar platforms, this one has an outstanding reputation. The registration process is fast and easy. After completing the account creation form, you will be required to verify your phone number. Prior to making a deposit, you need to complete a questionnaire and confirm your personal details. After that, you can begin exchanging your Bitcoins.
Coinbase 
Coinbase is the globe's most famous cryptocurrency exchange that allows you to withdraw funds through PayPal. You can either withdraw money to PayPal or sell crypto to your PayPal account. This functionality is accessible in the chosen region, and in case your area is supported for PayPal payouts, you will get an option to connect your PayPal account to Coinbase account.
To get started:

Go to Coinbase.com

Make an account and complete all identity verification steps

Then go to settings> Linked Account and click on the linked account
Choose Paypal (in case you see it0 and connect with your PayPal account) Currently, the supported regions are often from Canada, USA, Europe, UK, and a few other countries. In case Coinbase does not work for you, there is no need to lose heart. Other websites allow you to see Bitcoin for PayPal money.
Localbitcoins
Localbitcoins is also called eBay of Bitcoin. This service connects the user with the seller, and you have the chance to sell your Bitcoins for PayPal money. The main thing is to find a reliable seller.
Go to Localbitcoins

Click on Quick sell

And now choose your country, currency, and Paypal as the payment option
Another element you want to consider is the price and limits. Some of the sellers offer a high selling limit, and some of them have a low limit. Then click on the price to get more info about the offer. Then read the terms of the trade and ensure you can comply with them. Then click on send request, and then after that, you can begin the transaction. Then read Localbitcoins review for more details. In case you do not have an account on Localbitcoins, then create one. All in all, the choice of the way to exchange Bitcoin to PayPal is vast today. You can get various services that provide similar platforms, but it is up to you to decide which one to select.