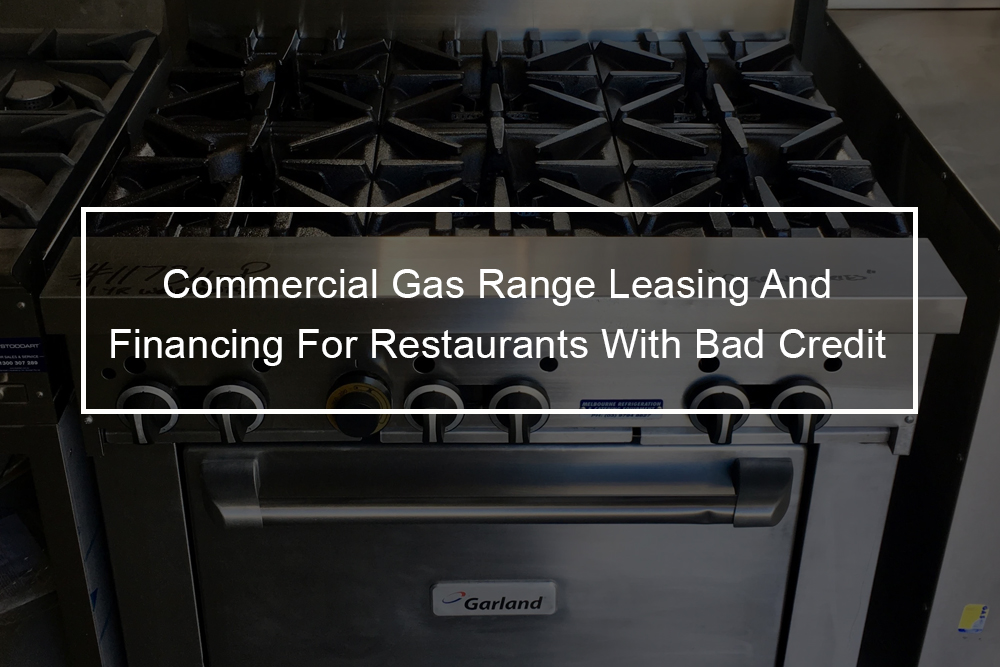 If you are interested in buying Garland G36-G36S commercial gas range but have credit score issues, you might be worried that you will not be able to secure financing for these purchases. Commercial gas range financing with bad credit is not always easy. Restaurant equipment tends to be valuable, which indicates that you will be asking an equipment loan lender to offer you thousands or more. Thankfully, there are many ways you can secure the financing that you need.
Restaurant equipment lenders such as Top Financial Resources place more emphasis on the value of the equipment than your credit rating. As far as the value of the equipment is enough to have some equity in the deal, Top Financial Resources can get the money you need regardless of credit score. This is the opposite of most kinds of loans you usually experience.
---
Garland G36-G36S Overview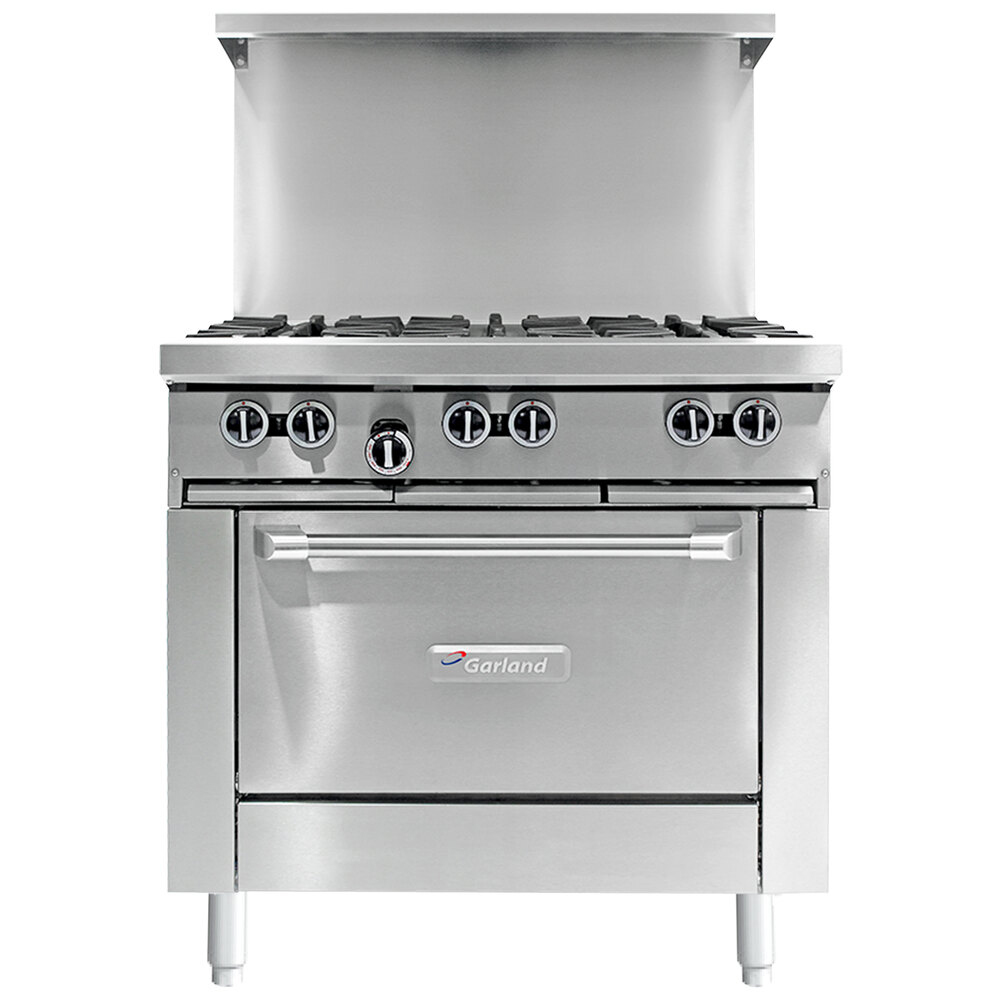 G36-G36S is a G Starfire Pro Series restaurant range from Garland. This restaurant gas range features a 5/ 8″ thick, smooth steel plate, storage base, stainless steel front, sides, plate rail, two-piece back guard, and shelf. The unit rests on 6″ stainless steel legs with adjustable feet to increase stability. Garland G36-G36S is CSA Flame, CSA Star, cCSAus, NSF certified.
Standard Features Of Garland G36-G36S
305mm section stamped drip trays with dimpled bottom

52mm adj. stainless steel legs

Gas regulator

Large 686mm worktop surface

Large easy-to-use control knobs

Stainless steel 127mm plate rail

Stainless steel backguard that has removable stainless steel shelf

Stainless steel front and sides
Standard on Applicable Models
Strong, keep-cool oven door handle

Snap action controlling oven thermostat low to 500° F

Open storage instead of an oven, suffix S

Nickel-plated oven rack and three-position removable oven rack guide

Modular top with stainless steel low profile backguard and 102mm adjustable metal legs

Large porcelain oven interior which fits standard sheet pans in both directions for standard ovens

Ergonomic split cast iron top ring grates

Convection oven with three nickel-plated oven racks and removable rack guides instead of the standard oven with 1/3HP 120v 60 Hz single phase fan motor; change suffix R to C

38,000 Btuh/ 11.13 kW cast iron "H" style oven burner

33,000 Btuh/9.67 kW two-piece cast iron Starfire- Pro open top burner

18,000 Btuh/5.27 kW cast iron "H" style griddle burner for every 305mm width of the griddle

15mm thick steel griddle plate with manual hi/lo valve control, 584mm working depth surface, optional on justify, standard on right

108mm wide grease trough
Optional Features Of Garland G36-G36S
Snap action modulating griddle control 175°F to 425° F

Range mount cheese melters and salamanders are accessible for the oven and storage base models but not modular top (T) models

Piezo spark ignition for pilots on griddles

Low profile 238mm backguard stainless steel front and sides

Hot top 305mm plate instead of two open burners, manual valve controlled with 18,000 Btuh/5.27 kW cast iron "H" burner standard on justify side

Flanged deck mount legs

Extra oven racks

Convection oven motor 240v 50/60HZ single phase

Celsius temperature dials

152mm leveling swivel casters (four), w/front locking
---
Restaurant Equipment Financing And Leasing Companies
Most restaurant equipment financing and leasing companies specialize in various types of equipment or machinery. Commercial kitchen is possibly the most popular kind of equipment leased or financed, but the term equipment financing actually encompasses all kinds of items that a restaurant could need.
Some lenders also specialize in the way they approve their lease or finance applications. If you talk to enough Restaurant equipment financing companies, you will see some focus on applicants with excellent credit scores and some on applicants with less than stellar credit ratings. Some will concentrate on the cash flow that a restaurant generates, and some will only center on the value of the collateral. As you can see, there are various options to obtain commercial equipment with bad credit.
Look Into Commercial Gas Range Leasing
Instead of buying your Garland G36-G36S outright, you might want to look into leasing. A capital lease is a kind of lease contract in which the lessor agrees that they will transfer ownership rights of the equipment being purchased to the lessee after the lease term ends. In some words, a lease will provide you with access to the gas range for a particular period you make payments. When the equipment lease ends, you will have an option to buy the equipment at a discounted price at the end of the term.
Obtaining a capital lease when you have bad credit can be challenging. However, it is certainly not impossible. Not every restaurant equipment lender even looks at your credit. If you are a restaurant business owner, and your company is currently thriving with good cash flow, the high chances are that we will overlook your credit issues and provide you with the funding you need. You might also want to seek a cosigner or offer some kind of collateral.
Generally, it is simpler to secure a lease when you are buying equipment that holds its value over time. Since commercial gas ranges tend to hold their value well, you will have an easier time finding Garland G36-G36S financing with poor credit. The cost of leasing a commercial gas range varies based on several factors. The cost of Garland G36-G36S will determine your rates, as will the age of the equipment. Your credit rating will also affect the interest rates that are accessible to you. Generally, lower credit ratings translate into higher interest rates.
What About Asset-Based Direct Lease Programs?
Your credit rating does not have to determine whether or not you qualify to lease the commercial gas range. If you have major credit issues, like bankruptcy or judgments, and have several assets, equipment leasing programs like this might be ideal. These lease solutions look at your assets instead of your credit, so they are ideal if you are looking for a commercial gas range with bad credit. In some situations, you might not even have to undergo a credit check. Nonetheless, if you go this path, your assets might be utilized as collateral. If you cannot make loan payments, those assets could be seized.
Explore Sale And Leaseback Options
If you own a restaurant that is short on working capital and you are struggling to buy additional commercial gas range, you might want to look into sale and leaseback options. This kind of financing has three elements. First, you will see the machinery you own to a financing and leasing company. From there, they will lease the machinery you sold back to you so that you can keep on using it. You will make monthly payments to the financer to cover the cost of your lease.
Virtually any small restaurant business owner with the right machinery qualifies for a leaseback, even if they have major credit issues. These kinds of loans also tend to have lower payments and longer terms, making them a more affordable option than traditional leasing.
One of the biggest benefits of leasebacks is that they provide flexibility. Since you will be selling your equipment to a lender, you will instantly improve the liquidity of your restaurant. You can utilize that working capital to pay down debts, boost your credit, buy additional equipment, or get through a slow period. Because many kinds of commercial gas range hold their value over time, you might get a lot of money for the machinery you sell.
Another benefit is that these kinds of loans tend to be tax-friendly. You might be able to classify your lease payments as operating costs, which will let you write them off when you are filing your taxes. Not everyone looking to finance commercial gas range will qualify for one of these loans; however, it is certainly an option that is worth exploring.
How Can Top Financial Resources Help?
We take pride in being an independent equipment financing and leasing company that listens to our clients' stories and works with them to find the best solution for their needs. We are here to not only get your deal done faster but also get you started on the path of better creditworthiness so that we can provide you much more attractive programs in the future. We are here to earn your restaurant and help it grow so that you can say you have a financing partner for life. 
We offer competitive rates and terms designed and customized to fit your budget. Top Financial Resources' competitive low rates allow us to structure affordable leasing or financing solutions to fit your budget. Our application programs can be used for both used and new equipment. So whether you have an 800 or 400 FICO score, we have an affordable financing solution.
Visit us at https://www.topfinancialresources.com/faq/ or call 1-(800)-260-5126 to let us discuss your Garland G36-G36S financing solution.
---
What Commercial Gas Range Qualifies For Bad Credit Financing?
New or used commercial gas range whether from a dealer, private seller, auction house, or manufacturer we can finance the equipment your restaurant needs. We fund virtually all kinds of commercial gas range. Other commercial gas ranges to consider in the G Starfire Pro Series include:
Garland G36-2G24S Restaurant Gas Range

Garland G36-G36T Restaurant Gas Range

Garland G36-6T Restaurant Gas Range

Garland G36-6S Restaurant Gas Range

Garland G36-6R Restaurant Gas Range

Garland G36-4G12T Restaurant Gas Range

Garland G36-2G24T Restaurant Gas Range

Garland G36-4G12S Restaurant Gas Range