If you own a restaurant and you are reading this post, take a moment to pat yourself on the back for taking the risk of following your dreams; it takes a lot of courage and resilience and is something to be proud of. In this post, we will explain the process of True STA1R-1S-HC commercial refrigerator leasing. As you might be aware, starting a restaurant is costly, and maintaining it can be just as expensive. When it comes to taking on a lease or loan for your commercial refrigerator, contact Top Financial Resources, and start financing your project without further delay. Choose our equipment leasing or rental solutions to acquire the refrigerator you need to get started today efficiently. Whether it is for a restaurant, a bar, a kitchen, a cafeteria, or for your catering service, do not let a lack of capital hinder your drive towards success. Top Financial Resources is there to make it easy for you.
---
True STA1R-1S-HC Overview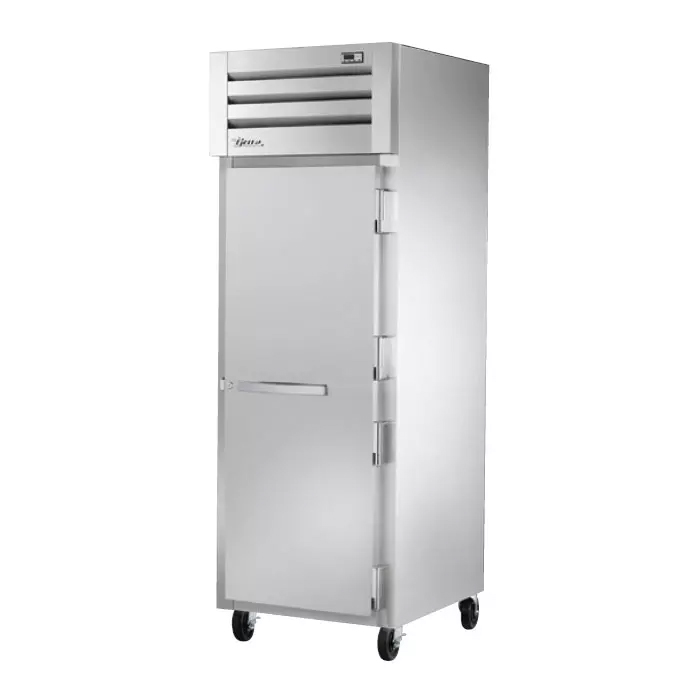 To efficiently distribute air, the True STA1R-1S-HC one-section reach-in refrigerator has electronically commutated evaporator fan motors and condenser that utilizes less energy and creates less heat than other motors. The refrigeration system is top-mounted, so the evaporator does not get stuck in debris and dirt from the floor. This refrigerator has a self-contained capillary system which holds R290 hydrocarbon refrigerant that releases it to help keep the cabinet at a set temperature between 33 °F and 38 °F.
This unit has a door with a self-closing, positive seal design that saves energy and can stay open past 120 degrees to assist with unloading and loading. Made of stainless steel, the door comes with four cam-lift hinges that secure it to the cabinet. It has magnet gaskets with a one-piece construction snap into the door frame to prevent cold air leaks. A metal handle provides a sturdy grip when opening, and an external lock prevents tampering and theft.
This True STA1R-1S-HC one-section reach-in refrigerator's walls are foamed in place with polyurethane insulation to retain proper temperatures. Its interior and exterior floor and ceiling are made of corrosion-resistant stainless steel, and its interior sidewalls and back are constructed of aluminum. To hold the product, this model has three heavy-duty, chrome-plated wire shelves inside. It has LED lights that brighten the interior and castors with a 5-inch diameter to provide movement—Celsius and Fahrenheit temperature displays.
True STA1R-1S-HC Details
5-in.-diameter castors with a locking front set

cULus and UL-EPH listed; ENERGY STAR categorized

The exterior is built with stainless steel to resist corrosion.

LED interior lighting highlights product

Made with innovation in the U.S.

NSF/ANSI Standard seven compliant for open food product

Polyurethane foam insulates the cabinet and provides structure

Sidewalls and interior and back walls are made of dent-resistant aluminum.

Stainless steel interior floor and ceiling resist scratches.

Temperature is displayed in Celsius or Fahrenheit. 

Three sturdy, chrome-plated wire shelves support product
True STA1R-1S-HC Refrigeration System
 Condenser and evaporator fan motors generate little heat and u6tilize little energy when circulating air because they are electronically commutated

Electronic controls set the internal temperature

Epoxy-coated evaporator does not corrode

R290 hydrocarbon refrigerant is held and managed by a self-contained capillary tube system

Temperature holding range: 33-38 degrees F

The top-mounted system prevents debris and dirt from getting sucked in
True STA1R-1S-HC Door
120-degree stay-open feature facilitates unloading and loading

The comfortable grip offered by a metal handle

Contents are protected by a lock

Four cam-lift hinges secure door

Magnetic one-piece gaskets can be removed without tools

Positive-seal, self-closing design conserves energy
Dimensions And Utilities
271⁄2 in. W x 351⁄4 in. Dx 841⁄8 in. H

115 V/60 Hz/1 ph, 9-ft. cord with a NEMA 5-15P plug

3.8 A, 1⁄4 HP
---
True STA1R-1S-HC Leasing Process Explained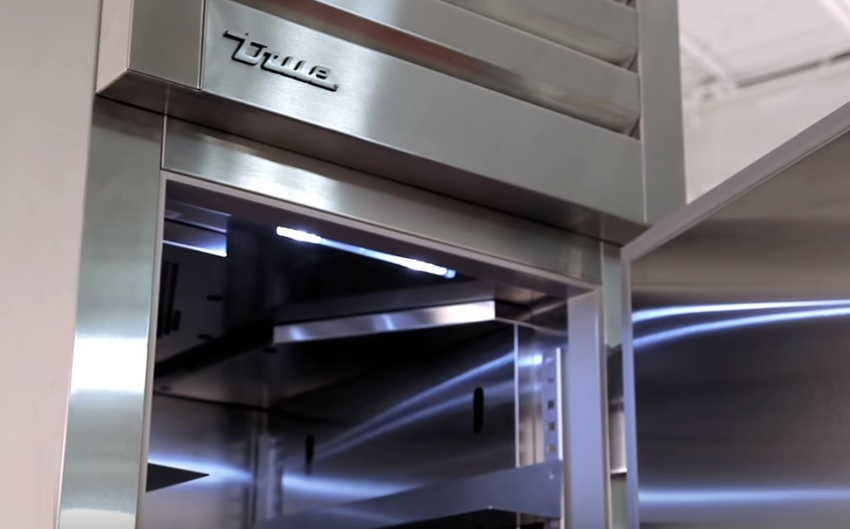 Leasing equipment works like a rental contract. You pay the equipment's owner a set fee for the agreed period, and you can use the item as though it was your own. Under a lease, nobody else can use the equipment without your permission, and for all purposes and intents, it is as though you own the commercial refrigerator.Furthermore, the initial owner of the equipment, your True STA1R-1S-HC lease provider, cannot take repossession of the item or asset till the contract finishes assuming you comply fully with it. There might be clauses where either party can break the lease contract short of the full duration; however, there will be associated with penalty charges or other accommodations. But, in short, True STA1R-1S-HC leasing works by allowing a party to pay a rental fee monthly, yearly, or quarterly in exchange for the sole use of the equipment. There is no huge outlay of capital to purchase the equipment outright and no balloon payment to take possession at the end of the contract as under hire purchase.
The lease contract duration also suits restaurants since they can always negotiate a better deal or frequently a better asset. Businesses that use leasing do not have to tie up large amounts of capital into an asset that has an uncertain future value or spend time trying to source a buyer when it is no longer needed, all while paying all the maintenance costs and being hit with the item's depreciation. Those responsibilities and risks can lie with the lease provider. Note that as the lessee, you need to make sure you do not incur penalty charges. Without clarification and assurances, there can be disputes over what constitutes wear and tear or damage, resulting in the lease having to pay repair costs before the provider's final inspection.
Why Should You Lease True STA1R-1S-HC?
We understand that purchasing the latest commercial refrigerator can be a daunting procedure. Generally, the new normal presents a challenging time financially, but this should not get in the way of buying new commercial equipment which will be more reliable and help you be more efficient. That is why you should consider leasing your restaurant equipment. True STA1R-1S-HC leasing and finance spread out the payment of your item, kitchen installation, or refurbishment projects over a period that suits your business. From two to five years, you can have one single payment that will assist you with the monthly budgeting. What is more, equipment leasing is 100-percent tax allowable and ensures you keep working capital in the bank. Explore the types of commercial refrigerator leasing solutions below and use our handy calculator to give an indication of leasing costs. Or contact us at 1-(800)-260-5126 for inquiry.
Choosing A Financier For True STA1R-1S-HC Leasing
If you presently do not have the cash outright to purchase the restaurant refrigerator you need today; financing is a viable alternative. One financing method is doing business with your bank; nonetheless, this process tends to be tedious and time-consuming. If your restaurant is a startup or an established business, there is also an option to do business with Top Financial Resources.
Why Choose Top Financial Resources?
We have experience in restaurant equipment financing to guide your practice in the right direction.
We can:
Be the experienced, dependable financing partner you need to communicate with for industry service, customized services, and overall communication.

Secure your funding and financing for your commercial refrigerator fast and easy, in our simple process

Provide your restaurant with our lowest payment. We will provide your restaurant with the lowest monthly payments in the market.

Utilize our own funds since we are a direct lender and put together competitive deals and payment solutions
Discover how it takes less than minutes to fill our lease, online application while getting approved up to $250,000. 
Why Choose Top Financial Resources For Restaurant Equipment Financing?
Every restaurant business relies on the efficiency and strength of their equipment. We can help whether you are a large restaurant or a startup coffee shop requiring a commercial refrigerator. Commercial refrigerator leasing is a perfect option for your restaurant. As an independent lender, we are able to ensure that your kitchen is kitted out with the best equipment for your needs. All the equipment that your restaurant needs at an affordable and competitive rate. We can also provide financing options on a range of different restaurant equipment; check out our dedicated restaurant equipment financing options on our website.
Top Financial Resources has worked alongside restaurants to finance everything from gas ranges to the installation of specialist freezers. Our experienced financing team will take you through the entire process of acquiring finance, including providing additional support to assist you source the best restaurant equipment. Why choose Top Financial Resources:
Credit decision in 24 hours

Easy application procedure

Industry-leading rates from 2.5 percent

5-star customer service

95 percent acceptance rate
Call us today on 1-(800)-260-5126 for True STA1R-1S-HC leasing. Our highly knowledgeable and friendly financing team can offer you a free, no-obligation quote and answer any of your questions.
What Commercial Refrigerator Can I Lease?
Well, in two words, almost everything. Some of the commercial refrigerators in the True STAIR series you can lease with us include: 
True STA1R-2HS-HC Reach-In Refrigerator 

True STA1R-1HG/1HS-HC Reach-In Refrigerator

True STA1R-2HG-HC Reach-In Refrigerator

True STA1R-1G-HC Reach-In Refrigerator

True STR1R-1S-HC Reach-In Refrigerator

True STR1R-2HS-HC Door Reach-In Refrigerator

True STR1R-2HS-HC Reach-In Refrigerator

True STR1R-1G-HC Reach-In Refrigerator

True STR1R-2HG-HC Reach-In Refrigerator
Is Commercial Refrigerator Leasing Right For Your Business?
It very likely is. Not unless you are particularly cash-rich and know that you will absorb the future costs and risk of asset depreciation, it makes sense to use leasing, especially in such a competitive market.