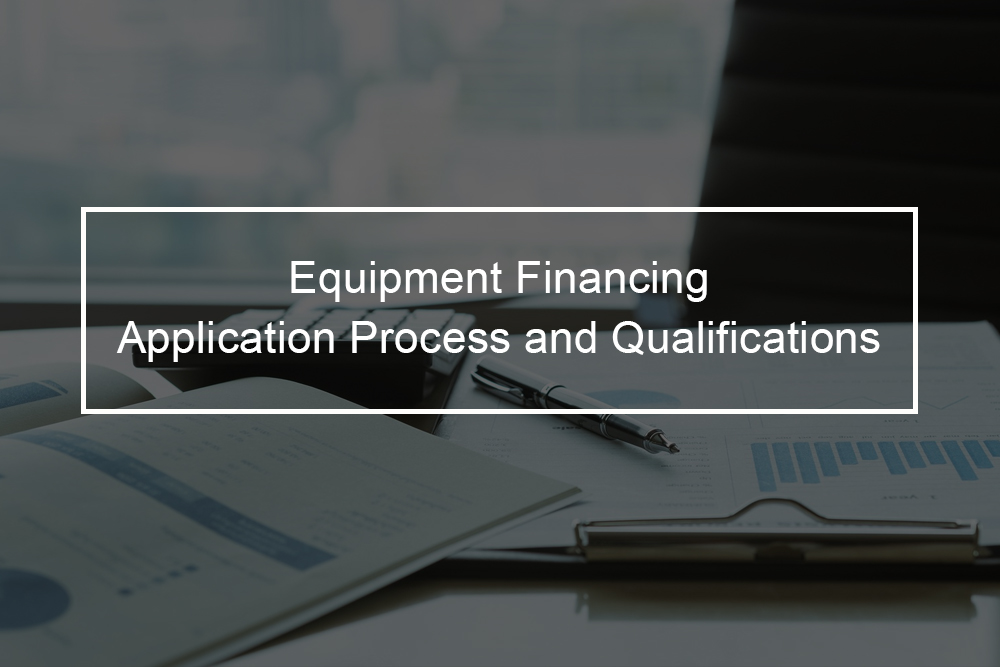 If you are a small business owner, you know how important it is to rapidly and economically obtain, replace, or upgrade the equipment required to perform your daily business tasks. Buying equipment can strain your cash flow. Equipment financing might be an ideal solution to keep your business functioning at optimal performance or expand to meet increasing demand. Though not all businesses will qualify for equipment financing. The following will provide an overview of the basic qualifications for equipment loans. 
---
What is equipment financing?
With an equipment loan, the loan amount you qualify for will depend on the value of your buying equipment. The equipment also acts as collateral for the loan, so the lender can seize it if you fail to repay the loan. Typically, traditional banks provide the most favorable terms and rates; however, they have strict credit standards. Online small-business lenders are other equipment financing options, mainly if you need to buy equipment faster or if your personal and business finances are not in excellent shape.
The loan size should match the price of the equipment you are buying, while the loan term should match how long to use the new equipment. If you are purchasing commercial ovens that you expect to use for five years, get a loan with a five-year term. Shorter term might have you scrambling to make payments, and a longer term means you will be paying for the equipment once you stop using it.
Qualifying for an equipment financing
Equipment financing lenders will vary in their qualifications to obtain an equipment loan. The following are general requirements a lender will look at when making a credit decision. Nonetheless, underwriting standards vary and should be vetted before selecting a lender to make sure you meet their minimum qualifications. Your personal credit score will be a vital factor in obtaining an equipment loan. If you are not sure of your present credit score, you can find your credit rating online. The better your credit score, the higher the odds that you are to get accepted, and the better loan terms you can get.
Apart from credit score, lenders might need a business plan that describes your business and a comprehensive proposal for future growth. Typically, the basic goal is to give prospective lenders an extensive summary of your business. The number of years you have been in business, as well as the annual revenue of your enterprise, are essential factors to include within your business plan. Some lending institutions might have requirements in this regard like a minimum of two years in business with annual revenues not less than $ 250,000.
Apart from a statement of revenues within your business plan and a loss and profit statement, lending institutions might require cash flow or balance sheet statements. These should recognize the revenue coming into the business and the expenses that are going out. These statements assist lenders in evaluating the financial strength of your business. Because lenders are also interested in a small business owner's personal finances, you should also prepare personal financial statements. Preparation of all pertinent application documentation is essential to assist in expediting the procedure. Hiring a qualified accountant in anticipation of applying for equipment financing is advisable to ensure your finances are in order.
---
Types of qualifications for equipment financing
Not all businesses will be eligible for equipment financing. There are programs available for most cases, though.you can still qualify for an equipment loan.In cases like this, sometimes you might need collateral or down payments.
Four basic types of qualifications for equipment funding
Credit based equipment finance
Credit based equipment loans are almost always less costly than collateral based equipment funding. What credit-based indicates is that if you have got an okay credit, you can fund your equipment in most cases. If you have a fair credit score- that is, your credit score is 620 to 650 or so, and you have been in business for at least two years, and generally have some money in the bank, you will get the cheapest rates; however, they will not be outrageous.
As a general principle, maybe plan $760 monthly per $25,000 or financing on a five-year term (for $1 buyout). With a little better than a credit score (650 to 680 credit score), the rates get better. You are looking at almost $630 to $675 as a monthly payment on $1 buyouts and $600 to $650 for every $25,000 of financing on a lease. With a good credit score (over 680 credit score), rates get very reasonable. Plan on about $565 to $585 and sometimes less, on $1 buyout and $530 to $550 for every $25,000 of financing on a lease. If you have a start-up, programs are available if your credit is good; however, financing will be costly.
Cash flow-based financing
If you have some credit issues but run a strong business, your credit score might often be ignored. For instance: Suppose you have a very low credit score and require funds to buy $25,000 worth of equipment. If your company has revenues close to $25,000 monthly, you can still get accepted for financing in many cases. Your payments will be significantly more than if you had a great credit score in these cases; however, the money will be available to you.
Collateral based financing
You can be accepted to fund equipment with almost any business or credit challenges if you can make a fifty-percent down payment or provide collateral.For instance, if you need to finance that $25,000 piece of equipment and offer $25,000 worth of vehicle or machinery as collateral, you are approved in the vast majority of cases. There are two times you might find it hard to get approved.
Open child support collections 

Open bankruptcy (discharged is okay)
If you have the down payment or collateral, a deal can be done almost any time another period.
Story based financing
Provided there is a good business case to lend you, often, your credit score can be ignored. Story lenders look for some kind of strength and do not have a set rule book. The rules are not in stone; however, tougher deals can be done without great credit or huge amounts of collateral in many cases.
---
How to get equipment financing?
So, if you meet the qualifications of equipment financing, you might be wondering how actually to get the funding you need.
Find the equipment you would like to buy
The first requirement for getting an equipment loan is finding and selecting the piece of equipment you would like to buy. Many lenders will need that you offer an equipment quote and details about the equipment and its condition with the application process. So, you will want to ascertain that you have this step completed from the start.
Assess your qualifications
After you have carried out the vital research on the equipment you would like to buy, you will be able to start looking at your options and determining where you will be eligible. As discussed earlier, the specific requirements that you will need to meet to be eligible for business equipment financing will vary depending on the lender. Typically, however, qualifications (credit score, time in business, annual revenue) will be much more flexible compared to other kinds of loans. Though, with this in mind, as we have discussed, the better your qualifications, the higher the odds you will be able to access the most ideal terms and rates.
Complete your equipment financing application
Lastly, after you have evaluated your qualifications and determined the lenders that are the best options for your business, you will be ready to prepare and submit your loan application. Generally, you will be able to complete your equipment loan application online very easily and faster. Equipment financing often requires minimal documentation and a streamlined application process. Nonetheless, you can expect to provide some if not all of the following:
Equipment quote

Business tax returns

Credit score

Bank statements

Voided business check

Driver's license
Typically, online lenders can process and fund business equipment financing applications in a few days and sometimes faster. On the other hand, if you apply for an equipment loan through a bank, you will probably see a slower time to fund. Of course, before you sign for an equipment financing agreement and enter the closing process, you will want to compare many lenders' options to make sure that you are getting the best, most affordable deal for your business.
Equipment financing is an appropriate solution for funding business equipment purchases. Even though you might be able to use other types of loans to cover these purchases, equipment-specific financing often comes with flexible terms, affordable rates, and fast funding times. Besides, qualifying for an equipment loan is not difficult, and as a self-collateralizing form of financing, equipment loans are much more accessible for businesses with bad credit and startups.