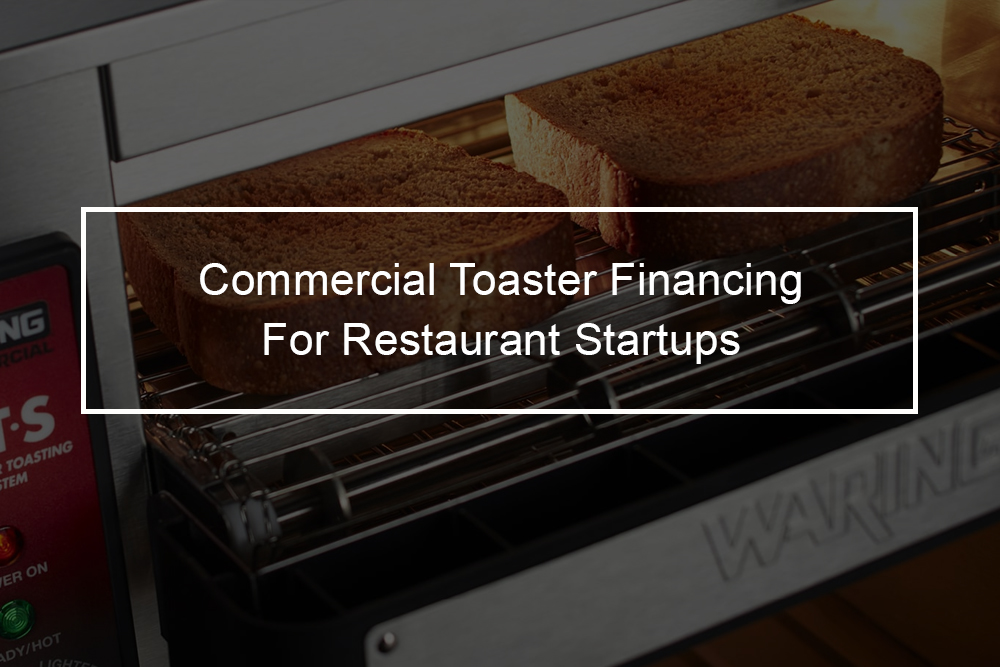 When your restaurant needs an APW Wyott XTRM-2H commercial toaster, we are happy to provide you with a no-hassle equipment financing or lease agreement. Besides, we do it with minimal paperwork and fast approvals (just one easy and quick application). For many restaurant startups, the cost of equipment is too high to purchase outright. Instead, equipment financing is a better solution. There are two main methods available: restaurant equipment loans and leasing. In this post, we will break down both options and discuss when each one is right for your commercial toaster.
---
APW Wyott XTRM-2H commercial toaster overview
With a 10'' wide conveyor belt and 3'' high opening slot, the APW Wyott XTRM-2H conveyor toaster toasts up to 600 bagel halves and other bread products every hour. And in under thirty seconds, a slice of bread is perfectly toasted for service, keeping your back-of-house moving and your service time minimal. This APW Wyott features a unique pre-heat convection system that jump-starts the toasting action by blowing forced hot air directly onto the bread in the feeder section.
It also gives you complete control over the toasting procedure, with an adjustable conveyor speed to brown, various items to the desired shade. The bottom and top elements are even independently adjustable, making it simple to produce toast to the precise crispiness and shade. Besides, a power-saver stand-by switch assists in reducing energy consumption by up to 50-percent during short off-periods; it enables quick reheating, too.
For maximum safety, a convenient ''Xtreme Smarts'' cooling system keeps the exterior cool, shielding staff and patrons from burns. It also keeps the interior elements cool when in use, preventing possible component damage. Moreover, cleaning is made easy with a removable reflector tray and 1'' adjustable legs. A 230V electrical connection is needed for operation.
Overall Dimensions of the APW Wyott XTRM-2H commercial toaster:
Opening Slot: 3″

Conveyor Width: 10″

 Height: 14 3/4″

Width: 15 5/8″

Depth: 23 5/16″
---
Commercial toaster loans explained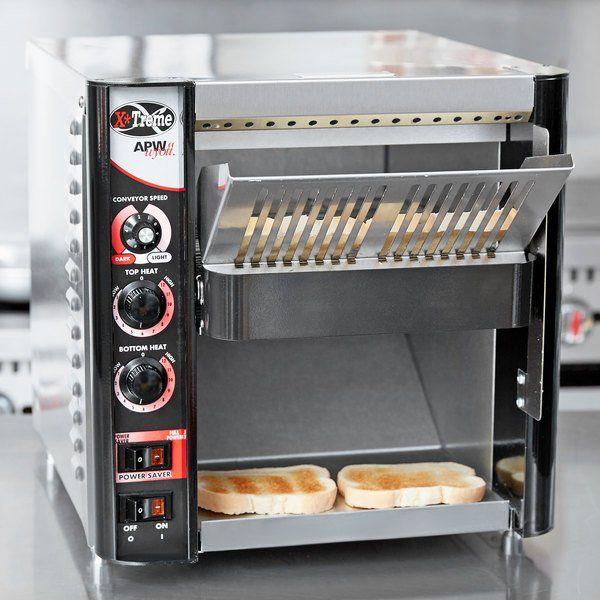 When trying to buy a new commercial toaster for your business, you might be tempted to either put it on a business credit card or take out a conventional loan. Sadly, both options are problematic. Credit cards have high-interest rates, and business loans require a credit check and a long approval process. Instead, a restaurant equipment loan is a much better solution. Generally, this type of loan utilizes the toaster or equipment being purchased as collateral and can fund up to 80-percent of the cost. This way, you do not have to wait as long for financing, nor do you need a perfect credit score. After the loan is paid off, you keep the appliance.
One issue with a standard restaurant equipment loan is that it limits your options for replacements and upgrades. Not only that, you are on the hook for any maintenance and repair costs. Restaurant equipment leasing gets around that issue by letting you rent equipment for a particular period. The restaurant leasing company is accountable for repairs, and you can upgrade to a newer model after the lease agreement is over. Commercial toaster leasing can also provide flexible financing if you own the item outright. Lease buybacks enable you to sell the appliance while keeping it onsite and in use. You get to use the money from the sale to cover operational expenses and also enjoy the advantage of leasing.
Which is better APW Wyott XTRM-2H financing or leasing?
Since every restaurant's situation is different, there is no universal 'right' answer. In some situations, buying a commercial toaster makes the most sense. In other cases, leasing can offer better flexibility. Below is a quick breakdown of when to use these financing options.
APW Wyott XTRM-2H leasing
The one scenario you never want to find yourself in is having an ''upside-down'' loan. This means that you owe more money than the equipment is worth. If this does happen, you might end up in a financial bind because you can not simply sell the toaster to pay off the loan. So, if you are worried that you will have to upgrade the APW Wyott XTRM-2H sooner rather than later, you want to sign up for a short-term lease. In some situations, you might be able to sign up for a lease-to-own program. However, before you take advantage, read the agreement details. Also, ensure that owning the commercial toaster makes sense in the long run.
APW Wyott XTRM-2H financing for restaurant
Generally, a standard restaurant equipment loan makes the most sense when purchasing equipment that will last, which is the main part of your daily operations. Overall, equipment financing is the best solution for retaining its value and not having to be upgraded for a while.
---
Who qualifies for commercial toaster financing?
Most restaurants can qualify for equipment financing loans. How much you are eligible for and the interest rate you will pay- depends on the value of that appliance, your credit score, and the business's financial history. Restaurant equipment financing can be a great option if your credit score is less than perfect, too, since the equipment serves as collateral. Restaurant financing and leasing companies are just as concerned with what is securing their loan as with your borrowing history. So, if you intend to invest in high-value equipment with your small business equipment loan, then lenders might be inclined to work with you, even though your finances are not pristine.
How long does APW Wyott XTRM-2H financing last?
How long you can extend the term of your commercial toaster loan will depend on the APW Wyott XTRM-2H anticipated lifetime.  It makes sense that not too many lenders want to extend their restaurant equipment financing program repayment terms beyond the life expectancy of the APW Wyott XTRM-2H. Generally, this is because the point is that they are financing a tangible asset- your appliance- on the basis that it will be worth something should they have to liquidate it. Some restaurant equipment lenders will set terms for the expected lifetime of the equipment. However, most lenders will set a maximum repayment term of ten years on a business equipment loan.
What will commercial toaster financing cost?
With commercial toaster financing, the thing to bear in mind is that it stops you from having to pay the entire cost of that toaster upfront. Instead, you will pay it off in regular installments, the same as any other term loan. Nonetheless, since the interest that commercial toaster financing inevitably comes with, you will be paying more with an equipment loan than you would pay if you bought the equipment outright without financing. The tradeoffs are worth it for restaurants that can not afford a large, upfront expense or do not want to deplete their cash with such a huge one-off purchase but need the toaster to move up to the next level.
---
Lease or finance your commercial toaster to be up and running quickly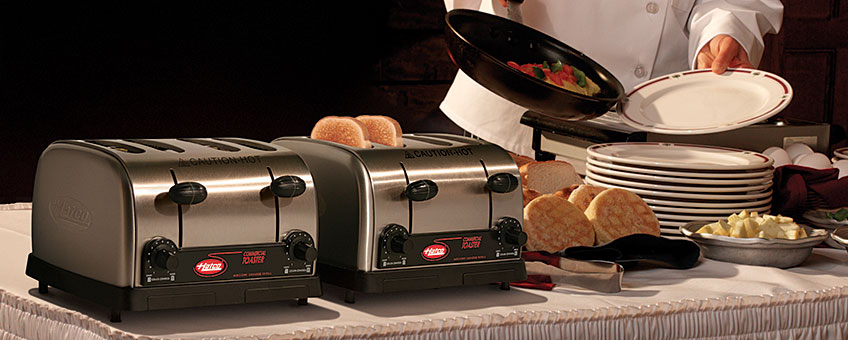 We know that getting equipment for your restaurant can put a strain on the old budget. With Top Financial Resources' restaurant equipment leasing and financing options, you can hold onto that cash and will get the APW Wyott XTRM-2H needed to keep your restaurant moving forward. We will foot the upfront bill and create a custom-tailored repayment plan that enables you to keep cash flow strong.
Get all these with commercial toaster financing from Top Financial Resources:
Easy no paperwork application

Section 179 friendly

Fast approvals (within hours)

Better (and simpler) than a bank loan

Low rates and flexible terms

Used equipment is okay

Progress payments/payoffs
To get started, choose the machine you need to expand your restaurant, and Top Financial Resources will provide you with no-hassle financing. For more information on APW Wyott XTRM-2H Financing, call us at 1-(800)-260-5126.
---
What other restaurant equipment financing options do I have?
If it does not seem like commercial toaster financing makes sense for your small restaurant, do not sweat it. There are many other financing options available you can use to finance the procurement of the asset you need.
Business lines of credit: How much money do you need for your commercial toaster. Following a recent report, most small businesses are only seeking $20 000 to $ 40,000 in financing. If you need to purchase millions of dollars of restaurant equipment, a business line of credit possibly, will not work. On the other hand, if your restaurant needs are closer to that of the average company, you might need a few thousand dollars to fund the machinery you need to take your restaurant to the next level.
The good news is Top Financial Resources offers a revolving line of credit up to $100,000 that small business owners like you can use to finance the procurement of equipment or anything else you need for your restaurant. It is fast and easy to apply for this business line of credit and, if you are accepted, funds are available faster. All remaining fees are waived if you can repay the funds before the end of the term.
Loans from SBA: If you feel lucky, you can always try to apply for a loan from a lender secured by the SBA. To do so, you might need to fill out a lot of paperwork and offer mountains of financial information and business. Truth be told, restaurant owners can certainly secure loans with reasonable interest rates from the SBA. However, for the most part, these loans are hard to acquire. In the event you are approved, you will probably have to wait for several weeks or months to access the money.