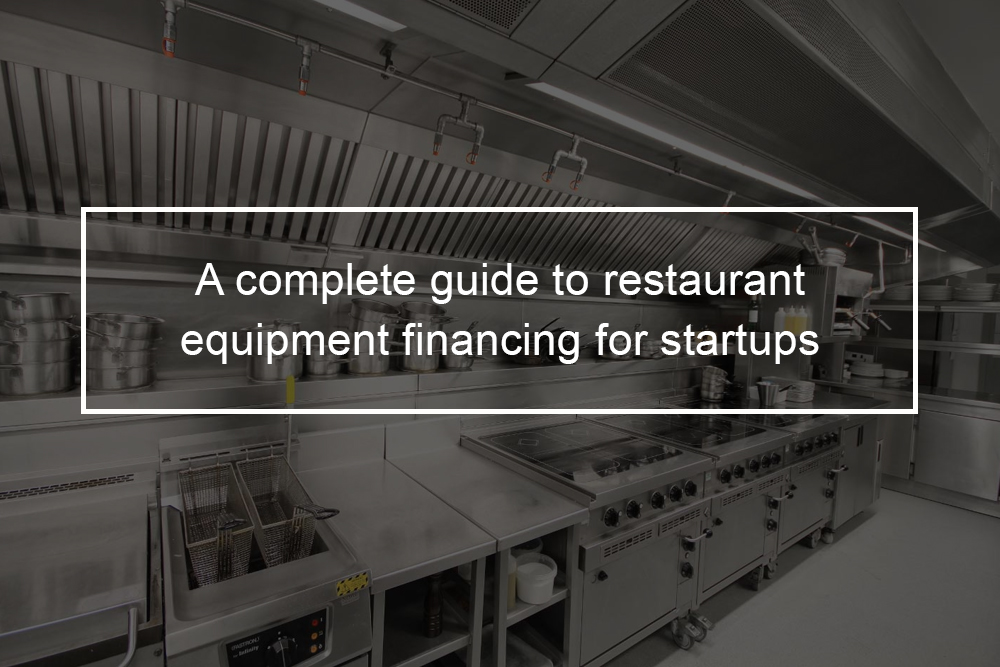 So you have declared to be a MasterChef, or you think you can beat Bobby Flay? Or maybe you are one of the Worst Cooks in America and just relish the idea of owning a restaurant. Whatever the situation, if you are ready to offer gastronomic delights in your own establishment and have gotten the perfect spot, it is time to plan for purchasing restaurant equipment. 
Generally, restaurant equipment includes everything from dining tables to commercial dishes to ovens. As a new restaurant owner, you can easily be overwhelmed by choosing the type of equipment your new restaurant needs and how you will pay for it all. Before you begin purchasing equipment, you will have to determine the items you need. When deciding what kinds of equipment, you will need, consider your commercial kitchen's layout and size. You might have your heart set on costly appliances, but you might have to scale your dreams down if space does not allow. 
Because your chef will be the person working with the equipment and has the expertise for knowing how to outfit a restaurant kitchen, it is recommended that the individual be involved in the process. If necessary, run through mock situations with your head chef to determine if any tools need to be included in the equipment list to run an efficient kitchen. 
---
Restaurant equipment financing
To set a professional restaurant kitchen, you will need much more than a stove and refrigerator. For example, you will need commercial dishwashing equipment, grade ovens, and other essential kitchen essentials for your restaurant to operate smoothly and meet the health codes. Nevertheless, the cost of restaurant equipment can be expensive, which is where equipment financing comes in.
Restaurant equipment financing is a kind of small business loan that restaurant owners acquire to buy equipment. The purchased equipment acts as collateral for the loan. If you need a refrigeration unit, new stove, or other restaurant equipment, there are restaurant equipment financing companies that will offer secured financing without you having to provide collateral. This financing option is suitable for fledgling restaurants and restaurant owners with personal credit challenges.
Even though you have available cash, financing restaurant equipment will keep you from using your working capital. Since this kind of financing is secured by the equipment and is less risky for the lender, start-up restaurants and credit challenged restaurant owners can still access long repayment terms and low-interest rates. Credit ranking and time in business are not the only elements that equipment financing lenders check during the approval process. The majority of lenders will emphasize the quality of the restaurant equipment you need to buy and use as collateral.
Before you sign the dotted line, ensure you understand any restrictions in the equipment financing terms. Some lenders will not finance used restaurant equipment. At the same time, others will limit you to particular brands. Scour your contract for any extra fees, late charges, early payoff penalties, and unexpected taxes.
---

Restaurant equipment financing vs. leasing
If you choose to finance your equipment, your restaurant will be the legal owner of the item and can add it to the restaurant's total assets. As long as your restaurant is based in the United States, you can also take advantage of special tax deductions under 1RS 179. If you finance, your restaurant equipment may be outdated by the time you pay off the debt. If you choose to lease your restaurant equipment, you can choose not to buy the equipment for fair market value after your leasing contract expires. This will enable you to upgrade to a new model easily. If you anticipate your restaurant will outgrow the initial equipment needs faster, you should consider leasing your restaurant equipment instead of financing it.
---
What are the options for buying restaurant equipment?
Buying used equipment: Your new restaurant does not have to have all brand new equipment. Quality used restaurant equipment can be bought at substantial savings. All equipment from larger equipment (ovens, stoves) to supplies and furniture ( utensils, dishes, chairs, and tables) can be purchased.

Buying new: Some equipment is best-bought brand new.

Leasing: Many companies offer leased restaurant equipment. This can save you a lot of money as you get ready to start a new restaurant. Generally, equipment with a short life span, such as coffee makers, ideal for monthly lease.
Benefits of buying new restaurant equipment
Even though it is recommended that new and small restaurants consider the most budget-friendly options when purchasing restaurant equipment, there are benefits of purchasing new.
Warranty
New restaurant equipment comes with a warranty that will cover various repairs for a particular period. This reduces any concern over expensive repair bills.
Full equipment lifecycle
Because the equipment was bought new, it is unlikely that you will have to deal with expensive repairs for most of the equipment's useful life (even once the warranty expires).
Restaurant equipment history
With brand new equipment, you will know what it has and has not been through, so you will be more confident that you have quality equipment. Moreover, new equipment eliminates the need for a pre-purchase inspection to make sure that the equipment is up to health codes.
Drawbacks of purchasing new restaurant equipment 

New equipment is costly
Let us face it; brand new restaurant equipment can be costly. It is why start-ups and small restaurants usually seek equipment financing. On average, start-up restaurants can anticipate spending around $ 115,655 on bar and kitchen equipment, with tables and furniture alone costing $ 40,000.
That is not even including initial costs like: 
Legal fees

Design/ architecture/ renovation fees

Utility deposit

First month's rent

Security deposit

Accounting services

Website

Marketing

Signage

Opening food inventory
New equipment depreciates in value
The same way a new car depreciates after it is driven off the lot, as soon as the new restaurant equipment is unpacked, its value starts to drop. If you wanted to resell the equipment in a month, you would do so at a substantial loss.
What are some of the restaurant equipment you can buy new?
What if you are the kind of person who does not like purchasing anything used and have chosen to begin your new restaurant with all the new equipment? If you do not want to compromise your working capital, you will prioritize what equipment to purchase. And if you must purchase new equipment, consider the following items:
Freezers and refrigerators
Repairs to freezers and refrigerators equipment can be very costly. You do not want to risk refrigeration malfunctions since the repair cost can easily exceed the equipment's cost. An out-of-service refrigerator can lead to the loss of your entire food inventory as well as a business until you have fixed the unit and restored spoiled food. Whereas with new refrigeration equipment, you can get to enjoy the item for its whole useful life, and there is no concern about the unit being up to health code.
Ice machines
Ice machines are items you will want to buy new. A cross-contamination is an ice machine that can destroy the equipment, and the health department could shut the restaurant down if contamination is detected in an inspection.
Benefits of purchasing used restaurant equipment
Restaurant equipment can be costly. To keep the costs under control. Purchasing some of your restaurant equipment used rather than new is an option to consider. Purchasing used restaurant equipment has its benefits and drawbacks.
Used equipment is affordable
The most costly restaurant equipment, such as ovens and stoves, depreciate in value after leaving the supplier's showroom. Following the restaurant business, a six-burner range can cost around $1500 new; however, a shrewd restaurant can obtain it at $750 to $900 online, at auctions, or via private sales. Getting a bargain on this big-ticket equipment is simple, and if you purchase from an independent seller, you can bargain the price and might get other kitchen equipment for free or at a lower price.
Simple to find gently used restaurant equipment
Sadly, many restaurants do not make it past the first few years ( you will do your due diligence that this does not happen to you). The gently used restaurant equipment of these failed businesses can be obtained as a bargain. If you buy from a reputable used dealer, they usually offer certifications that confirm that they have inspected the items for usability and safety. If you consider an independent seller who does not provide certifications, you have to inspect the equipment for irreparable damage. You might have to ask the seller where they bought the equipment and ask for proof that the equipment is still under warranty.
Restaurant equipment might still be under warranty
Generally, gently-used restaurant equipment is usually still under warranty. In this case, the manufacturer is still accountable for the cost of repairs, no matter the current owner.
Drawbacks of purchasing used restaurant equipment
Purchasing used restaurant equipment can be an excellent way to outfit a restaurant without using a lot of money. Before you make the final purchase decision, you should always do your due diligence by getting as much information as you about the seller, their restaurant, and the period they had been in business.
Used equipment could come with an expired warranty
If you purchase used equipment with an expired warranty, you are responsible for all the repairs if it should break. Gauge the estimated cost of repairs against any savings you might realize.
Undetected damage
Purchasing used restaurant equipment with an expired warranty could be disastrous if you later realized it has malfunctions that were not detected during the pre-purchase inspection. Note that the repair costs can end up being more than the restaurant equipment is worth.
Used equipment has limited brand selection
You might find that you have to settle for a brand other than what you had intended or forego some features.
---
What restaurant equipment can you buy used?
When it comes to purchasing restaurant equipment, some assets possibly should not be bought used since they might cause you trouble down the line. During the purchasing process, you should always ask questions and test the restaurant equipment before finalizing the purchase. This is mainly vital with expensive pieces. You do not want to make a considerable cash outlay twice.
Some restaurant items that are ideal for purchasing used

Gas equipment
Typically electric equipment is difficult to fix when it breaks down since replacement parts are challenging to come by. Contrary to gas equipment, which is simple to repair since spares are readily accessible. Moreover, gas equipment breaks less often.
Ranges and ovens
Since they have long lifespans, ranges and ovens are ideal restaurant equipment items for buying used. Before buying, test the oven or range to make sure that the stovetop and oven heat evenly. Also, the oven seals should be intact, and the cooking surface should be level. You can take your head chef to the inspection to make sure these appliances are in good working condition.
Small appliances
Quality used food processors, blenders, knives, pans, pots, and kitchen utensils should be comparatively simple to find. Test any motorized restaurant equipment to make sure they are working well. Knives can be easily sharpened, and you will be able to see if they have excessive damage or wear to pans and pots before deciding to buy. Vendors usually provide small used appliances in bundles and will assure the equipment's functionality for a particular time.
Fryers
Typically gas fryers have a long useful life like ranges and ovens. This makes them ideal for buying used. When inspecting a fryer, ensure the oil container is still watertight since any splits will lead to oil leakage. The fry baskets are an affordable replacement, so do not be overly worried about them.
Tableware
Restaurant-glassware, flatware, and grade dishes are created for frequent use, making them suitable for purchasing used. You can purchase entire used table settings that include pepper and salt shakers and condiment holders without having issues getting styles that suit your taste.
---
Benefits of leasing restaurant equipment
As you prepare to start a new restaurant, you might want to consider leasing some of the equipment instead of purchasing outright. Since commercial kitchen restaurant equipment wears more than a typical home kitchen, you will have to factor in the costs of repairs plus the time spent searching for a reputable repair company if you purchase outright. Thus leasing for a restaurant kitchen is more sensible. Below are some of the pros of leasing restaurant equipment:
It saves you money
Leasing large restaurant kitchen equipment, such as a commercial-grade stove, is sensible for budding restaurants. The money you will save by leasing an item instead of purchasing outright can be utilized in other areas. Rather than using thousands of dollars for a stove, you can use the money toward your original budget or stock your kitchen with the first week's recipes ingredients.
Some leased equipment is free
Some leased equipment might actually have no monthly lease fee. Generally, some vendors will provide leased equipment for free as far as you regularly buy products from them. For instance, a coffee vendor might provide you a coffee maker without any charges if you regularly purchase their coffee.
Do not pay for repairs
When you are leasing restaurant equipment, you generally do not have to pay for repairs if the item breaks. If you purchase it outright, it is all yours, and you are entirely accountable for keeping the equipment in good working condition. ( when the warranty period expires).
Better equipment
Because you do not have to pay the whole cost of the equipment upfront, you might afford higher quality equipment.
Simple to upgrade
If you opt to lease cars rather than buying, do you do so since you like the idea of being in the latest model? If you lease restaurant equipment instead of purchasing, you can easily obtain a newer model.
---
What are the drawbacks of leasing restaurant equipment?
There are benefits of leasing restaurant equipment, but there are shortcomings as well.
You do not have equity
When you buy equipment, you build equity. If you get in some financial difficulty, you can sell the machine and recoup some of your investment. When leasing equipment financing, the money used for monthly payments is gone forever.
The issue of fine print
Early termination fees and interest rates are part of a lease arrangement. Moreover, if an item does not perform the way you anticipated it to, you might take on the extra cost to restore it.
---
What are the various restaurant equipment leases?
If you have chosen to go the lease route, below are the common types of equipment leases.
Fair market value lease: This enables you to obtain the latest restaurant equipment at a lower monthly cost. A section of the equipment's purchase cost is usually deferred to the end of the lease term. At that time, you can buy the equipment at fair market value, continue with the lease monthly or return it.

Lease to own: If you are confident that you will buy the equipment when the lease ends, but you do not want to make large payments upfront, this option might work for you. You will have higher monthly payments; however, a lower buyout amount when the lease ends.

Quarterly equipment lease: Generally, you can make quarterly lease payments rather than monthly. Note that interest rates are usually higher for this option.

Seasonal lease, semi-annual lease: If your restaurant has slow and distinct busy seasons, rather than making monthly lease payments, you can make them during a busy season when sales are higher.
Before you lease restaurant equipment, consider the following
Like with any financial arrangement, you will have to sign an agreement or contract when leasing restaurant equipment. Assess the document carefully ( or have your attorney assess it) to ensure you understand and accept the terms. Take notes of various stipulations, such as making payments for the remainder of the lease term should you choose to end the agreement before the lease expires. Moreover, as with any lease, you do not own the restaurant equipment, so you will have to make regular payments (monthly or weekly) to use it. Note that this information will be detailed in the agreement or contract.
---

Equipment and tools most restaurants need
A commercial kitchen requires industrial-grade equipment that can withstand heavy use. Based on your restaurant type and the size of your kitchen, you might not need everything listed here, or you might require other items that are specific to your kind of restaurant:
Steam table

Grease traps

Deep fryer

Grill

Oven

Range

Reach-in cooler

Steam table

 3-compartment sink        

Appetizer plates       

Baking pans       

Beverage dispensers       

Blenders       

Bussing & utility carts       

Chef's knives       

Coffee brewer      

Commercial shelving      

Cutting boards        

Dessert plates       

Dishwasher      

Drying racks

Entrée plates     

Flatware       

Food processor       

Freezer (upright or walk-in)       

Glassware       

Ice machines       

Kitchen spoons       

Ladles       

Microwave       

Mixers      

Mixing bowls       

Oven mitts       

Pasta bowls

Pizza paddle

Pizza pans

Prep tables

Salad plates

Saucepans

Saute pans

Sheet pan racks

Slicers

Spatulas

Squeeze bottles

Stock/soup pots

Storage containers

Strainers/colanders

Toaster

Tongs

Turners

Walk-in cooler

Whisks

Brooms & dustpans

Cleaning rags

Domed safety mirrors (so employees can see who is rounding a corner)

Dunnage racks (for storing huge, bulky items safely off of the floor while taking up little space)

Fire extinguisher

First aid kit

Goggles

Hand soap/sanitizer dispenser

Mops & cleaning buckets

Restaurant POS system with a printer (for sending food orders to the kitchen)

Restroom supplies (toilet tissue, paper towels, hand soap, baby changing tables)

Rubber floor mats

Scrubbers & sponges

Trash cans/recycling bins

Wet floor signs
You can also use the menu to determine the equipment you will need in your restaurant. For instance, your restaurant equipment list can include tools and recipes needed to create each one. For every item on the menu, list each equipment you require to create the dish.