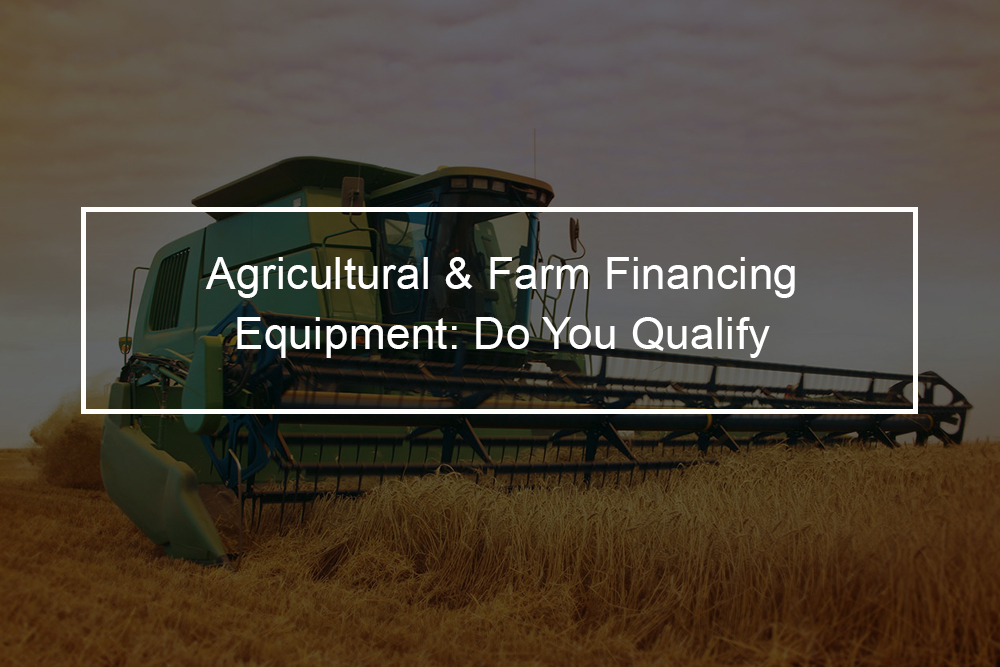 Funding farm equipment and machinery is a commitment that any agricultural business will inevitably have to take in order to progress. When unavoidable external factors and tight budgets come into play, purchasing new farm equipment outright can be a tricky investment and one that has to be carefully calculated. However, on balance, can you afford not to invest in new farm equipment and machinery? After all, new farm machinery that can improve efficiencies and dramatically impact your bottom line is worth investing in. Renewable energy systems, milking parlors, tractors, and vital production machinery could help you achieve steadier business growth. When it comes to farm equipment financing, you will need to carefully construct a plan to ensure you get the very best out of your deal. Whether you are considering a tractor finance solution or a funding option for slurry stores, use our guide for farm equipment financing – it will help you know the ins and outs of farm equipment financing and where to get to the funding.
---
About farm equipment financing
Farm equipment financing is a kind of business financing used to provide agricultural and farm business owners with the capital necessary to purchase needed farm equipment. The process offers you with the funds necessary to secure the purchase of required capital equipment for your farm. The equipment purchased serves as security or collateral for the loan, indicating that you have continued utilization and access to the equipment as long as the loan is repaid in on time. If a default should happen for any reason, the equipment will be used to secure the balance of the unpaid loan amount plus any additional costs.
How Equipment Financing Benefits your business?
Choosing to finance your important farm equipment needs through an equipment financing arrangement makes sense for any farming business, regardless of its size. Through this kind of arrangement, you can access the working capital required to meet certain ongoing expenses, like payroll, rent, and other recurring costs. Here are more benefits of using farm equipment financing:
Cutting costs – Generally, it can be tempting to try to get another season's use out of tired equipment; however, this can be a false economy. Older equipment will increase the risk of breakdowns and make your farm or contracting business less productive – and mean safety issues that can cause injury and liabilities. Investing in new farm equipment can actually reduce costs overall.
Increasing Efficiency – There is a wealth of new equipment, machinery, and technology available to help farms maximize their growth potential and improve productivity and efficiency, helping get more done in less time.
Diversification – There are also new profit opportunities, like sustainably produced biomass, to create renewable energy.
Cost-efficient funding – With farm equipment financing, the cost of your equipment can be spread over months or years, based on your budget. You may not need a deposit; you retain liquidity and, with a lease, avoid depreciation.
Cost-cutting, efficiency, and diversification can all depend on having access to the necessary equipment funding.
Who finances farm equipment?
Where do you start looking for farm equipment financing? A good place to get started is Top Financial Resources.  Top Financial Resources is a local lender that offers commercial lease and loan financing for small and large farms alike. Whether you are a small livestock farmer looking for a new tractor or a large crop grower seeking a new combine, we have got you covered. We offer our agricultural equipment clients unparalleled services and industry experience. Our ​financing ​programs can be customized to fit your needs,​ and ​any equipment ​required for your farm operation is eligible ​for financing​. If you are looking for a lender that offers you good terms on loans for your equipment financing, Top Financial Resources is your choice.
---

Types of Equipment that you can fund with farm equipment financing
Many agricultural customers hear about farm equipment financing and think of tractors and trucks. Yes, farm equipment is totally financeable – but so is a bunch of other stuff. Indeed, there is an equipment financing option to cover tools and resources for just about every farming activity. Big or small, complicated or basic – whatever you need, we will help you cover the costs. Here are just some of the agricultural needs you can cover with farm equipment financing:
Tractors

Conveyors

Trailers

Seeders

Grain carts

Livestock feeders

Fertilizer sprayers

Milk parlors

Biomass boilers and other renewable energy assets

Tractors

Robotic milking machines

Solar panels

Crop sprayers

Combine harvesters

Farm vehicles

Balers

Dairy equipment

Forestry machinery

Hydro projects

Biomass boilers

Wind turbines

Solar PV
---

What are the qualifications for farm equipment financing?
To get farm equipment financing, you will typically need to have $50,000 or more in annual revenue, be in business at least 12 months, and have a credit score of 650 or higher. If your credit score is less than 650, but you can show proof of solid revenues and cash flow for the past three to six months, you can still qualify. And do not worry if you do not meet all of these requirements – exact requirements will vary by machinery type. The best way to identify what you are eligible for is to fill out our free 10-minute application or get in touch with one of our personal funding managers at 1-(800)-260-5126.
No collateral or down payment? No problem. One of the big advantages of farm equipment financing is that your equipment can also act as your collateral, indicating you can secure a loan without risking your personal asset or draining the last of your liquid cash. We will determine how much you can finance by reviewing the type of equipment you are buying, its lifetime value and if it is new or used. That cool mower you are thinking about purchasing seems a lot cooler when it saves you from shelling out for a down payment, huh? Since the collateral is literally part of your loan, it is often not as hard to get approved as many small-scale farmers think it is. Getting started is simple than following those Ikea instructions: just fill out our application, then be funded within 24 to 48 hours.
Why traditional lending might not be the answer?
From automated sprayers to tractors with full GPS positioning control, new machinery and equipment can make a huge difference to your farm productivity. However, purchasing equipment from capital simply is not an option for most businesses and would leave you at a disadvantage if you require funds for an emergency. Generally, traditional loan obligations could hang over you and put your farm at risk if a crop failure indicates a budget shortfall.
What is more, payment cycles vary in different farming sectors. Flexible solutions are vital to match your cash flow to ensure that your loan commitments never become a challenge. At Top Financial Resources, we understand the challenges your agricultural business experiences. Our team has in-depth knowledge of the field and of delivering affordable financing for agricultural businesses.
We help you find a way to spread the cost of the machinery, vehicles, and technology investments you need and to finance new assets. Generally, bank and credit unions are great resources for credit lines, real property loans, and personal loans – but financing agricultural equipment, trucks, and trailers is a different story. Often, used tractors or high ticket combines, and even small implements fall outside of the bank credit window. Unlike banks, we have no collateral and age restrictions. If you see value in the equipment – we can help you finance it!
What is the cost of farm equipment financing?
Your farm equipment loan payments are determined by four things: your term, collateral, loan amount, and interest rate. These factors can vary widely across equipment types. That is why we work with a variety of managers who specialize in farming industry-specific loans – so we can help you find the best deal. If math is not your thing, you can use an equipment financing calculator to figure out what type of monthly payments you can afford.
Oh, and here is some food for thought: make sure you consider both the long-term and short-term gains your new equipment will yield. To determine if farm equipment financing is getting you some real bang for your buck in the short term, you should gauge your monthly payment costs against the benefits that the new equipment will bring. 
To figure out whether you will also experience a hearty long-term return on investment, consider the longevity of the equipment you are financing. Equipment that only offers your business a minor lift and might be obsolete in a few years when you pay off your loan might not give you the long-term leg up that you are looking for – whereas taking out a four-year loan on equipment that will last upwards of twelve years is probably a sound investment