Our restaurant equipment leasing and equipment financing program at Top Financial Resources will help your business secure the Garland G24-G24S commercial gas range. Locate the very best financing programs that money can buy when you do business with Top Financial Resources restaurant equipment financing and/or equipment leasing loans. With our commercial gas range leasing and lending solutions in place, you will have the funding you require to launch your restaurant to brand new heights. Contact us today to learn more about commercial gas range leasing and financing solutions.
---
Garland G24-G24S commercial gas range overview
Garland G24-G24S is a U series restaurant range. The unit features a 24″ griddle, 5/ 8 thick, smooth plate, three-position rack guides, space saver oven, one oven rack, and stainless steel front. It also comes with a two-piece back guard and shelf, plate rail, and 6″ stainless steel legs with adjustable feet. Garland G24-G24S is CSA Star, cCSAus, NSF certified.
Standard features of the Garland G24-G24S commercial gas range:
12″ segment stamped drip trays w/ dimpled bottom

6″ (152mm) adjustable stainless steel legs

Gas regulator

Large 27″ (686mm) worktop surface

Large easy-to-use control knobs

Stainless steel 5″ (127mm) plate rail

Stainless steel backguard that has removable stainless steel shelf

Stainless steel sides and front 
Standard on applicable models of the Garland G24-G24S commercial gas range:
 18,000 Btuh per 5.27 kW cast iron "H" style griddle burner for every 12″(305mm) width of the griddle

32,000 Btuh/9.37 kW cast iron "H" style oven burner

4-1/4″ (108 mm) wide grease trough

15mm thick steel griddle plate, Standard on the right, 23″ (584mm) working depth surface, and optional on justify

Ergonomic split cast iron top ring grates

Nickel-plated oven rack and three-position removable oven rack guide

Open storage base instead of an oven

Powerful 32,000 Btuh/ 9.37 kW two-piece cast iron geometric open top burner

Snap action that modulates oven thermostat low to 500° F

Space saver oven w/ribbed porcelain bottom and door interior, aluminized steel top, sides and back

Strong, keep-cool oven door handle
Optional features of the Garland G24-G24S commercial gas range:
6″ (152mm) leveling swivel casters (four), w/front locking

Celsius temperature dials

Extra oven racks

Flanged deck mount legs

Hot top 12″ (305mm) plate instead of two open burners, manual valve controlled w/18,000 Btuh/5.27 kW cast iron "H" burner standard on justify side

Low profile 9-3/8″ (238mm) backguard stainless steel sides and front 

Piezo spark ignition for pilots on griddles

Snap action modulating griddle control 175° to 425° F
---
Commercial gas ranges leasing and financing: The basics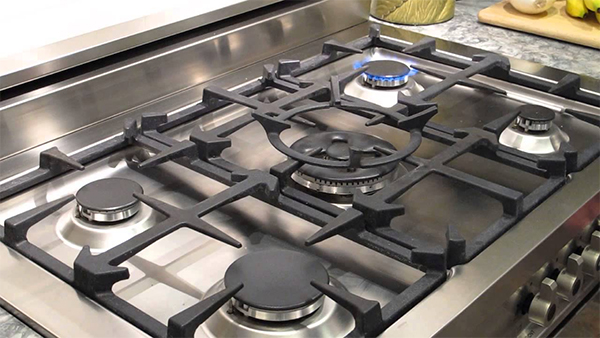 Let us say you are opening a restaurant, and you need $75,000 to buy Garland G24-G24S commercial gas ranges. You choose to apply for a restaurant equipment loan at Top Financial Resources and are approved for an equipment loan equal to 80-percent of the equipment's cost, or in other words $61, 500. That indicates your out-of-pocket expenses will be $13 500, and then you can reserve $61,500 to offset all the other costs linked with a new business. 
There is a difference between commercial gas range financing and commercial gas range leasing. This is seen when you pay the equipment periodic rent owner for utilization of the equipment over an agreed-upon period. When the leasing term is over, not unless you agree with the owner on an extended lease, the appliance is returned to the owner. The requirements for leasing are often less stringent than requirements for financing. If the gas range is necessary for your restaurant, the endless payments on leased appliances without the prospect of future outright ownership might prove to be a more expensive option.
---
Garland G24-G24S financing VS. leasing: What is the difference?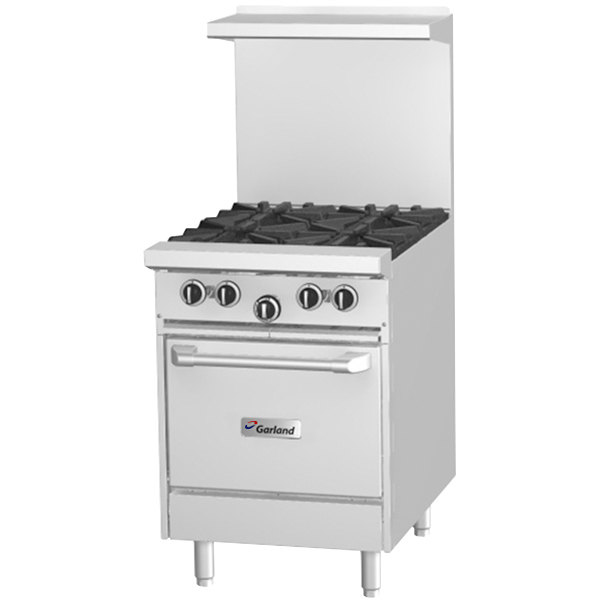 You can finance your Garland G24-G24S through a lease or loan. Whereas both obtain the same ends- giving you access to the appliance required to run your business- there are many differences between the two options.
Restaurant equipment financing loans
A restaurant equipment loan is taken out with the intent of buying a machine. Generally, the commercial gas range secures the loan- if you can no longer afford to pay the loan, the appliance gets collected as collateral. Restaurant equipment financing loan is useful for restaurant owners who require a piece of kitchen equipment for a long period but can not afford to make the purchase up front.There are several drawbacks to this arrangement. Most equipment financing companies will only agree to pay 80 to 90 percent of the cost, leaving you to cover the remaining 10 to 20 percent.
Another shortcoming is that your gas range might end up costing you more in the long run than if you had bought the appliance fully. Based on how much you borrowed, the interest rate, and the loan's length, your cost of borrowing could change. As such, it is essential to do the math before you accept a restaurant equipment loan. Restaurant equipment loan interest rates can vary wildly based on your lender (6 to 30 percent is a too rough range for what you can expect), your credit score, the amount of time you have been operating, and any number of other arcane formulas lenders choose to apply to your case. In most situations, equipment loan interest rates are fixed as opposed to variable.
Restaurant equipment lease
If you intend to trade out your commercial gas range and upgrade to new equipment, or if you do not have the capital needed to place a down payment on a loan, a commercial gas range lease might be the option for you. Instead of borrowing money to buy the equipment for yourself, you will instead pay a borrower's fee. The lessor, who is the equipment leasing company, technically maintains ownership of the gas range but allows you to use it for a fee. Lease arrangements can vary based on your restaurant's needs. Most business owners use a lease contract if they have to switch to another version of the equipment, or they do not need the appliance for long.
If you find that you want to buy your commercial gas range at the end of the term, certain lessors might allow for this to happen. By taking out a lease for your restaurant equipment financing, you might experience lower monthly payments than a loan; however, you might also end up paying more in the long run. In part, equipment leases tend to be more expensive since they carry a larger interest rate than loans. Typically, there are two main types of leases: operating and capital. Capital leases function like a loan alternative and are utilized to finance the appliance you need to own long term. Whereas for an operating lease, it is closer to a rental contract, and, often, you will return the appliance to the lessor at the end of the lease. Both kinds have many variations. Here are a few common types you will come across.
FMV (Fair Market Value) Lease:
With this lease, you make regular payments while borrowing the appliance for a set term. And when the term is over, you have the chance of returning the appliance or buying it at its fair market value.
$ 1 Buyout Lease
This is a kind of capital lease where you will pay off the cost of the Garland G24-G24S and interest throughout the lease. In the end, you will owe exactly $1. After you pay this residual, which is little more than a formality, you will fully own the appliance. Apart from technical differences, this kind of lease is just like a loan in terms of cost and structure.
10-percent Option Lease:
This lease is similar to a $1 lease, but at the end of the term, you have the option of buying the appliance for 10-percent of its costs. These tend to come with lower monthly payments than a $1 buyout lease. Acquiring restaurant equipment financing might be more costly, even though their fixed interest rates tend to fall within the same range as restaurant equipment loans. You might even have the option to write off the entirety of the cost of the lease on your taxes.
Generally, a lease tends to be more costly in practice, even though their (usually fixed) interest rates fall within a similar range to restaurant equipment loans. Based on the arrangement, you might be able to write off the whole cost of the lease on your taxes, and leases do not show up on your records the same way as equipment loans. How leases impact your taxes is too sophisticated to cover within the scope of this post. But the kind of lease you choose will determine what you can write off and how.
---
What you need to qualify for Garland G24-G24S leasing and financing?
Here is an overview of the general qualifications for restaurant equipment financing at Top Financial Resources:
Not less than six months in business

500 plus credit score

Annual revenue $100k and above
Why choose Top Financial Resources?
As a non-traditional lender, Top Financial Resources is able to bridge the gap between the funds you have on hand and the money required to finance your equipment or meet demands for increased cash flow. Whether it is commercial gas range financing or lease or even a business credit line, our programs can provide the financial assistance you need. Top Financial Resources has proven experience and financial strength to give the confidence to our customers in solving the equipment financing problems of small restaurants. If you find yourself at a standstill since your budget will not let you acquire Garland G24-G24S, let us lend you a hand and find the financing option that works for you to keep your restaurant production rolling.
Want to learn more? Call us today at 1-(800)-260-5126 or complete the contact form, and a loan specialist will get back to you. Note that we also fund other G24-gas range series, including:
Garland G24-2G12S Restaurant Gas Range

Garland G24-2G12L Restaurant Gas Range

Garland G24-G24T Restaurant Gas Range

Garland G24-2G12T Restaurant Gas Range

Garland G24-4T Restaurant Gas Range

Garland G24-4L Restaurant Gas Range

Garland G24-4S Restaurant Gas Range